Red Sox
Too early to panic? Not if the Red Sox follow recent history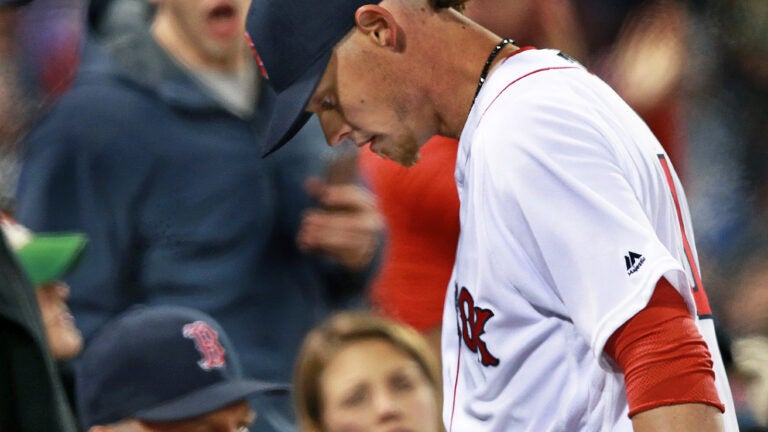 COMMENTARY
If Red Sox players expected anything other than a visceral reaction around these parts for the way that they've managed to slither into the beginning of the 2016 baseball season, perhaps they ought to show a bit more awareness about their recent resume.
Albeit after only seven games, the Red Sox have been mostly awful, mostly thanks to a beleaguered pitching staff that has done little to calm the fears of its inferiority despite the addition of lefty David Price at the front of the starting rotation. Remember, that $217 million deal for the missing ace was supposed to be the difference, the impetus for the Red Sox finally pulling themselves out of last place, where they have finished each of the last two years.
Except, the pitching still sucks.
No other team in the American League has a team ERA worse than Boston's 5.90. No other team in the major leagues has anything close to the 7.32 ERA that Red Sox starters have managed to post over the first week of the season.
They're 3-4, four games behind the surging, 7-0 Baltimore Orioles, and while it may be far too early to determine the temperature of the team before it even plays its annual 11 a.m. affair on Patriots Day, the fact that it seems as if, indeed, little has changed since the last time Boston saw this band, has some fans weary that they're ultimately in for a similar encore.
"We need to be better, that goes without saying," manager John Farrell said after the Red Sox lost their third-straight game, 9-5, to the Orioles Tuesday night at Fenway Park.
This is already the start that Farrell feared the most. Last year's team got off to a 22-29 start through May. In 2014, the defending World Series champs were a similar 20-29 through May 25 before whipping off seven wins in a row. They followed that streak up with one that saw them lose five straight. By June 7, the Red Sox were 27-34, and ready to start unloading the likes of Jon Lester, Jake Peavy, and John Lackey on the trade market within a few more weeks.
It's dubious to believe that team owner John Henry will deal with another slow start this time around, leaving Farrell with the inherent need to get Boston's pitching turned around before bench coach Torey Lovullo takes over the managerial position that he showed success in last season while Farrell took time for lymphoma treatment.
Clay Buchholz didn't help in that regard Tuesday night, pitching decently for the most part, but still surrendering a mammoth, two-run home run to Baltimore's Mark Trumbo that ended up turning the tide. Buchholz surrendered five runs over five innings, and now has a nifty ERA of 10.00.
Buchholz defenders still manage to hang their arguments on the pitcher's health and approach, both of which they refuse to admit, are terribly unreliable. As is his ability to face even the slightest responsibility for his shortcomings.
"We're seven games in, dude," Buchholz said after taking the loss Tuesday. "There shouldn't be anybody worrying about it."
True.
Except, it sure feels like we heard the same words coming out of the Red Sox clubhouse during the springs of 2014 and 2015. How'd those work out?
Over the course of Buchholz's latest gag on the mound, catcher Blake Swihart ended up dropping a Trumbo popup behind home plate that would have, mercifully, served as the first out of the sixth inning. Five pitches later, Buchholz still had to deal with Trumbo, and delivered one that the Oriole sent to Watertown, bouncing off the top of one of the billboards hovering over the Green Monster seats.
As you might expect, Buchholz had no problem failing to dismiss Swihart's culpability.
"It would have been nice to get him out right there," he said. "You never know what could have happened after that."
Those who have watched Buchholz unravel for the better part of nine years probably do: Something else entirely damaging for his team's opportunity to win.
Buchholz's unpredictability was easier to hide with guys like Lester and Lackey pitching ahead of him in the rotation. That would also figure to be the case with Price leading him in turn, except that Buchholz was terrible during his first start in Cleveland last week. He followed Price's subpar effort in the Fenway opener with an outing that emitted some encouragement, at least before it went down in the sudden wind of Trumbo's blast.
Joe Kelly takes the mound Wednesday, attempting to deliver Baltimore its first loss of the season. His ERA is 21.00.
Seven becomes eight and then the Blue Jays come to town. By Monday, the Red Sox will have played seven percent of their schedule.
Too early to panic? Maybe.
But these Red Sox have proven to be anything but imperative during the early portion of the season over the last two years.
Why should fans expect 2016 to be anything really different?
Fenway Park preps for the 2016 season
[bdc-gallery id="643224″]