Red Sox
John Farrell is managing to give the Red Sox no choice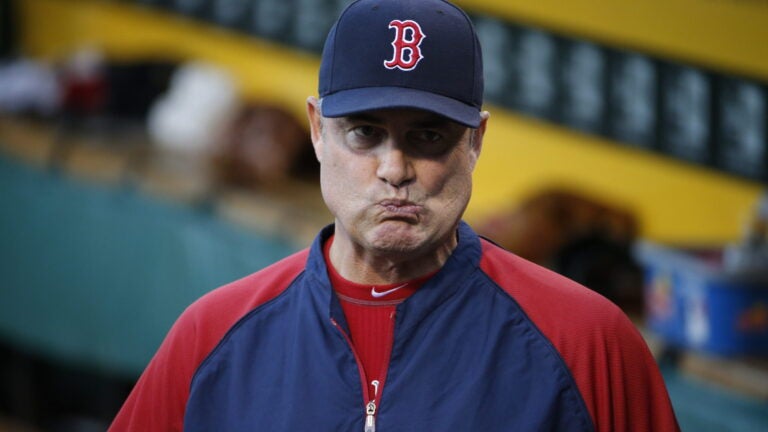 COMMENTARY
John Farrell's time is up.
With all apologies to the dwindling number of delusional defenders who are still somehow managing to stand by the Red Sox manager, it's over.
Coming off a four-game split with the Toronto Blue Jays at Fenway Park and sitting at 6-6, 2 1/2 games behind the Baltimore Orioles, things don't seem so poor for the Red Sox, particularly considering we're one day from Patriots Day, a mere 7.4 percent though the 2016 Major League Baseball season.
But based on performance, these early-season Red Sox might be better.
They should be better if not for their increasingly overmatched manager.
The last two days were not very good ones for placating the local pitchfork crowd. After Travis Shaw hit a two-run home run on Sunday afternoon to turn a 5-1 Blue Jays lead into a two-run deficit in the bottom of the ninth with no outs, logic figured that Brock Holt or Dustin Pedroia, both on the bench with the afternoon off, would pinch-hit for right-handed batter Chris Young against right-handed pitcher Roberto Osuna. Young was 0-for-3 on the afternoon, and his career .224 batting average against righties has already been noted multiple times over 12 games.
He struck out. Looking.
Farrell's much-ridiculed excuse after the 5-3 loss was that Young needed the at-bats.
We can only assume they're going for ice cream cones after the game as well.
"I thought the at-bats, the swings he took against Osuna, in Chris Young's case, he put good swings on the ball," Farrell said.
Young took two swings at 96-mile-per-hour fastballs from Osuna. He fouled them both off.
Good swings.
As a matter of fact, Young took a total of three swings the entire afternoon, grounding out on the first pitch he saw in the fourth inning, his only plate appearance that didn't conclude with a strikeout.
Great swings.
It all only went to enhance the notion that Farrell is a terrible in-game manager. In Young's case, the scenario was only six days after Farrell left him in the lineup — after maddeningly replacing Shaw — against the Orioles in the seventh inning of a tie game, with both Pablo Sandoval and Rusney Castillo rotting on the bench. The take on that day, during the Fenway opener, was that those two high-priced busts had become useless in their manager's eyes.
After the game, the reality sounded even worse when Farrell argued that he didn't pinch-hit for him in that role because he was hoping to get him another turn against Orioles lefty closer Zach Britton.
That would be after the Orioles scored three runs off Boston closer Craig Kimbrel in the top of the ninth. Young's spot in the lineup wouldn't come up again.
Game over.
"Overall, this team continues to fight back. There's not any at-bats given away," Farrell said that afternoon.
Except, it seems, when he's the one giving them.
On Monday, Farrell managed to waste what was the rare, solid outing by starting pitcher Clay Buchholz (6 2/3 shutout innings) when he lifted him one out shy of a seven-inning stint. After Russell Martin singled with two outs, Farrell went to the bullpen for Junichi Tazawa, who needed all of two pitches to get Ryan Goins to ground out.
Two pitches.
Koji Uehara, who, along with Noe Ramirez, has pitched more innings this season (7 1/3) than any other Red Sox reliever got the call after Tazawa's taxing workload, and the unraveling began. The 41-year-old Uehara has already made eight appearances in 12 games over 15 days.
Boston would lose, 4-3. But Young did hit a double. Farrell still pinch-hit for him with David Ortiz in the ninth inning.
Ortiz, perhaps fittingly, struck out.
It seems too early in the baseball season to be having this many popular nitpicks with the manager. But for one who was already treading on thin ice to begin the season, coming off back-to-back last-place finishes, every blunder that Farrell makes is magnified. He's now an unimpressive 406-416 in six years as a major league manager; 154-170 with the Blue Jays and 252-246 with the Red Sox.
Since he inexplicably led the Sox to the 2013 World Series title, the team under Farrell is 149-175.
All done.
If Dave Dombrowski didn't want to seem heartless by firing his manager while undergoing cancer treatment last fall, that veil of guilt is lifting ever so rapidly with every game that Farrell manages. If you had an early landmark of Memorial Day in the pool as to when Farrell might be relieved of his duties, you may be out of luck.
Mother's Day might be more appropriate.
That would seemingly give Farrell 19 games over the next 20 days to convince the Red Sox front office that he's capable of making more palatable in-game decisions. Good luck.
It's been more than three years now, and the reasons why you were afraid to have Farrell managing then are even more pronounced. He's walking the plank, just hasn't been shoved off quite yet.
But the last week should have convinced everyone with a vote that John Farrell is inevitably a goner.
There's too much convincing for Farrell to do in a scant amount of time.
If he has even been trying such an avenue in 2016, it's safe to already determine that it's been a complete failure.
The top-rated outdoor spaces in Boston
[bdc-gallery id="682336″]