Red Sox
Ortiz, Betts, Porcello carry Red Sox past Rays 7-3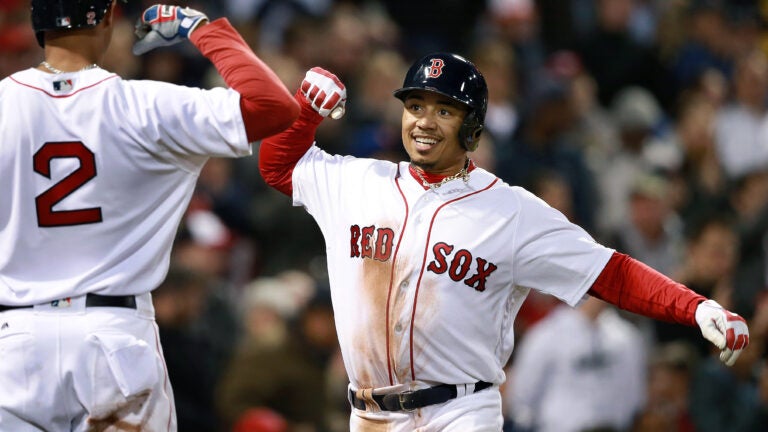 BOSTON (AP) — Mookie Betts hit a two-run homer and David Ortiz drove in three runs with a pair of doubles to back Rick Porcello, helping the Boston Red Sox beat the Tampa Bay Rays 7-3 Wednesday night to stop a three-game losing streak.
Xander Bogaerts and Chris Young had RBI singles for the Red Sox, who were blanked Tuesday, snapping a 63-game non-shutout streak at home.
With Boston having emptied its bullpen by using six relievers after Joe Kelly left Tuesday's game in the first with a right shoulder impingement, Porcello (3-0) allowed three runs and six hits in seven innings, struck out nine and walked one.
He held the Rays scoreless on two hits through five innings while the Red Sox opened a 6-0 lead against Chris Archer (0-4). Porcello gave up Corey Dickerson's two-run homer in the sixth.
Archer gave up six runs and eight hits in 4 1/3 innings as the Rays' three-game winning streak ended. He is 0-7 with a 6.39 ERA in his last 10 starts.
After being held to one hit the 3-0, 10-inning loss, the Red Sox scored three runs before Archer got an out. Bogaerts singled in a run, and Ortiz followed with a two-run double into the left-center gap.
Boston made it 5-0 in the second when Betts homered off a light stanchion above the Green Monster.
Ortiz's RBI double in the fifth made it 6-0. But it may have been a costly trip from first for Bogaerts, who left the after scoring due to left quadriceps tightness.
Tampa Bay closed to 6-2 when Dickerson hit his homer over Boston's bullpen.
TRAINER'S ROOM
Rays: C Hank Conger started behind the plate for the first time since allowing five stolen bases to Cleveland last Thursday. He's 0 for 9 attempting to catch potential base stealers this season after throwing out only 1 of 43 while last year with Houston.
Red Sox: LF Brock Holt was in the lineup after sitting out three games. … Kelly was placed on the 15-day DL before the game. Manager John Farrell said it was too early to project a timetable for his return.
UP NEXT
Rays: RHP Jake Odorizzi (0-1, 2.41 ERA) is in line to start the series finale on Thursday. He went seven shutout innings in his last start against the Chicago White Sox.
Red Sox: LHP David Price (2-0, 4.50) is set to face the team that he entered the majors with in 2008. It'll be his fourth career start against the Rays. He's 1-2 with a 4.26 ERA in his previous three.