Red Sox
Red Sox Power Rankings: Travis Shaw surges past David Ortiz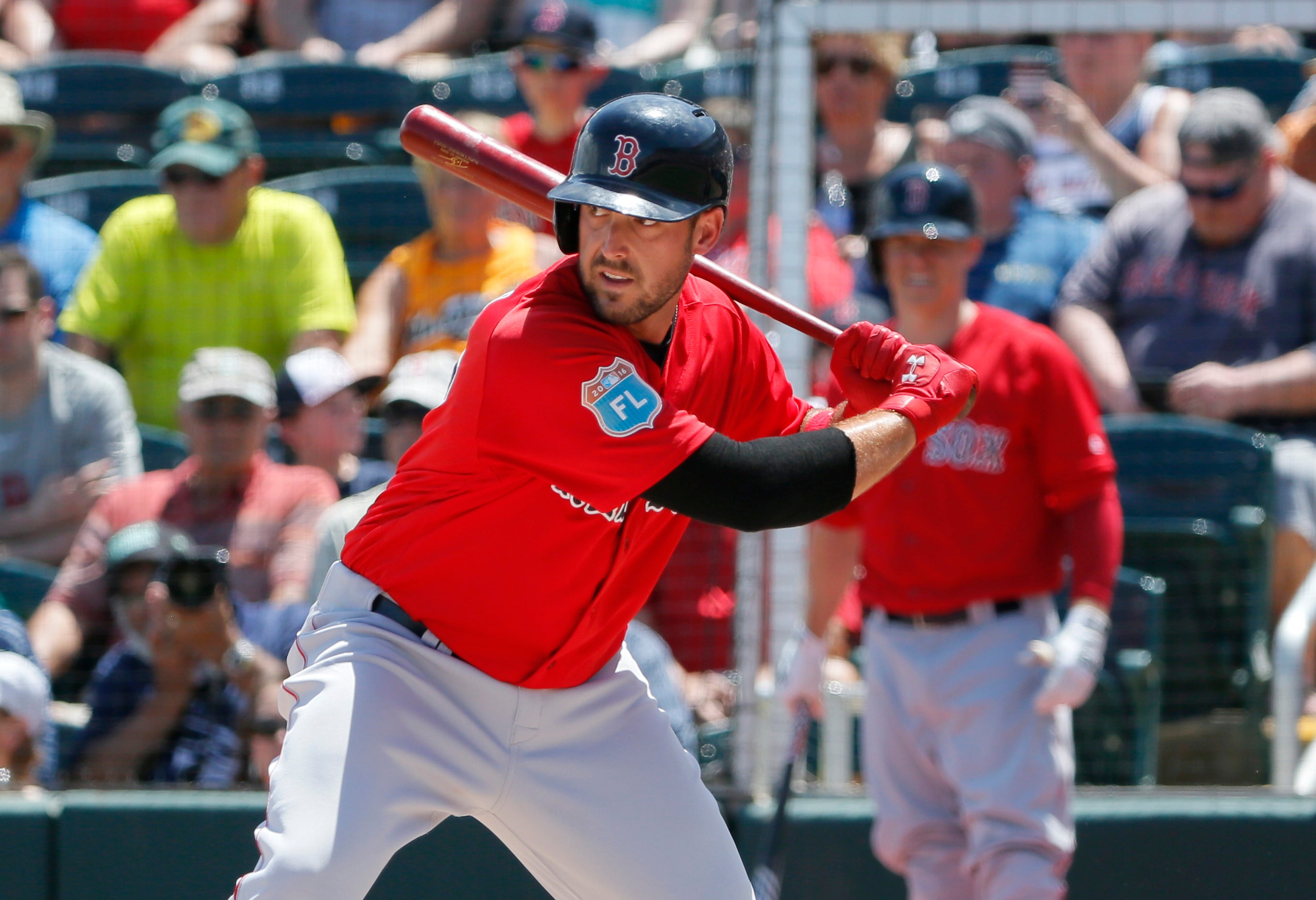 COMMENTARY
The outlook for the Red Sox was a bit rosier the first time we did these rankings after the opening week of the season.  Since, the Sox have fired up the Pawtucket Shuttle in search of reserve players who can make meaningful contributions. Three players – William Cuevas, Reonis Elias and Marco Hernandez – were called up and sent down between the time of our inaugural rankings and now. Rusney Castillo, Noe Ramirez and Blake Swihart were on the first list but won't appear this time as they were optioned out. Brandon Workman also won't appear. As I predicted in the first edition, he has been moved to the 60-day disabled list.
After all the shuffling, we still have the same number of players in the rankings: 29. Let's get to it.
29. Pablo Sandoval (Previously 28): It seems like it's going to be awhile before we see Sandoval again.
28. Joe Kelly (27): The same goes for Joe Kelly.
27. Josh Rutledge (Not Ranked): A utility infielder who doesn't have the glove for shortstop isn't a great use of a roster spot. In Rutledge's first start (at third base on April 18), he made a key throwing error that helped set up the Blue Jays' game-winning rally. In his second start, he struck out three times.
26. Pat Light (NR): Light got the call thanks in large part to the fact that he has struck out nearly 26 percent of the hitters he faced since he reached Double-A, including 37 percent this season in Pawtucket. He hasn't pitched yet.
25. Tommy Layne (25): As Providence Journal writer Tim Britton pointed out on Saturday, Red Sox manager John Farrell really can't make up his mind about whether he wants to use Layne in games or not:
I believe there have been five games where Layne has warmed up and not pitched. https://t.co/cKbzWiYKHF

— Tim Britton (@TimBritton) April 23, 2016
After Sunday, that has increased to six times.
24. Clay Buchholz (24): Buchholz has allowed five or more runs in three of his four starts. His ratios are slightly more encouraging than his results, but that is cold comfort for a rotation that needs results.
23. Ryan Hanigan (26): Hanigan's game on Sunday – RBI double in the third inning, 13-pitch walk in the 12th before hustling to score on a wild pitch – likely bought him another month as the Red Sox backup catcher. Sorry, Blake Swihart.
22. Henry Owens (NR): In his first start of the season, Owens had more walks (four) than innings pitched (3.1). Not a great sign.
21. Matt Barnes (19): The good news is that Barnes is generating more strikeouts. The bad news is that he's also allowing more walks. He's also generating fewer ground balls. Barnes has done better in long relief than he has in pressure situations.
20. Chris Young (21): The lefty killer has reached four times in his 11 plate appearances against lefties (two doubles and two walks), for a hearty .364 on-base percentage. He hasn't fared as well in his 12 PAs against right-handed pitchers, and while manager John Farrell needs to play him sometimes against righties to keep him fresh, he needs to pick his spots with Young a little better.
19. Christian Vazquez (20): Vazquez was rushed back. Blake Swihart posted a .391 OBP in his 23 PAs before being sent down. Vazquez now has 27 PA through Monday's game, and has a .259 OBP. In other words, any defensive edge that Vazquez might have over Swihart has been washed away by his inferior offense.
18. Jackie Bradley Jr. (18): Results continue to be middling for Bradley. He's reached base at least once in 13 of his 18 games played, but he's reached base twice or more in a game only four times. He has, however, provided the game-winning run in each of the past two games. Perhaps he will heat up soon.
17. Robbie Ross Jr. (12): Ross has been a little up and down, but his scoreless appearance on April 19th – three innings, four strikeouts – really helped the Sox stay in the game. He also had a big strikeout against Atlanta on Monday.
16. Heath Hembree (NR): Hembree has stepped in and provided solid relief since being called up on Tuesday, including three scoreless innings (with four Ks) in extras on Sunday in Houston.
15. Carson Smith (16): He's on track to return in the first week of May. The bullpen will breathe a sigh of relief when he does.
14. Craig Kimbrel (5): In 2014 – Kimbrel's last with the Atlanta Braves – he faced 244 batters and allowed only two home runs. It only took 37 batters faced this season for him to allow his second dinger. Between those two homers and Kimbrel's usual control issues, he's had a rougher than expected introduction to Red Sox Nation.
13. Hanley Ramirez (4): Ramirez's hot hitting from the first week hasn't continued, but he's still playing good defense at first base.
12. Eduardo Rodriguez (13): With Joe Kelly on the shelf, and Henry Owens temporarily in the rotation in his place, the Sox need Rodriguez more than ever.
11. Brock Holt (3): Holt has mostly spent the past two weeks either hurt or unproductive, but he still walked more times than he struck out and his versatility helped soften the blow of not having Xander Bogaerts in the lineup on Saturday.
10. David Price (2): Price was cruising until his start against Tampa Bay on Thursday, when he allowed eight runs in 3.2 innings pitched. While it was a terrible outing, it was just the seventh time in Price's 217 major league starts that he allowed eight or more runs. Price should be back near the top of these rankings soon.
9. Koji Uehara (15): From April 5th through 18th, Farrell used Uehara eight times in 14 days, and the Sox only played baseball on 12 of those days. To say that was overdoing it with a 41-year-old pitcher who missed the last two months of 2015 due to injury is a bit of an understatement. On the 18th, Uehara looked worse for wear, allowing four runs to the Blue Jays. That outing aside, Uehara has pitched well, and that outing wasn't totally his fault.
8. Junichi Tazawa (22): Tazawa has pitched eight straight scoreless outings, and he hasn't allowed more than one baserunner in any of them (including three without any baserunners allowed).
7. Mookie Betts (14): After struggling a bit to start the season, Betts has heated up. He now leads the team in both homers and stolen bases; he has two or more hits in four of his last six games; and for the season, only David Ortiz has more extra-base hits on the Sox than does Betts.
6. Dustin Pedroia (6): Pedroia keeps humming along, playing above average in all areas without standing out in any. One thing to watch: He's already grounded into five double plays, after only grounding into six all of last season.
5. Rick Porcello (5): He's kept the team in every game he starts, and is currently sixth in the majors in K%-BB%, which is outstanding (Price is third). Porcello has been a pleasant surprise.
4. Xander Bogaerts (10): Bogaerts is one of just 16 players in the majors to have at least seven doubles (David Ortiz and Travis Shaw are two of the others). He's starting to tap into that power.
3. Steven Wright (8): By ERA-, a stat that contextualizes ERA to better or worse than league average, where 100 is average and 99 is one percent better than average, Steven Wright's 36 ERA- (aka, 64 percent better than average) is ninth-best in the majors.
2. David Ortiz (1): Ortiz has drawn 12 walks against 12 strikeouts, so we can say confidently that the big man's batting eye is still sharp. He keeps hitting well, too. His drop to the second spot has more to do with the play of our No. 1 player than it does Ortiz.
1. Travis Shaw (7): Shaw has made the Red Sox look very smart. Through the opening three weeks of the season, he has been among the most valuable position players in baseball. Even if it doesn't last, this has been a heck of a run for the team's new starting third baseman. Him hitting cleanup on Monday didn't feel out of place.
Who are the Red Sox all-time statistical leaders? 
[bdc-gallery id="661869″]