Red Sox
David Ortiz keeps promise to inspirational young fan with game-winning home run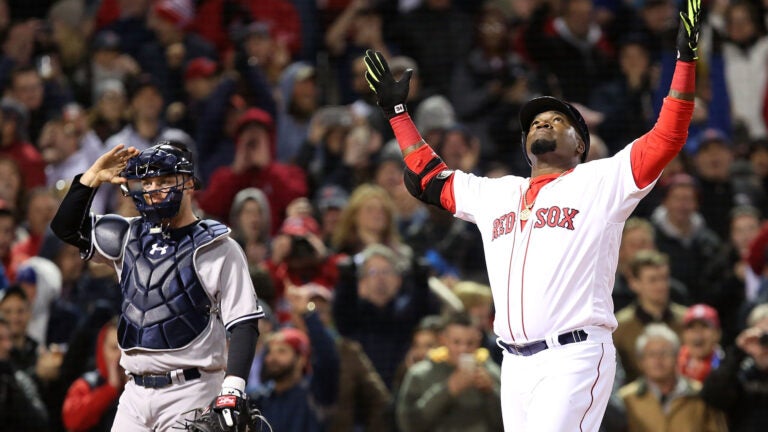 David Ortiz made a promise to Maverick Schutte. He fulfilled that pledge—in a big way.
Maverick is a five-year-old Red Sox fan from Wyoming, who was born with a serious congenital heart defect called tetralogy of fallot. Since birth, he has undergone more than 30 surgeries and will likely need to undergo many more, according to the Colorado Children's Hospital Foundation.
But that hasn't diminished his enthusiasm for the Red Sox.
Earlier this year, Maverick shared that enthusiasm with Kevin Millar and Josh Beckett, trading videos with the two former Red Sox players. In a video in February, Millar told Maverick that when he saw Ortiz during spring training, he would tell the Red Sox slugger all about his young fan out west.
Before Friday night's game  at Fenway Park against the New York Yankees, Millar, who was attending with his own children, filmed a video with Ortiz for Maverick.
This is the video me and @davidortiz sent our little buddy Maverick before Red Sox game tonight…. pic.twitter.com/kVTqSoe8OV

— Kevin Millar (@KMillar15) April 30, 2016
"You take care buddy and I'm gonna hit a home run for you tonight. Remember that," said Ortiz, who is playing in his final season.
Millar chimed in: "He's hitting a home run for you, Maverick!"
In the bottom of the eighth inning, Ortiz did just that. With the game tied 2-2, he stepped up to the plate and blasted a two-run home run to put the Red Sox ahead for good.
#BigPapi doing Big Papi things! ?https://t.co/qcwo2t4t8T

— Boston Red Sox (@RedSox) April 30, 2016
Of course, Maverick was watching.
Per the previous video posted. David Ortiz from the Boston Red Sox said he was going to hit a homerun for Maverick tonight. I think my heart skipped a beat. Thank you Big Papi you successfully made a boy very happy tonight. Maverick says my boy never lets me down.

Posted by Prayers for Maverick on Friday, April 29, 2016
And after Boston's 4-2 win, Millar posted a video on Twitter he received from Maverick following Ortiz's game-winning home run.
And this is Maverick video back us @davidortiz after home run 2nite. The man touches lives daily and brings smiles. pic.twitter.com/SPUhx7Hmdq

— Kevin Millar (@KMillar15) April 30, 2016
"Big Papi, you never let me down and you're the best player ever in the Red Sox game," Maverick said in the video. "And I'm trying the hardest to get out there at Fenway Park and meet you."
Ortiz celebrated his big hit last night by sharing a hug with Millar's kids, who were sitting in the stands next to the Red Sox' dugout.
Good morning #RedSoxNation! We're still feeling the love from last night! ? pic.twitter.com/YlllEcvLl8

— Boston Red Sox (@RedSox) April 30, 2016