Red Sox
Massachusetts State Police wouldn't pull that 2006 Doug Mirabelli trick again
"That was not an appropriate use of our assets."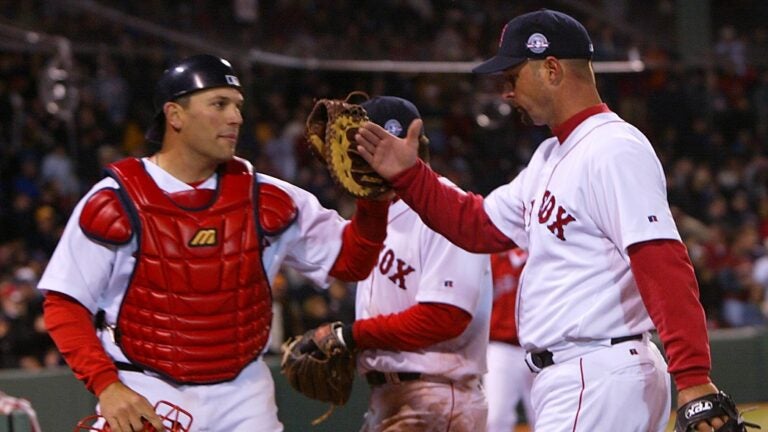 The year was 2006, and the Red Sox had a problem: Josh Bard could not catch Tim Wakefield's knuckleball.
So with a Wakefield start against the New York Yankees looming, the Red Sox struck a hasty April trade. They'd send Bard to the San Diego Padres in exchange for Wakefield's longtime personal catcher, Doug Mirabelli, who had been traded from Boston in the offseason.
Mirabelli was rushed to Boston by air, and then to Fenway during rush hour by a state police escort. Sirens blared as the backup catcher with a penchant for the occasional home run made a surreal Homeric return to Fenway moments before first pitch. The Sox won.
The decade-old deal and the mad dash to get Mirabelli to Fenway are memorialized in an oral history published Friday by The Hardball Times. It's complete with the regrets of a Massachusetts State Police spokesperson, who says such antics probably wouldn't fly today:
We wouldn't do something like that again, certainly not with lights and siren. As a public safety agency, that was not an appropriate use of our assets.
That doesn't mean the troopers have an entirely negative view of the night:
It was a bit of serendipity, perhaps, that it fell into place that night for the Sox. Sort of like the way a Tim Wakefield knuckleball would look like it was way high and then float into the strike zone. So call it luck or karma or whatever you want. Glad it worked out for the Sox that night, but we wouldn't do that again.
State police did not immediately respond to a request for further comment.
You can read the entire oral history — which includes the perspectives of Mirabelli, Wakefield, former Red Sox general manager Theo Epstein, and poor Josh Bard — here.