Red Sox
ESPN explains omission of Curt Schilling's 'bloody sock' game from 2004 Red Sox film
During a re-airing Sunday, 'Four Days in October' was condensed by 12 minutes – eliminating a segment on former pitcher who was recently fired by network.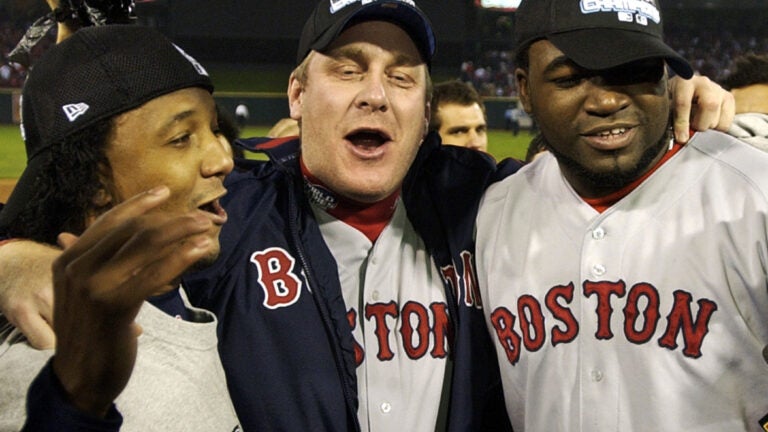 COMMENTARY
Given the curious, even dubious, manner in which ESPN has covered the Patriots and Deflategate, it's more than understandable that New England sports fans are wary of the network's tactics. As the saying goes, you're not paranoid if they really are after you.
Sunday, Boston fans found a reason for their suspicions to rise again. Earlier in the evening, ESPN2 re-aired the 30 for 30 film Four Days in October, which chronicles the Red Sox' epic comeback from a three-games-to-none deficit against the Yankees in the 2004 American League Championship Series.
There were enough highlights, of course, in the Red Sox' four consecutive victories to fill two 30 for 30 films. But in ESPN2's re-airing, it did not go unnoticed that one of the signature moments from the franchise-altering series was absent.
Here is the first mention I saw of what was missing:
ESPN2 is currently showing 4 Days in October. They skipped the game 6 part (Curt Schilling bloody sock). Guess who ESPN recently fired

— Falan Garner (@falandownawell) May 1, 2016
It was a glaring absence for sure. Schilling's performance in Game 6 – delivered with a surgically altered tendon in his ankle that led to him bleeding through the stitches and his sock – is iconic. But was there more to it than puzzling editing?
Considering that Schilling was fired by the network as a baseball analyst on April 20 after again sharing insensitive material on social media, his defining moment's absence from the documentary naturally drew suspicion to ESPN's intentions.
After a request for an explanation, ESPN's public relations department sent out a brief statement:
"When a live event runs long, it's standard procedure to shorten a taped program that follows," the statement said. "In this case, we needed to edit out one of the film's four segments to account for the extra length of the softball game."
The explanation is plausible, though most Boston fans and Schilling's supporters aren't going to buy it from ESPN at this point.
The show ran four segments; the first two, the beginning and end, could not be cut for obvious reasons.
It's standard procedure for re-airing programs to be cut or condensed – sometimes arbitrarily – when live programming runs long. While cutting Schilling and Game 6 – an essential part of the retelling of those four days in October – is bewildering from storytelling standpoint, the segment did run 12 minutes, coincidentally the exact length that needed to be chopped.
It was a glaring omission, but one that probably – probably — came from practicality rather than any pettiness and desire undermine a recently fired employee.
To his credit, Schilling had a clever response to all the hubbub on his Twitter feed:
https://twitter.com/gehrig38/status/726938083803811844