Red Sox
Reviewing the individual performances that have led to Red Sox success
The Red Sox exceeded expectations in April, then began May with a bang. How have they done it? Here's a player-by-player look at who's done what so far.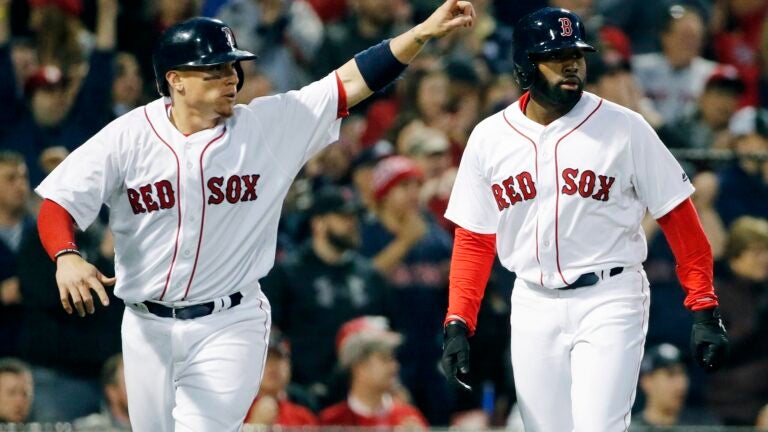 COMMENTARY
Well, they've already exceeded my expectations. My frequently malfunctioning ACME-brand crystal ball had the 2016 Red Sox going 12-13 in April. You'll recall they were on that southbound path at one point – they started 6-7, and manager John Farrell had some sweat on his brow – but finished the month with a relatively impressive 14-10 record.
The Red Sox made it nine wins in 12 games with an 8-7 thriller over the Yankees Sunday night. That victory commenced May in an especially encouraging way: The Red Sox completed a sweep of the last-place Yankees while moving into first place by a half-game over the Orioles in the American League East. Farrell probably shouldn't be sweating his job now, huh?
If ever there is a good time to take inventory of the roster, it is now, with one month behind us and the months ahead suddenly looking promising. More promising than some of us, ahem, expected.
So here it is – a look at where each member of the roster who has had more than a cameo role so far stands in terms achieving what was expected of him. There have been a few overachievers, a couple of notable underachievers, but for the most part, the various successes haven't been huge surprises. That suggests that this team's success should be sustainable, good health willing.
Now about those individuals …
EXCEEDING EXPECTATIONS
Matt Barnes: The 2011 first-round pick has become what Sox fans were hoping he would be last year, but decidedly was not: a power-arm who can mow down right-handed hitters in the late innings. We're seeing a pitcher mature into his talent, I believe.
Jackie Bradley Jr.: JBJ had an .807 OPS entering Sunday's game. If he can maintain some semblance of consistency and finish the season with an OPS in that .800 range – while providing his usual breathtaking defense in center field, of course – that's a player so valuable that he might pick up a few down-ballot MVP votes.
Heath Hembree: Another of Dave Dombrowski's cadre of hard-throwers in the pen; his fastball has averaged 93.7 miles per hour. In four appearances, he's whiffed 11 while allowed just six baserunners in nine innings. Looks like a keeper.
David Ortiz: This is quite a retirement party he's throwing for himself so far, huh? We're used to excellence from arguably the greatest designated hitter in baseball history and unarguably the greatest clutch hitter in Red Sox history. But a 1.071 slugging percentage and the usual tormenting of the Yankees at age 40? Even his most loyal admirers couldn't have expected this. Here's to a similar performance all season long, and some serious second thoughts on his part come October when he's scheduled to say goodbye. How do they ever replace the irreplaceable?
Dustin Pedroia: The Laser Show has flickered a little in recent seasons; his slugging percentage is .402 over the 2014-15 seasons combined. This year, he's looked like his vintage self, with a .311/.360/.485 slash line and 11 extra-base hits in 23 games. Just stay healthy.
Rick Porcello: He's been the ace in production if not stature, going 5-0 with a 2.76 ERA. So this must be the guy former general manager Ben Cherington thought he was trading (and paying $82.5 million) for.
Hanley Ramirez: His power hasn't come around; his .389 slugging percentage is lower than that of his slap-hitting successor in left field, Brock Holt (.397). But his surprisingly adept defense at first base – and the fun he's having when he makes a good play – more than makes up for what should be a temporary power outage. Fan favorite? For the moment, absolutely. Who would have figured?
Travis Shaw: I'll admit it, since evidence of my skepticism isn't too hard to find: I thought he was a Quadruple A guy who had caught some Brian Daubach-level lightning in a bottle last season. It's clear now, even if he slumps soon, that he belongs in the major leagues for the long haul. I still think the Daubach comp is a valid one, and it's not an insult. Ol' Dauber did hit 20-plus home runs three years in a row, and he was a beast in 1999, hitting .332/.392/.644 with 19 homers from Opening Day until Aug. 20.  Shaw's apparent ability to hit for genuine power and to play a better-than-competent third base makes him more than a useful player. He's practically been a savior. Who would be playing third base if not for him?
Steven Wright: The Wakefield Years taught us to live with the whims of a knuckleball. But Wright has been so good in four starts – he has a 1.37 ERA and a 1.14 WHIP – that he's earned the right to keep his spot in the rotation for the long haul, even if his tricky pitch betrays him from time to time.
YEP, ABOUT WHAT WE EXPECTED
Xander Bogaerts: He's swinging the bat well (.290/.365/.419), and while the home-run power hasn't come around quite yet – and may not this season — his defense at shortstop continues to get better and better. How can you not love this kid?
Ryan Hanigan: He's a less-gregarious David Ross, everything you'd want in a veteran catcher charged with working with a diverse pitching staff and sharing his wisdom with Christian Vazquez.
Brock Holt: He should not be the de facto everyday left fielder; he doesn't have enough pop to play a corner position every day, his value being in his multi-positional versatility. But, as always, he has done the job with max effort and to the best of his ability. That's the Brock Holt way.
Robbie Ross Jr.: His most similar pitcher through age 26 is Steve Kline. Seems about right to me. He's been fine this year, though a harder-throwing lefty out of the 'pen wouldn't be a bad idea.
Junichi Tazawa: A 0.621 WHIP is good, right? That's not terrible, yes? The apparent new-found depth in the bullpen has benefited one of the Red Sox' most dependable relievers. He no longer must pitch or warm up seemingly every game.
Koji Uehara: Entering Sunday, he'd walked four batters in 10.1 innings. That's five fewer walks than he had in the entire '13 season, when he pitched 74.1 innings. But he's still not giving up more than a scattering of hits: he's allowed just three this season. Provided the 41-year-old stays healthy, he'll remain one of the best relievers in baseball in any role.
Christian Vazquez: If, as Jerry Remy relayed on the NESN broadcast Saturday, Pedro Martinez compares him to a young Ivan Rodriguez, brother, who am I to argue? Save for Sunday night's go-ahead homer, Vazquez hasn't hit much yet (.612 career OPS) yet. But hey, Pudge's OPS through his first two seasons was just .648.
STARS WHO WILL BE BETTER
Mookie Betts: It's funny, his batting average (.266, through Sunday) and on-base percentage (.298) are subpar based on the expectations, but it doesn't feel like the dynamic 23-year-old right fielder has underperformed. He does have four homers and six stolen bases, putting him on pace for 26/40 season. Right now, he's seventh on the Red Sox in bWAR. He'll be first by season's end.
Craig Kimbrel: His fastball velocity averages 97.3 miles per hour. He's striking out 15.5 batters per nine innings, a career-best thus far. He's had some hiccups – he's given up two homers, but the magnitude of them makes it feel like he's allowed a dozen – but he'll be fine, and often better than fine, as the hapless Yankees realized in the ninth inning Sunday. At worst, he's at the Jonathan Papelbon-joins-the-Phillies stage of his career, a former nearly untouchable closer who is still pretty damn good.
David Price: What a weird beginning to his Red Sox career, and if you want to use an adjective more colorful than weird, I understand. Entering Sunday night's start against the Yankees, he owned a 5.76 ERA and had allowed more than a hit per inning, yet had whiffed 46 in 29 innings, a ridiculous 14.0 K/9 rate. That was a good sign that there's nothing to worry about … and then came Sunday's start, when he allowed six runs in seven innings and struck out just three. His ERA stands at 6.14, he's somehow 4-0, and none of this makes sense.
UNDERWHELMING SO FAR
Joe Kelly: He pitched poorly (9.35 ERA in three starts), and then he got hurt. Hopefully he's healthy enough that when Dombrowski makes a midseason deal for whatever the Sox need, Kelly can be part of it.
Tommy Layne: I actually trust him more than Ross, but he's been just OK in five innings this season, allowing a homer among his nine baserunners.
Noe Ramirez: Organizational arm, nothing more. Same goes for William Cuevas. Me, I'm still waiting for Jason Shiell to get another chance.
Blake Swihart: Don't give up on him. That would be foolish, reactionary, and eventually regrettable. He's got a long way to go as a catcher, sure. Most catchers his age do. He just turned 24. Jason Varitek didn't become a regular until he was 26. Swihart is 20 months younger than Vazquez, and there are strong indications he can hit major-league pitching (.274 average in 90 games). I suspect he goes in any potential mega-deal this season. I hope he doesn't.
Chris Young: He was brought here to mash lefties, and lefties he has mashed, albeit in brief playing time (1.017 OPS in 12 plate appearances). He's played more often against righties, and he's been brutal (.294 OPS in 17 PAs). He's strictly a platoon hitter in a division in which there aren't many lefty starters.
GET YOUR ACT TOGETHER, MAN
Clay Buchholz: He's a longtime enigma and a chronic frustration, but he's rarely been as bad as the vocal get-him-gone segment of fans would lead you to believe. He does own a career 109 adjusted ERA, meaning he's been nine percent above average over the course of his inconsistent career. But this year? He's been horrendous (0-3, 6.51 ERA), and he hasn't even had his annual injury yet.
Pablo Sandoval: There's a decent chance he's played his last game with the Red Sox. Good thing he has just $72 million or so left on his deal. Man, I tried to end this look at a positive start on a positive note. So much for that.