Red Sox
So far, so good for the refreshingly entertaining first-place Red Sox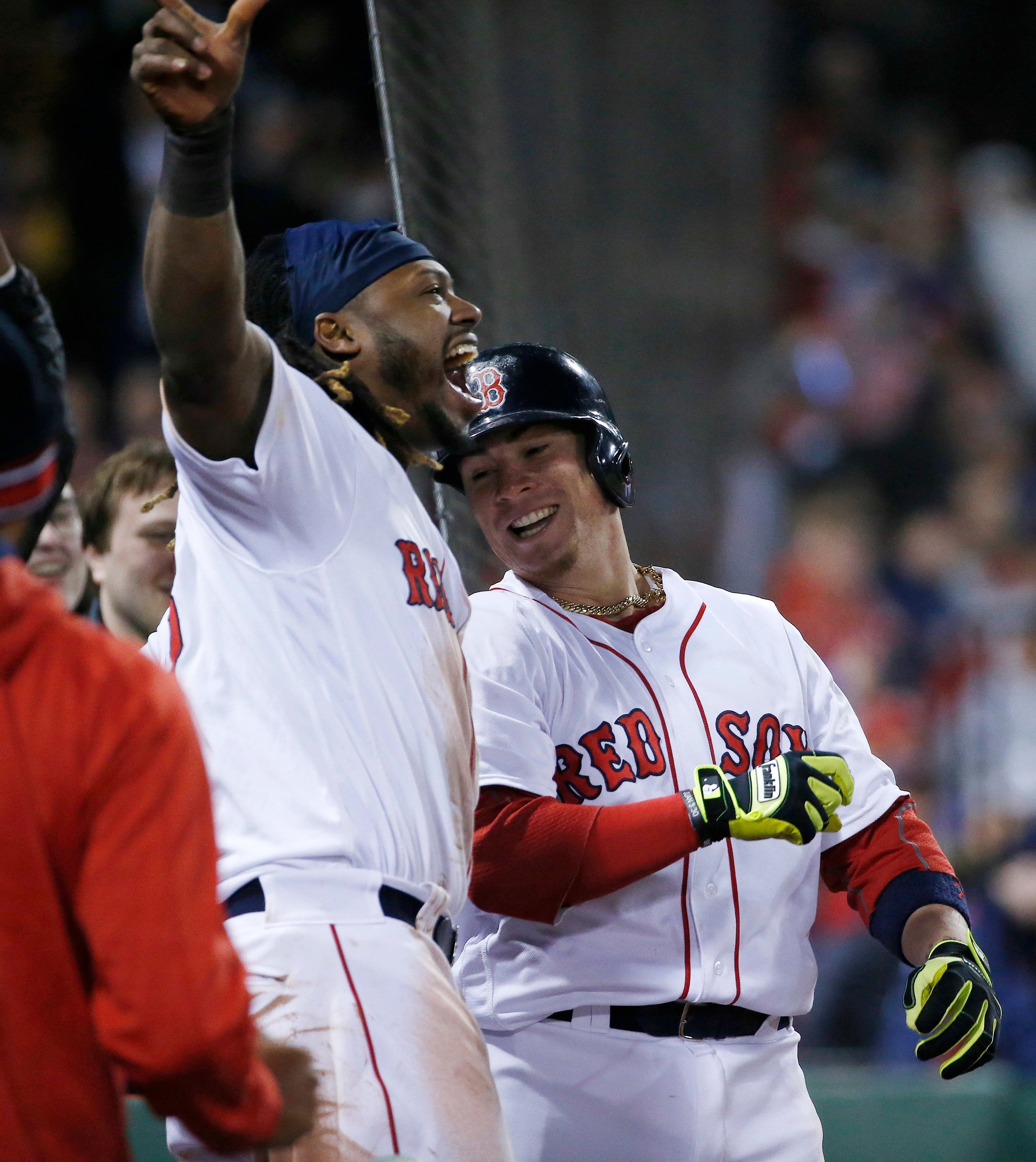 COMMENTARY
Here's a quick recap of the last 10 days for the Boston Red Sox:
Win.
Clay Buchholz.
Win.
Win.
Win.
Win.
Clay Buchholz.
Win.
Win.
Win.
That's an 8-2 stretch that helped the Red Sox surge ahead of the Baltimore Orioles into first place in the American League East two days into May. The outcome is impressive, even if the competition is not.
The Houston Astros, Atlanta Braves, and New York Yankees, the three teams that Boston beat over the last week-plus with anyone not named Clay Buchholz taking the mound at the start of the game, are a combined 22-50 to begin the 2016 Major League Baseball season.
Just something to keep in mind before prematurely anointing the embattled John Farrell as the AL's manager of the year.
But comeback wins over the Astros last Sunday night and Friday night against the Yankees, back-to-back dominant outings by staff "aces" Steven Wright and Rick Porcello, and David Ortiz unintentionally staring to convince the masses that his retirement announcement was little more than a farce, ended the first month of the season on a high note for Boston.
Best of all? The team that came out of spring training with enough soap opera drama to relegate it to immediate secondary status, has proven itself to be a throughly likable unit.
Hanley Ramirez has not only played an effective first base, but it appears that he's thrilled with the duty every single night. Thirty-three-year-old Dustin Pedroia and Baltimore's Manny Machado lead the league with 35 hits through the season's first 24 games. Travis Shaw (.885 OPS) has dismissed the bloated disaster that was Pablo Sandoval to an afterthought. Christian Vazquez, who broke a seventh-inning tie Sunday night against the Yankees with a two-run shot that helped the Sox win, 8-7, has made even those dubious of demoting Blake Swihart to the minors believers in his stunning decision-making behind the plate.
There's a tangible energy emitted from these Red Sox, in part thanks to the maturation of guys like Xander Bogaerts, Mookie Betts, and Jackie Bradley, Jr. But there has also been an apparent cohesiveness emerging over the last 10 days, a semblance of conviviality that hasn't been present at Fenway Park since the 2013 team took hold of a city's wounded psyche.
No surprise that this year's 15-10 record marks Farrell's second-best start as manager since that team kicked off April by going 18-8. Three years later, just when it seemed these Red Sox were going to end the first month in the same sort of vanilla landscape as 2014 (13-14) or 2015 (12-10), the Astros, Braves, and Yankees came up and, for a few days at least, hid the blemishes. The $217-million David Price (4-0, 6.14 ERA) has not been good despite his perfect win-loss record. Closer Craig Kimbrel has been the shakiest aspect of a seesaw bullpen. Clay Buchholz has been an inconsistent mess. Like you're surprised.
The Red Sox are winless in Buchholz's first five starts of the season. Without him on the mound, they are 15-5.
"We still have room for improvement, we know that. We've got to get Clay going particularly," Farrell said before the game on Sunday. "He's an important part of our rotation; he's an important part of this team. We've got to get him on track."
The fact that the excusing and pandering that normally exists for Buchholz's perennial failures seem to have taken a halt is a refreshing encouragement on its lonesome, as difficult as it is to ignore the guy's struggles in a rotation that has had Cy Young Award candidate Porcello and knuckleballer Wright emerge as two of baseball's biggest surprises. The easy thing for the Red Sox to do would be to send Henry Owens back to Pawtucket once Eduardo Rodriguez finishes up his rehab stint.
The eye-opening move would be to slot the young lefty into Buchholz's role. It's not like he doesn't have a long list of dubious injuries that the Red Sox can pick from and send him to the disabled list, even if a growing number of fans would be just fine with seeing "DFA" in the daily transactions.
Buchholz still gets the start Wednesday in Chicago against the White Sox, in a showdown of — yes — the two best teams in the American League. A year ago, the White Sox lost two more games than the last-place Red Sox. Now, they're riding the likes of 6-0 Chris Sale (so, like is he off the trading block now?) to a resurgence.
Too soon to pencil Porcello-Sale in for a Game 1 in October?
"It's early, but it feels good," Ortiz said after the win on Sunday. "As long as you play good, you feel good. You just keep building up your confidence. We had a good April, and how we're going to try and have a good May. There's a lot of game left. I like what I see so far."
There's been a lot to like.
Really.
Who are the Red Sox' all-time statistical leaders?
[bdc-gallery id="661869″]