Red Sox
Red Sox and White Sox bring a mound of similarities to showdown of first-place teams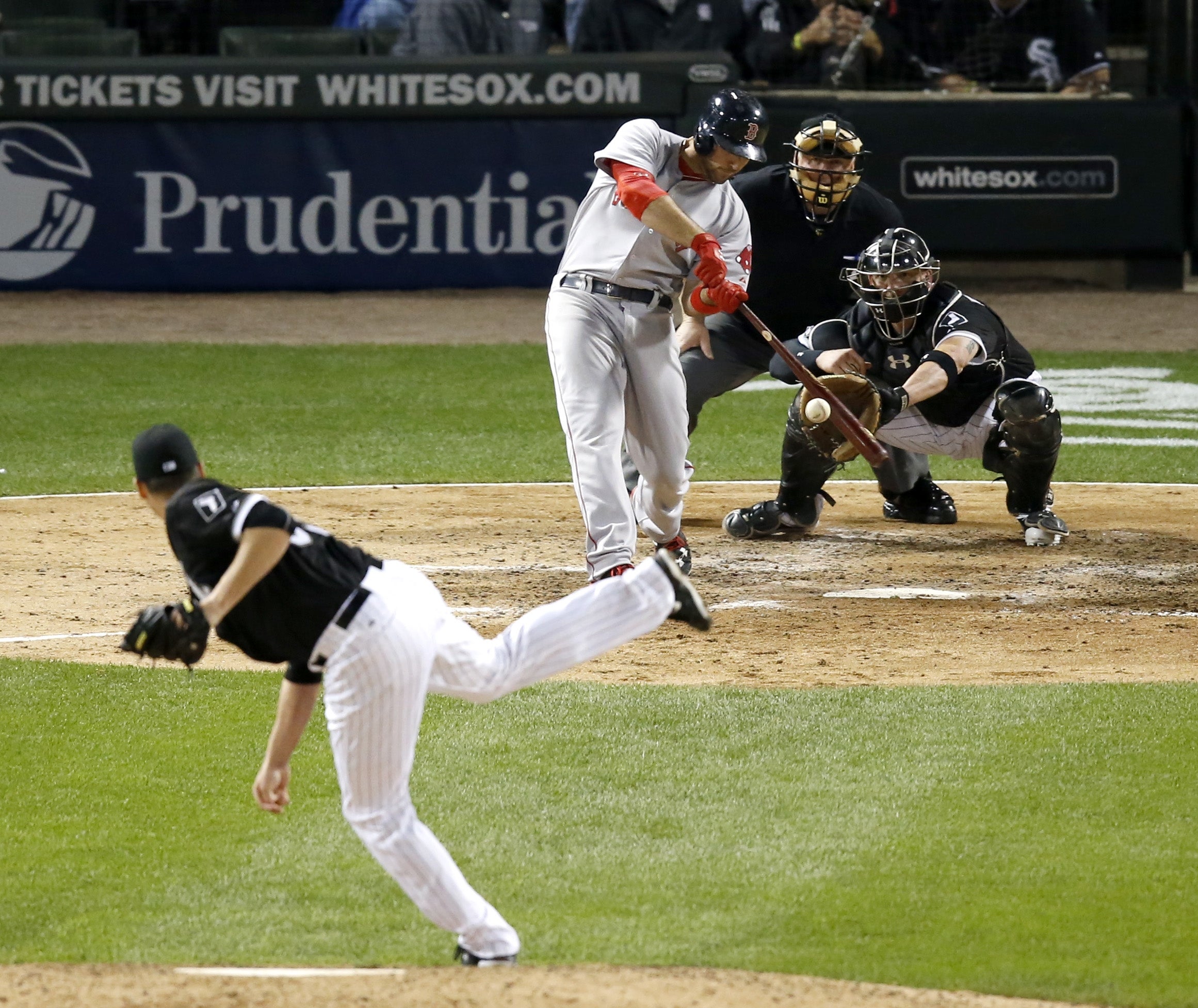 COMMENTARY
The Red Sox are headed to Chicago, where they're about to find a team not quite unlike themselves.
Most baseball preseason prognosticators picked Chicago to make the postseason. But both the Cubs and the White Sox? Very few had that sort of reach in their forecasts.
Granted, the South Side Sox may only be 16 percent into the 2016 season, but they have already surprised with an 18-8 record through the early portion of the year, winning nearly one-quarter of the 76 games they managed to win in all of 2015, when they finished fourth in the American League Central, only 1 1/2 games in front of the last-place Detroit Tigers.
The first-place White Sox currently have a three-game lead on those Tigers heading into this week's showdown of unlikely first-place teams.
Despite the temptation to paint the Red Sox and White Sox in matching Cinderella colors, there's also the inescapable fact that first-place teams on May 3 won't necessarily be in the same spot five months later. On this day one year ago, the Tigers were in first place in the AL Central with a record of 17-9. Meanwhile, the Toronto Blue Jays were 12-14, in last place in the AL East. The Jays would win the division, in no small part thanks the Tigers handing them David Price at the trading deadline.
Price won't toe the rubber for Boston in this series, having come away from Sunday with the victory over the New York Yankees. Chicago's own ace, Chris Sale (6-0, 1.66 ERA), also pitched Sunday against the Baltimore Orioles. Fellow Cy Young Award nominee Rick Porcello (5-0, 2.76 ERA) won't go again until Friday when the Red Sox head to the Bronx for a second-straight weekend of something that used to be considered a rivalry.
Even still, the pitching matchups for this series are intriguing, with knuckleballer Steven Wright (2-2, 1.37 ERA) going against lefty Jose Quintana, who is 2-0 with a 2.14 ERA in five career starts against the Red Sox. He also heads into the game Tuesday with a streak of 16 scoreless innings under his belt. Thursday delivers a couple of second-year youngsters on the mound in Henry Owens (0-0, 4.82) for Boston and Carlos Rodon (1-3, 4.33) for Chicago.
But it's Wednesday night that boasts perhaps the most delicious version of the weakest link we can imagine this early in the season, pitting fan enemies Clay Buchholz and John Danks against each other, along with their seven combined losses and stratospheric ERAs.
If you thought fan and media reaction was rough over Buchholz and his 0-3 start, understand that it's just as bad for Danks (0-4, 7.25) in Chicago.
"Why is Danks still here?" asks Chicago Tribune columnist Steve Rosenbloom. "Why does he still get the ball? When did the Sox start hating their fans?"
Ouch.
In any other season, Chicago might have simply accepted the likes of Danks as collateral damage of another lost campaign. Not so in 2016, when the Cubs have already roared out to an 18-6 record and a four-game lead on the Pittsburgh Pirates in the NL Central at the same time as the White Sox have put their own early stamp on their division.
It's too early though for talk of a Windy City Series.
Red Sox-Cubs? Let the dream continue to linger.
Four-plus weeks into the season, this week's schedule can still serve as an early litmus test for the Red Sox, who come into the series 8-2 over their last 10 games, albeit against dregs of Houston, Atlanta, and New York, a combined 22-52 on the season thus far.
Finally. Somebody good.
"Early or not, you still want to be in first place, and that's where we are," Red Sox third baseman (for the entirety of the season now, it appears, with Pablo Sandoval scheduled for shoulder surgery) Travis Shaw said. "Chicago will be a test. We've watched them play on TV a lot. They look pretty good. Big series in Chicago, then back to New York."
The White Sox lead the AL with a 2.65 ERA, 3.13 from their starters, 1.60 from what has been the best bullpen in baseball this season, allowing only 13 runs over 73 innings pitched. David Roberson, often overlooked while everybody was touting Craig Kimbrel as the best closer in the game back in March, has eight saves and a 0.79 ERA. Boston hopes to avoid him this week the same way it will both Sale and fellow starter Mat Latos, who is 4-0 with a 1.84 ERA.
As good as Red Sox starters Porcello and Wright have been to start 2016, Boston's pitching pales drastically in comparison to the White Sox. Even with the Buchholz vs. Danks factors.
Boston's bats are better (134 runs compared to 102 for Chicago), but we'll have to wait until June for the inevitable showdown between lefties Sale and the ageless David Ortiz when the White Sox come to Fenway for a four-game series.
Depending on how things jangle out by then, maybe we can start arguing whether or not Price or Porcello would take on the White Sox ace in Game 1 a few months down the road.
Ah, maybe both teams will go away by then. But at least it's fun to give Cubs fans something to fear come October, right?
The best seats in Fenway Park
[bdc-gallery id="375020″]