Red Sox
When do Red Sox move on from Clay Buchholz just like White Sox got rid of John Danks?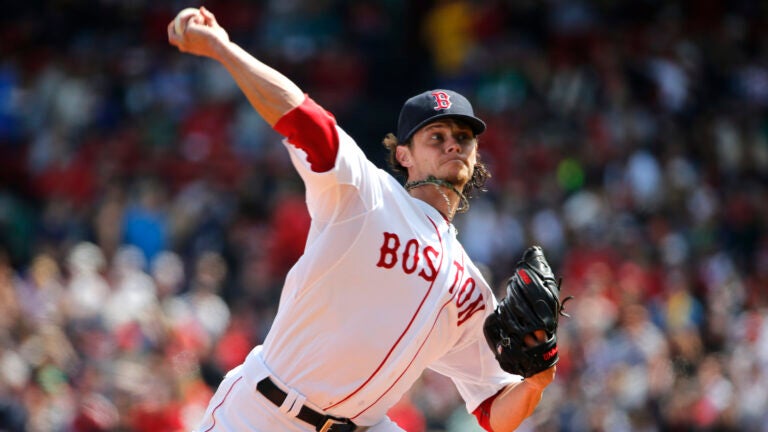 COMMENTARY
It's kind of a bummer to be denied Wednesday's anticipated showdown between two of the worst pitchers — starting for two of the best teams — in the American League.
Nevertheless, the Chicago White Sox did their part to avoid further damage to their win-loss record by designating starter John Danks for assignment after the lefty went a measly 0-4 with a 7.25 ERA across four starts this season.
Danks was in the final year of a five-year, $65-million contract. The White Sox will end up handing him $14.25 million just to go away.
What's stopping the Boston Red Sox from following suit?
The Red Sox are winless over starting pitcher Clay Buchholz's first five starts this season, enduring maddening inconsistency by the righty, who has gone 0-3 with a 6.51 ERA heading into Wednesday's game against the White Sox, who will, in lieu of Danks, will bump Carlos Rodon (1-3, 4.33 ERA) up a day.
Can't Henry Owens do the same for the Red Sox?
While the decision to rid themselves of the 31-year-old Buchholz, a career 73-54, would cost Boston $13 million, the front office is really to blame for Buchholz's disastrous start anyway. Picking up his $13-million option for 2016 was treated like a bargain by more than one embedded media member, even after the oft-injured, always underwhelming Buchholz managed to make only 18 starts in 2015.
Buchholz has been in every way as terrible as Danks was for the White Sox this season with a 1.59 WHIP that ranks 62nd among starters in the American League. Danks was 1.75.
After watching his team roar out to an 18-8 start (before beating the Red Sox, 4-1, Tuesday night), Chicago general manager Rick Hahn put a merciful end to one of the worst contracts given to a pitcher over the past decade. Danks went only 25-48 with a 4.92 ERA over the lifetime of the deal he signed with the team in 2011.
Danks and Buchholz both made their respective debuts for their teams in 2007.
"The decision is basically about how John was performing," Hahn said. "Given the fact that we feel like this could well be a very special summer around here, there certainly was heightened scrutiny to all the areas where we weren't performing. But that fifth spot was one where we felt it was imperative we make a move."
The move was imperative, despite the fact that the White Sox lead the AL in starting pitching (15-8, 3.04 ERA), thanks to a rotation anchored by ace Chris Sale and Jose Quintana. The latter silenced the Boston bats on Tuesday, allowing only four hits over eight innings. Without Danks starting for them, the first-place White Sox are an impressive 19-4.
The Red Sox, now a half-game behind the Baltimore Orioles in the AL East, are 15-5 in games not started by Buchholz.
So, perhaps there is some encouragement in the fact that manager John Farrell took the opportunity on Sunday to call out his veteran in some unprovoked comments.
"We've got to get Clay going, particularly," Farrell said. "He's an important part of our rotation, an important part of this team. We've got to get him on track."
Considering how blindly loyal and embarrassingly defensive Farrell has been when it comes to Buchholz over the years, those words carry a weight that would even make Pablo Sandoval cringe.
Maybe that's the result of president of baseball operations Dave Dombrowski whispering in Farrell's ear about the moves he's willing to make in Boston's starting rotation, which is still short the injured Joe Kelly and Eduardo Rodriguez. Scheduled to be back by the end of the month, Rodriguez was just OK in a rehab start for the Pawtucket Red Sox Tuesday night, getting hammered in the first inning of a game in which he gave up five hits and three runs before retiring 16 of the final 18 batters he faced. Kelly is scheduled for his first rehab start at Triple-A on Friday.
Owens will likely go back down, allowing one of those starters to reclaim his spot. But knuckleballer Steven Wright, who got the loss Tuesday despite another solid effort, isn't going anywhere. Neither is the $217 million David Price, nor the resurgent Rick Porcello.
Not that replacing Buchholz with Kelly for the long term won't potentially be any less deflating every fifth day,
"We'll take a look at where guys are that are in the rotation right now, what is best for the Red Sox, that's the best I can tell you right now," Farrell said. "Somehow these things sort themselves out a little bit."
Or, somehow the team actually takes charge of the sorting.
The White Sox went and ended the problem that was John Danks.
It took them only 27 games to make the decision.
Why won't the Red Sox do the same?
Why shouldn't the Red Sox do the same?
"We're probably searching to shore up areas that are in need, and that first starts with making the necessary adjustments with the guys that are on our roster now. Not that we're going to make wholesale changes," Farrell said. "Like I said, we've got to get Clay going. That's a big improvement that we could make."
He's right. "Clay going" (somewhere else) might indeed be one big improvement.
Meet the Patriots' 2016 draft class
[bdc-gallery id="759535″]