Red Sox
Dave Dombrowski says Pablo Sandoval is 'committed' to weight loss after shoulder surgery
"We'll have our eyes on him on a continual basis."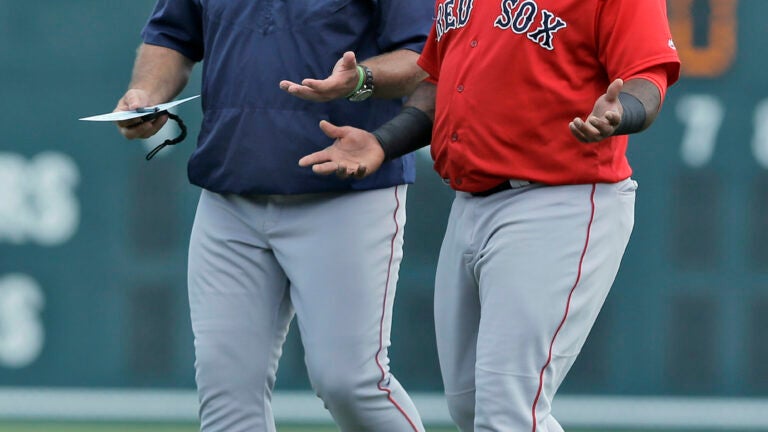 Pablo Sandoval's shoulder surgery isn't likely to make his conditioning efforts any easier. But Red Sox president of baseball operations Dave Dombrowski said conditioning would still be a priority for Sandoval, whose weight was a topic of discussion during 2016 Spring Training.
"I'm not going to give specific weights, but he has already dropped weight during the season once he's been under our care on a daily basis," Dombrowski said Tuesday, via WEEI.com. "I think he's committed to doing that, and we're committed to doing that. We'll have a very thorough program to address a lot of different issues between now and the next spring training."
Sandoval said he didn't weigh in at all during last offseason, and that the Red Sox did not ask him to lose weight. Red Sox manager John Farrell, however, said the third baseman lost 20 pounds during the offseason.
The 29-year-old lost his starting job to Travis Shaw, who was named the Red Sox starter for opening day. Sandoval played off the bench before getting shut down for his shoulder injury. He will finish the season hitting 0 for 6 in three games played.
Dombrowski said the Red Sox will be involved in Sandoval's rehab process.
"We'll have our eyes on him on a continual basis," Dombrowski said. "But I can't say someone will be there all time, but quite regularly."
Sandoval signed a $95 million contract in 2014, and is under contract with the Sox through the 2020 season. What's the plan for the third baseman?
"To get him healthy first, and we'll go from there," Dombrowski said.