Red Sox
Dustin Pedroia pitches in, but is it enough to get David Price right?
The Red Sox' second baseman spots a flaw in struggling pitcher's delivery. But what should we expect if it's not the perfect fix?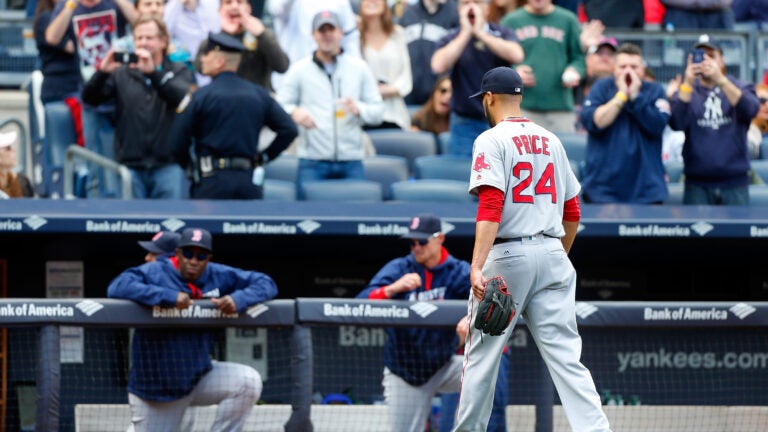 COMMENTARY
If David Price's 6.75 earned-run average and diminished radar-gun readings seven starts into his Red Sox career already qualify as desperate times, then hoping Dustin Pedroia's discovery of a potential flaw in Price's delivery solves everything is awfully close to the definition of desperate measures.
Maybe Pedroia is the Leo Mazzone of middle infielders. He was beyond familiar with Price before they became teammates, having faced him 67 times in the regular season during his career; the only pitchers he's faced more often are CC Sabathia and James "Bartolo Took Me Yard" Shields.
Pedroia does know what Price at his best looks like on the mound. Perhaps in pointing out the flaw – which boils down to Price's hands and leg kick not being in sync – he's identified the difference between the typically excellent version of Price and what we're seeing now, during the worst stretch by far of the 30-year-old left-hander's decorated career.
Price's optimism about Pedroia's discovery is encouraging, but it also feels slightly desperate. If Price were doing something this obviously different and detectable, wouldn't Carl Willis and John Farrell – who have a combined 17 major league seasons as pitchers and another 13 as pitching coaches – have spotted it within three seconds of watching video? You have to believe they would, even if you're simultaneously yelling, ''THEY HAVEN'T FIXED THE BUM BUCHHOLZ, HAVE THEY?"
I can't help but believe that a tough question remains attached to this glimmer of hope: If Pedroia's observation and Price's requisite adjustment to his delivery don't improve results – if he doesn't recover the approximately two miles per hour he's lost on his fastball since last season and gets bounced around by the Astros on Thursday – then what?
By his standards, Price has been terrible. Hell, in some ways he's been terrible by John Lackey-in-2011 standards, and that is arguably the worst season a Red Sox pitcher has ever had. Lackey checked in with a 6.41 ERA and 1.61 WHIP in his second season with the Red Sox after signing an $82.5 million contract in December 2009. In October 2011, it was announced that Lackey would undergo Tommy John surgery. It surprised no one.
The deal ended up being a worthwhile one for the Red Sox, but the memory of a big-money pitcher struggling is not an ancient one. The dip in velocity alone makes one wonder whether Price is hurt. It's a natural reaction, but I truly don't believe he is. He insists he's healthy, and he seems to have been forthcoming about injuries in the past.
On May 15, 2013, his eighth start for the Tampa Bay Rays that season, Price left an eventual 9-2 loss to the Red Sox with one out in the third inning with triceps soreness. His ERA at the time was 5.24, and it was the worst start to a season of his career until this year.
He ultimately spent nearly six weeks on the disabled list before returning in early July, where he quickly returned to form. Over his final 18 starts from that point forward, he went 9-4 with a 2.53 ERA. He didn't mess around with an injury then. I can't imagine he would now.
It makes for a sizzling-hot sports radio topic, but I doubt there's a mental reason for Price's poor start in Boston beyond the normal frustration and bewilderment that comes from an unfamiliar struggle. His exasperation is obvious, but he's said all the right things. There are no Tim Wakefield-style "I made good pitches they just hit 'em" justifications here. He hasn't offered lame excuses like Buchholz is prone to do when everything isn't situated perfectly. He's been lousy, he admits it, and he's doing everything he can to get his act together.
Oh, and yes, he can handle the biggest moments. J.D. Drew can confirm.
Believe it or not, there are some encouraging numbers on Price's ledger. Despite the dip in velocity, he has struck out 53 in 41.1 innings, good for an 11.5 strikeout rate that would stand as the highest of his career, last year's 10.5 K/9 being his best. His stuff must be OK, right?
His FIP – which estimates what a pitcher's ERA should be based on those three true outcomes, strikeouts, walks, and home runs allowed – is a mere 2.93. BABIP has not been his friend – he's been stung for a .373 average on batted balls, 85 points higher than his career mark. Over his career, he's stranded 74.3 percent of all baserunners. This year? 54.2 percent.
He's clearly due for a little more luck. He could also put himself in a better spot by reducing his walks. His 2.6 walks per nine is fine for most pitchers, but it's double his 1.3 BB/9 from a year ago.
So, is there a conclusion that can be drawn from Price's odd assortment of numbers? Well, no, not really. I guess we could say they suggest he hasn't been as bad as he's looked. But the truth is that he's looked so bad at his worst that any seemingly favorable numbers are going to draw skepticism.
Maybe that return to form is as simple as a mechanical fix spotted by a second baseman who usually is more into putting on his own laser show than helping a pitcher put an end to one. It had better be. If the basic adjustment doesn't prove to be the fix, the curious case of David Price will only get more complicated.
Unless, I suppose, Xander Bogaerts or another hitter-turned-de-facto-pitching-coach has a suggestion or two. Then we'll listen again. The solution is out there, somewhere.