Red Sox
FiveThirtyEight: Pedro Martinez had the highest peak of any MLB pitcher, and it's not particularly close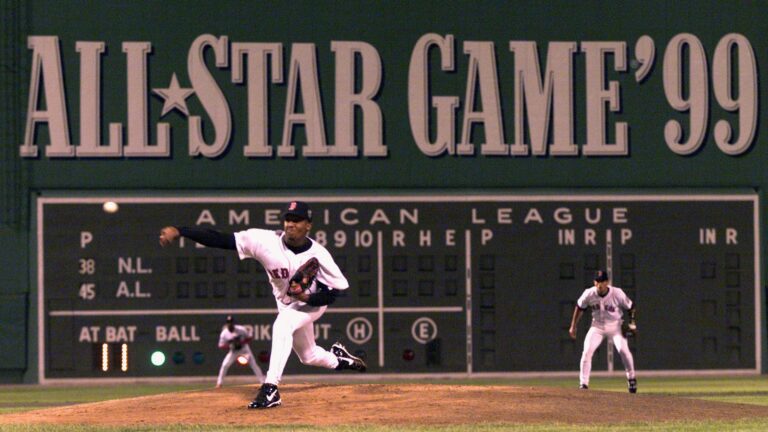 Pedro Martinez may not be tops in MLB history in wins, strikeouts, earned run average, or any other conventional baseball metric. But was the Red Sox legend nevertheless the "best" pitcher of all time?
Data journalism website FiveThirtyEight says yes.
The site ranked pitchers by their Elo Pitcher Score, an accumulative rating that represents the expected effect a pitcher would have on his opponents' hitting in his next start.
As FiveThirtyEight explains, a player's Pitcher Score is based on an aggregation of how they have performed through their career.
Rookie pitchers start with a relatively low Pitcher Score, but they can build it up by posting strong starts according to the game score formula, which rewards pitchers for quality performances (with a slight bonus for greatness in the fielding-independent categories of strikeouts, walks and home runs).
By this metric, Martinez reached and maintained a higher statistical peak from 1999 into 2003 than any other MLB pitcher had achieved since 1911 (which is as far back as necessary data is available).
Pedro Martinez's peak was *way* higher than any other pitcher. https://t.co/BHCtjDPl7D pic.twitter.com/ERlg335Wvb

— Nate Silver (@NateSilver538) May 12, 2016
During those five seasons, Martinez won two Cy Young Awards and recorded an 82-21 record, with an ERA of 2.10 and 1,205 strikeouts over 933 innings pitched—building upon an already-impressive seven-year career at the time.
The very peak of Martinez's career, according to FiveThirtyEight, and thus the all-time highest point reached by an MLB pitcher, came on June 8 of the 2000 season, when he threw a one-hit shutout in eight innings against a loaded Cleveland Indians lineup, recording 10 strikeouts and one walk.
Martinez's Pitcher Score after that game was 78.0, more than six points higher than the second-through-20th highest peaks, clustered between 66.9 and 71.8.
FiveThirtyEight also ranked the greatest pitching seasons, according to Pitcher Score.
Martinez is first on that list too. And second. And third.
In fact, according to Pitcher Score, Martinez owns four of the top six single-season performances all time by an MLB starting pitcher.
The best games from the best pitchers of all time: https://t.co/NVyUrm7tSC pic.twitter.com/6q0yNJAtmA

— FiveThirtyEight (@FiveThirtyEight) May 13, 2016
His 2000 season, in which he set the all-time single-season WHIP (walks plus hits per inning pitched) record, ranked first. His injury-shortened 2001 season was second, followed by his 1999 season. The 1995 seasons of Greg Maddux and Randy Johnson rank four and fifth, respectively, before Martinez comes in again with his 2002 season ranking sixth.
So, yeah. Pedro was pretty good.