Red Sox
Where Jackie Bradley Jr.'s hitting streak ranks in Red Sox history
Dom DiMaggio and Nomar Garciaparra dominate the list.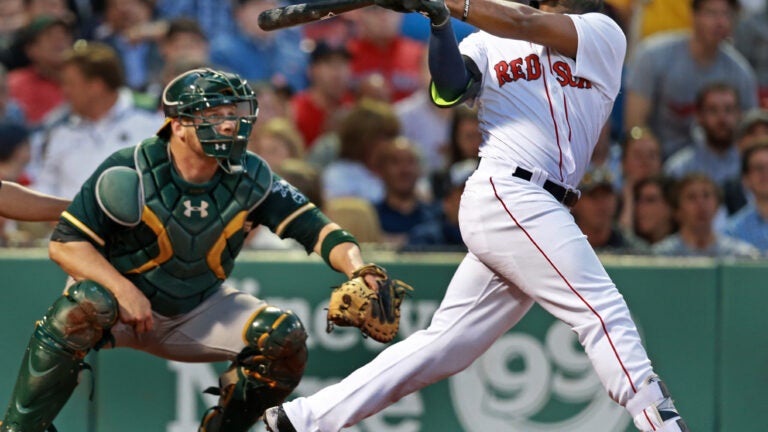 As impressive as Jackie Bradley Jr.'s recent hitting streak has been (the longest in baseball this season), it's worth remembering that it still isn't close to the rarefied air of the Red Sox record book.
Set in 1949, Dom DiMaggio continues to hold the record for longest hitting streak in Red Sox history at 34 games. In that span, DiMaggio successfully hit in every game during the month of July, as the streak spanned from June 29 through August 6.
Nomar Garciaparra ranks second on the Red Sox all-time list, churning out a 30-game hitting streak during his rookie season in 1997. In that stretch, Garciaparra hit .383, belting nine home runs.
Notably, DiMaggio and Garciaparra collectively account for four of the top 10 Red Sox hitting streaks in team history (as well as seven of the top 28).
Here's a look at some of the other top hitting streaks in Red Sox history:
Dom DiMaggio: 34 games (1949)
Nomar Garciaparra: 30 games (1997)
Johnny Damon: 29 games (2005)
Wade Boggs: 28 games (1985)
David Ortiz: 27 games (2012-2013)
Manny Ramirez: 27 games (2006)
Dom DiMaggio: 27 games (1951)
Nomar Garciaparra: 26  games (2003)
Johnny Pesky: 26 games (1947)
Over the last 24 games, Bradley is hitting an astounding .402 with three triples and six home runs. Known primarily for his defense, the 26-year-old has been an instrumental cog in baseball's most prolific lineup so far in 2016.