Red Sox
What would Xander Bogaerts need to do to pass Nomar Garciaparra as the best Red Sox shortstop?
For one, Nomar had more power than Xander has currently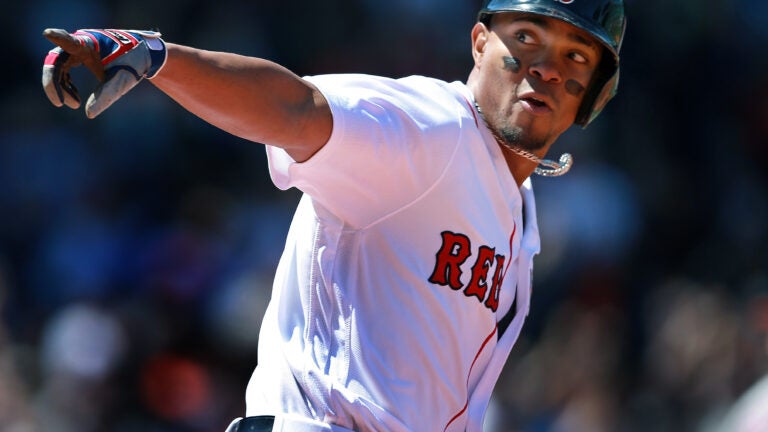 COMMENTARY
Xander Bogaerts is off to a fantastic start this season. As we did during his hot start to the 2014 season, when Bogaerts is going great it's easy to dream on him. Actually, it might be even easier now.
Back in 2014 Bogaerts wasn't the best fielder or base runner, so those were easy nitpicks to his game. Now, he's doing well in all facets. So, let's dream a little bit. Exactly how good does Xander Bogaerts need to be to become the greatest Red Sox shortstop of all-time?
I suppose we should figure out concretely who the current best shortstop in team history is. Just kidding, it's Nomar Garciaparra. You could put one Americo Peter Petrocelli in the discussion, but Rico played essentially the same number of games at third base as he did shortstop. The story was very similar for John Valentin and Johnny Pesky, and Vern Stephens spent most of his final two seasons in Boston at the hot corner as well. Original franchise shortstop Freddy Parent warrants mention, and Joe Cronin definitely belongs in the discussion, but the crown is currently Garciaparra's. He was the best hitter by far, and overall the best the team has had. So let's take a look at what Bogaerts would have to do to pass him.
For four years – 1997-2000 — Garciaparra played at a Hall of Fame level, but his performance dropped thereafter. Since looking at his average season would be dragged down by 2001 and 2004 thanks to injuries, let's instead look at his performance per 600 plate appearances, as 600 PAs is generally a good proxy for a full season.
Per 600 PA, Garciaparra had the following totals: 177 hits, including 39 doubles, seven triples and 25 homers. He scored 98 runs, drove in 95, and swiped 12 (in 16 tries). That's really good, in case that wasn't clear. He also had 39 walks against 56 strikeouts.
The strikeouts is one area where Garciaparra and Bogaerts differ. While Bogaerts' per 600 PA line has him at a similar walk total (37), Bogaerts' strikeout total is far higher, at 114. With 32 doubles, he gets close to Garciaparra's total, but with just two triples and 10 homers, he's a little light on the extra-base hits. Still, this line is dragged down by Bogaerts' first two seasons, when he didn't really hit all that well. Things have been much different since the start of 2015.
The good news is that Bogaerts has a good head start on Garciaparra. By the end of Garciaparra's age-23 season, he had compiled 6.4 WAR. Bogaerts is already at 7.1 WAR. While Garciaparra was a legit prospect for the Red Sox – he was the No. 10 prospect in the game heading into his rookie season – he was drafted out of college, which meant he was older when he entered pro ball. Garciaparra was 23 in that rookie season of 1997. That's the same age Bogaerts is now, in his third full season.
The head start will help Bogaerts, but one area where Garciaparra had a clear edge over Bogaerts is in power production. In his rookie season, Garciaparra slugged .534, and had a .228 Isolated Power (or ISO, a measure of a player's extra-base hits per at-bat, calculated by SLG minus AVG). Bogaerts' career line to date is .405 and .117.
That's a big gap, but we can start dreaming a little on this because Bogaerts has started to tap into his power. In 2016, Bogaerts is slugging .494 and has posted a .155 ISO. It's still a far cry from Garciaparra, who would go on to slug .584, .603 and .599 the next three seasons, and never slugged less than .470 in Boston. But if Bogaerts can get to that low .500s level, he'll have a strong chance to match Garciaparra.
The really bad news, of course, is Bogaerts' contract situation. He is only under contract through the end of the 2019 season, so he has a lot of work to do in the next three-and-a-half seasons to catch up to Garciaparra.
It's not out of the realm of possibility, but it isn't too likely. The gap between Garciaparra and Bogaerts is currently 31 WAR (38.9 for Garciaparra, 7.1 for Bogaerts). So Bogaerts would need to say, put up 5 more WAR this season to give him 7+ WAR for this season, and then he'd need to average 9 WAR per season from 2017-2019. To put that in perspective, there have only been 18 shortstop seasons at 9 WAR or higher ever – six by Honus Wagner, four by Alex Rodriguez, two by Cal Ripken Jr., and one each by Lou Boudreau, Robin Yount, Ernie Banks, Arky Vaughan, Rogers Hornsby and Petrocelli (1969). Just 10 of those 18 seasons have come since baseball integrated in 1947, and Boudreau's only sort of counts, since one of the few black players in the American League at that time was on his team (Larry Doby).
Xander Bogaerts is on his way to becoming a superstar, and as such, it's fun to wonder if he can become the greatest shortstop in Red Sox history. If the Red Sox are able to sign him to an extension, he's got a legitimate shot, one that will be enhanced by him continuing to grow as a power hitter. If he can start averaging 20+ homers per season, or hit a bunch more triples, while continuing to play good defense and make smart decisions on the base paths, he'll have a shot. It's going to be fun to watch.
Notable Red Sox in-season trades
[bdc-gallery id="106412″]