Red Sox
The worst free-agent contracts in Red Sox history (and some that weren't so bad after all)
Pablo Sandoval isn't the worst free-agent signing in franchise lore. Who is? Well, it wasn't that long ago ...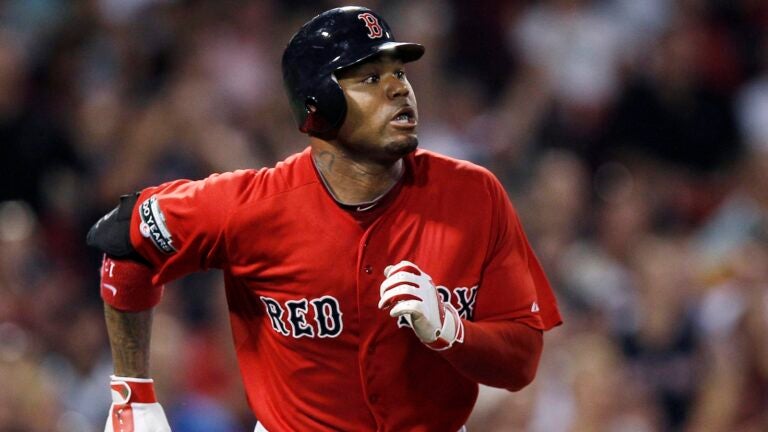 COMMENTARY
A conclusion before we get into the argument: Pablo Sandoval is not the worst free-agent signing in Red Sox history. He is, my friends, the second-worst.
The worst – irrefutably – is Carl Crawford, who signed a seven-year, $142 million contract with the Red Sox in December 2010 and alternated between hapless and miserable almost from Day 1 in Boston.
Crawford, whose skill set was redundant with Jacoby Ellsbury's and personality was far more suited for the relative obscurity of Tampa Bay, submitted a .711 OPS in 161 games over two seasons for the Red Sox, played a shockingly poor left field, and didn't run as effectively as he did in his Rays heyday.
The Dodgers mercifully took him off their hands in August 2012 for the price of also including sweet-swinging first baseman Adrian Gonzalez and occasionally-still-effective pitcher Josh Beckett.
It was the rare example of a deal in which you give up the best player (Gonzalez) and feel like you got away with a heist.
Oh, yes, Crawford – who has been mostly lousy with the Dodgers and still has a year left on that deal at nearly $22 million – was a worse idea and signing than Sandoval. His contract was two years longer and included $47 million more, for starters. They also didn't need him, while with Sandoval there was at least a void to be filled at third base since Will Middlebrooks didn't pan out.
Curiously, there is strong suspicion that a major part of the motivation for signing both Crawford and Sandoval was to appease the casual NESN audience that loves characters and superstars. Let's stop doing that, shall we?
So why, you ask, am I bringing this up now? After all, the Red Sox are playing rather well, Sandoval is out of sight and mind, and any silly and premature talk of David Price being a high-priced flop himself has been hushed with two straight excellent starts.
Well, because I'm not really bringing it up now. I intended to write this Worst Contract In Red Sox history column a few weeks ago, and fell through a wormhole (which is in actuality a descending staircase to The Boston Globe archives) and got lost looking up some of the details on their worst deals since the reserve clause was abolished and free agency began following the 1975 season. That's how a column becomes a project.
So here comes the project. A couple of ground rules before we really get into this. Some of these perceived bad contracts didn't end up being terrible deals – but there was at least a point in time in which they were regarded poorly.
And remember that pay scale has shifted through the years: What may have been a seemingly exorbitant salary for Bill Campbell in 1976 is now approximately what Price makes per start.
Also: Anyone who thinks the eight-year, $160 million deal Manny Ramirez signed before the 2001 season was a bad one can check out right now. Go read the "What the Cast of the Brady Bunch Looks Like Now" gallery or something. Baseball isn't for you.
Now that we've got that settled, I'll show my work . . .
Alleged Aces
John Lackey
December 2009: five years, $82.5 million
Am I the only one who habitually messes up the order of his highs and lows during his four-plus years in Boston?
We know he ultimately gained redemption, winning over fans with a brilliant performance in the 2013 postseason and a beer-chugging, I-don't-give-a-damn-what-you-guys-think attitude that fits the New England sensibility.
We know the Cardinals stole him – and the $500,000 option on his contract – from the Red Sox in July 2014. But I continually make the mistake of thinking that his historically awful 2011 season – when he had a 6.41 ERA and allowed a league-high 119 runs – was his first season in Boston, when it was actually his second.
He was OK his first year here (14-10, 4.40 ERA, 99 adjusted OPS). After pitching through the '11 season with a bum elbow, he required Tommy John surgery and looked like an all-timer of a flop when he missed the entire '12 season. But then came '13 and his sweet redemption.
He wasn't an ace all the time, but he was in the biggest moments. Remember him well.
Daisuke Matsuzaka
February 2007: six years, $52 million, after a $51.11 million posting fee
I mean, he wasn't terrible, right? He won 33 games and a World Series title in his first two seasons. He finished fourth in the Rookie of the Year voting in '07, then fourth in the Cy Young voting in '08 after – thanks to some deft managing by Terry Francona — going 18-3 with 2.90 ERA despite averaging just 5.2 innings per start.
He had his moments. Just not nearly as many as were expected when he arrived in a torrent of hype that is almost embarrassing in retrospect. My goodness, people, we actually tracked his plane when he was en route to signing his contract. We compared him to Pedro! We bought into something called a gyroball!
The biggest disappointment with Dice-K was not his performance, though it certainly ended with a thud – he won just 17 games total over his final four seasons.
It's that he was so boring. It was a lot more fun imagining what he might be than realizing what he was.
Matt Clement
December 2004: three years, $25.8 million
In retrospect, former Red Sox architect Theo Epstein sure busted up The Idiots in a hurry, didn't he? The engines of the duck boats had barely cooled before the departures began – Pedro Martinez to the Mets, Derek Lowe to the Dodgers, and so on. It was probably the right idea to avoid complacency, but the replacements left something to be desired.
The Globe's Gordon Edes wrote in December 2004 that "the supply of attractive pitching options [was] dwindling daily," noting that the Red Sox had lost out on Carl Pavano to the Yankees and were resigned to Randy Johnson also donning pinstripes.
The Red Sox whiffed on trying to acquire Tim Hudson from the A's, and the Marlins weren't open for business on A.J. Burnett.
So what did they end up with? David Wells, John Halama, Wade Miller, and most notably, Clement, whom they had tried to acquire straight-up for Lowe during the '04 season.
Clement had early success with the Red Sox: He made the All-Star team in '05, winning 10 of 12 decisions. But luck abandoned him. So did his health.
He was hit in the head by a Carl Crawford line drive in July. The following season, he had a 6.61 ERA in 12 starts when he had to be shut down with a shoulder injury that required surgery. He never pitched in the majors again.
David Price
December 2015: seven years, $217 million.
Oh, stop. His velocity is up, his luck has turned, and this is about to get good.
Closed Deals With Relievers
Keith Foulke
December 2003: Three years, $18.75 million
He had just one great season. But it was one great season. If you're one of those Johnny-from-Burger-King types who want to tell me Foulke was a flop because he flamed out after his first season here, I'll offer you this 43-word response, and then I'll rest my unassailable case:
Swing, and a ground ball, stabbed by Foulke. He has it. He underhands to first… and the Boston Red Sox are the world champions! For the first time in 86 years, the Red Sox have won baseball's world championship. Can you believe it?
Bill Campbell
December 1976: 5 years, $1 million
Hard to imagine now, in a time when Price makes roughly $1 million per start, that a $1 million payday over multiple years was once mind-boggling.
Here's some context on how staggering Campbell's deal was at the time:
The workhorse reliever, coming off a 17-win, 20-save, 167.2-inning season for the '76 Twins, was hoping for a significant raise after his contract expired. How much did he make in '76? $23,000. How much did he want from the Twins? $35,000.
When the notoriously thrifty Twins passed, he entered the relatively new world of free agency — and hit the jackpot with the Red Sox.
"Anyone who wants to pay my athletes what the Red Sox are paying Bill can spell my name any way they want," said Campbell's agent, LaRue Harcourt, whose name was misspelled in the team-issued press release announcing the deal. "The money is the important thing."
There's another telling reminder that this deal – beyond the missing zeroes in the paycheck – is a relic of its time.
There's no chance a relief pitcher with the workload Campbell had endured would get a lucrative long-term deal nowadays – especially a screwball pitcher, which I should clarify was the best offering in Campbell's repertoire and not a commentary on his personality.
Perhaps it wasn't predictable then that he would burn out, but in retrospect it sure looks obvious. And, sure enough, after one excellent bullpen workhorse season with the Red Sox – a 13-win, 31-save, 140-inning gem in '77 in which manager Don Zimmer would have used him for four innings per game if he could have – his arm betrayed him. He never threw more than 54.1 innings in a season for the Sox over the final four years (1978-81) of his deal, though he did bounce around the majors until '87.
Jeff Reardon
December 1989: three years, $6.8 million
Provided that you've forgiven him for the Roberto Kelly homer – one of the more unheralded gut-punch moments of the '90s – Reardon was not a bad signing. It was just one that initially didn't make a whole lot of immediate sense from a roster-construction standpoint.
The Red Sox already had an accomplished closer in Lee Smith on the roster, and everyone knows it's against The La Russa Laws of Bullpen Micromanagement to have two pitchers who want the ninth inning.
While the plan was to trade Smith – and help "rectify the clubhouse problem the Red Sox had last year," wrote the Globe's Nick Cafardo at the time of the Reardon deal – signing Reardon might have devalued Smith as an asset.
As it turned out, the Red Sox got a decent return, trading him in May 1990 to the Cardinals for outfielder Tom Brunansky. Save for that brutal Kelly homer, Reardon ended up doing what he was paid for, saving 88 games in two-plus seasons before being traded to the Braves in August 1992.
There was another Twins player the Red Sox were pursuing when they landed Reardon. According to reports of the day, they nearly got burly first baseman Kent Hrbek on a $10 million deal at the same time. He returned to the Twins, but man, wouldn't he have been the quintessential '90s Red Sox hitter.
Ramiro Mendoza
December 2002: two years, $6.5 million
Ah, yes, it's the man who inspired the term The Embedded Yankee. He was essentially the Yankees' version of Derek Lowe during the contentious '90s rivalry, a versatile and valued right-hander who seemed to be able to get a groundball whenever the situation deemed one necessary.
For the Red Sox, though, he seemed to be able to give up a rocket in any role and situation, allowing 10 homers in 66.2 innings in '03 en route to a 6.75 ERA.
So much for Epstein's plan to use him as a key cog in the ill-fated Closer By Committee. "I don't see it as a risky strategy," Epstein said the day Mendoza's signing was formalized. "I think it's going to evolve as needed. We might end up with a more traditional closer, but the pen has been built in such a way that it's going to work."
Whoops. Mendoza was somewhat better in limited action in '04 (3.52 ERA in 30.2 innings), but his best days were all on the other side of the rivalry. In a sense, the last time we recall seeing him was fitting – he was standing in the Yankees' dugout, looking sheepish, as the 2004 Red Sox received their rings on Opening Day 2005. He got his, too. Unlike the four he won in New York, he didn't have much to do with earning it.
Past-Their-Prime Sluggers
Tony Perez
November 1979: three years, $1.175 million
The Red Sox signed the 37-year-old Perez to replace Bob Watson, who bolted for the Yankees via free agency after an excellent half-season as the replacement for Boomer Scott. It seemed a curious move; Perez was coming off a mediocre walk year with the Expos in which he slashed just .270/.322/.425 with 13 homers and 73 RBIs in 132 games.
But he did give the Red Sox the last strong season of his Hall of Fame career, hitting 25 homers and knocking in 105 runs in 1980 (albeit with a league-high 25 double plays) before beginning a slow fade in '81.
The best explanation for the signing, naturally, came from Peter Gammons, who in breaking the news that the Red Sox were close to signing him wrote: "Perez may long for the Red Sox because he wants to join the New Hampshire excavating group searching for the home run he walloped off Bill Lee in the seventh game of the 1975 World Series."
Andre Dawson
December 1992: Two years, $9.3 million
I never knew this until discovering it during the descent into the Globe archives, but Dawson was actually a consolation prize. The Red Sox original free-agent target in the winter of '92 was a different slugger: Mark McGwire.
The Red Sox signed Dawson almost immediately after Gorman met with McGwire's agent and asked him to reduce his contract request from five years and $30 million to three years and $19 million.
McGwire apparently put down the 100-pound dumbbells long enough to tell his agent what the Red Sox could do with that offer, and so they moved on to Dawson, who was coming off a 22-homer, .772-OPS season for the Cubs at age 37.
"The Red Sox had a chance to take the ball and run," McGwire's agent, Bob Cohen, told the Globe's Nick Cafardo. "Mark and I discussed it, and he said if they weren't interested, the heck with them."
The Red Sox were desperate for a bat – Tom Brunansky led the team in homers and RBIs in '92 with a paltry 15 and 74, respectively. The plan was for McGwire – er, Dawson – to replace the miserable-in-every-way Jack Clark, who complained and whiffed his way to a .210 batting average in '92.
According to Cafardo, one of Dawson's biggest advocates was former Red Sox manager Don Zimmer, who had him with the Cubs.
"If you don't like Andre Dawson, you don't like your wife," said Zimmer, who apparently liked his wife.
"What you're talking about here is a high-class individual who puts up numbers in a quiet way," Zimmer said. "He doesn't say more than two words, and you talk about courage. I don't know a player who would put himself through what Dawson puts himself through. He's got to bandage those knees twice a day."
You know, I dug Andre Dawson. During his Expos heyday, he was one of my favorite players. There was a time when I thought he was better than Tim Raines. But when his former manager tells you that a 37-year-old outfielder has to bandage his knees twice a day, and it's meant as praise? I don't know, maybe that's a sign that you shouldn't sign the guy?
Hanley Ramirez
November 2014: four years, $88 million
You like him now, don't you? Admit it. Hanley has won you over this year with his happy-go-lucky approach, surprisingly adept defense, and .800-plus OPS. Yeah, I got down on the guy too last year. I thought he was gone over the winter, and I thought he should have been gone.
But I can acknowledge the truth if you can: The Red Sox are always better for it when there's a goofy right-handed masher named Ramirez in the heart of their order.
The Shortstops, A Former Shortstop, And The Brother Of A Shortstop
Jose Offerman
November 1998: four years, $26 million
Former Red Sox general manager Dan Duquette took a lot of grief for … well, for a lot of things. Some of it was self-inflicted, and much of it justified. But his oft-mocked comment that Offerman would make up for some of the "on-base capability" that departed when Mo Vaughn signed with the Angels? That was kind of smart of him, wasn't it? Maybe ahead of its time, even?
The year before joining the Sox, Offerman did have a .403 on-base percentage, .001 higher than Vaughn's. And during his excellent first season with the Red Sox (56 extra-base hits, 107 runs, 18 steals, 67 RBIs), he was adept at reaching base (.391 OBP, along with a .294 average and an .826 OPS.)
Years later, Offerman feels like a flop, in part because he was a joyless grouch who faded fast after that fine first season. But Duquette was right about him: He was damn good at getting on base at a time when we didn't value that skill as much as we would a few years later.
Edgar Renteria
December 2004: four years, $40 million
Found this in the requisite candid-profile-of-the-new-player piece in the Globe after the Red Sox signed the accomplished former Marlins and Cardinals shortstop:
Displaying a mix of curiosity and apprehension, Renteria asked if Boston was "a nice city," and winced when informed it was much colder than St. Louis.
I mean … he had just played a couple of October World Series games at Fenway. You'd think he might have noticed that the ballpark wasn't exactly located on the corner of Van Ness Street and the equator.
I suppose we could take that as a hint that he didn't know what he was getting himself into. Renteria had a terrific 16-year career – his top three statistical comps are Alan Trammell, Tony Fernandez, and Barry Larkin – but for reasons that are still somewhat mysterious, he lasted just a season in Boston.
He wasn't terrible – he scored 100 runs and drove in 70 – but he was subpar defensively, and ended up making the last out of the Red Sox' season for the second year in a row when they were swept by the White Sox in the ALDS.
The first, of course, was the stabbed-by-Foulke classic while he was still a Cardinal. We liked that one better around here.
When the best memory of your Red Sox existence happened before you even played for the team, that's another sign that maybe Boston isn't your place.
He was traded to the Braves for Andy Marte in December 2005 and soon found his past form. I wish it had worked for him here. He was good before and after Boston, and it would have prevented Epstein from signing …
Julio Lugo
December 2006 four years, $36 million
Bob Ryan famously asked Epstein at a press conference, "What's the fascination with J.D. Drew?" But it was another free-agent signing that offseason that bewildered me.
Why did the Red Sox – Theo, presumably – covet Lugo so much?
He was decent during four seasons (2003-06) with the Rays, a slightly above-average offensive player (.287/.350/.421, 105 adjusted OPS over that span) who was erratic defensively (25 errors in 2004). But the Red Sox seemed to have … well, a fascination.
Not only did they sign him to this deal to replace Renteria on the post-Nomar shortstop carousel, but they seriously pursued him previous to that, nearly trading Manny Ramirez at the deadline in '05 in a three-way deal that would have brought some combination of Mike Cameron, Aubrey Huff, and Lugo.
That would have been a very, very regrettable trade. Which one could also say – perhaps with one fewer "very" – about this signing.
J.D. Drew
January 2007: five years, $70 million
Whaddaya you guys got against the Drews, anyway? All they do is win championships in your city! Fun fact: The Red Sox have not won a World Series without a Drew on the roster since 2004.
All right, he showed all the emotion of a cardboard box; but it's not necessarily a bad thing to be the opposite of Trot Nixon, you know. And sometimes he was passive … and he was injury prone … and brutal during his final season … oh, and he also played a superb right field, submitted back to back seasons with an OPS over .900, hit the season-turning home run in the 2007 ALDS, and was totally worthy of the fascination. So there.
Gorman's Gaffes
Despite a certain ghost of a Deal Gone Wrong that never stopped haunting, Lou Gorman had a decent run as the general manager of the Red Sox. Above average, even. During his 10 seasons in charge (1984-93), the Sox won the American League East three times and the pennant once.
He traded for Don Baylor and Dave Henderson. Ellis Burks and Mike Greenwell developed on his watch. Roger Clemens and Wade Boggs emerged as superstars. The sun rose, it set, and he had lunch every day. Not a bad run.
But man, did he ever have a lousy stretch at the end of 1990, which coincidentally or not was the last playoff season on his watch. From Aug. 30 to the end of the year, here are Gorman's most notable transactions:
Traded prospect Jeff Bagwell to the Astros for reliever Larry Andersen: Yep. That's the ghost. I assume no detailed rehash is required of how that one played out; it's one of the most lopsided 1-for-1 deals in baseball history. But allow me to tip the cap to the Globe's Nick Cafardo, whose skepticism of the deal was apparent in his writeup the next day:
The Oakland A's get Willie McGee and Harold Baines. The Red Sox get Larry Andersen. Is it like countering a nuclear attack with a squirt gun?

"I don't care about their deal," said Red Sox general manager Lou Gorman. "I tried to get this guy three weeks ago."

Three weeks ago, the Houston Astros were evidently holding out for Babe Ruth for the 37-year-old reliever. So the Red Sox gave them Lou Gehrig. Well, not quite, but third baseman Jeff Bagwell, a University of Hartford product, was considered one of Boston's best prospects. Bagwell, who played all season in Double A New Britain, hit .333 with 4 home runs and 61 RBIs.

"We had depth at third base with Wade Boggs, Tim Naehring and Scott Cooper," said Gorman. "It was one area where we could afford to lose a player in order to get a pitcher who could help us win the pennant. If we win the pennant with Andersen, the deal is worth it."
The Red Sox did not win the pennant. The deal would not have been worth it if the Red Sox won the next half-dozen pennants and got the Astrodome as part of the deal. But hey, Scott Cooper was a two-time All-Star.
Released Dwight Evans: Sure, his power had left him, but he still had a decent .740 OPS in '90. And it's Dewey! You don't release Dewey! Weird rumor at the time: The Indians, who had just hired John McNamara as manager, were prepared to offer Evans a 10-year deal. He was almost 39 years old at the time. That cannot possibly be true, though it is the Indians we're talking about. Anyway, Evans played one more year, putting up a .393 on-base percentage and looking weird in Orioles orange before calling it a (Hall of Fame-worthy) career.
Released Jeff Stone: Who didn't love Jeff Stone? He was on Cloud 10!
Released Marty Barrett: Who didn't love Marty Barrett? And how come he hasn't managed in the major leagues? We were told every day of his career that he was a future manager for sure.
Signed Matt Young, Jack Clark and Danny Darwin: OK, and now we're back to the free-agent portion of the program. The Red Sox signed the trio of free agents over a span of 15 days in December 1990. It rates as one of the worst holiday shopping sprees in franchise history, and perhaps baseball history. Clark, an accomplished slugger, got three years and $8.7 million. Darwin, coming off an excellent season with Houston, got four years and $11.8 million. And Young, who threw a baseball with his left arm at high velocities, got three years and $6.4 million.
Darwin was mediocre for the Sox, going 34-31 with a 4.11 ERA in four seasons. Clark had a decent '91 season (28 homers, .249/.374/.466) , a brutal '92 season (5 homers, .210/.350/.311), but was remarkably consistent in his miserable mood. He never played another major league game after '92.
And Young? Well, the Red Sox signed him only when they missed out on their first target, Bob Welch, who had won 27 games for the A's in '90. Young did not win 27 games in his two seasons with the Red Sox. How many did he win? Three. Three. He lost 11, submitted a 4.91 ERA, struggled to throw the ball to first base, and couldn't win even when he was unhittable.
Young did have a live arm, and thus he had some suckers … er, advocates. Wrote Cafardo:
Young comes with kudos from several scouts. Mel Didier, the Los Angeles Dodgers' top adviser, said, "That's a heck of a signing. Young can really bring it. He's becoming a better pitcher with age. Forget the record he had, look at the quality of the arm and the pitcher. Look at the makeup of the man. He's going to help."
Mel Didier may have been a nice man and a fine scout, but in this case, Didier didn't know diddly.
Lost Larry Andersen to free agency: Oh, of course they did.