Red Sox
Red Sox player power rankings: Jackie Bradley Jr. won't quit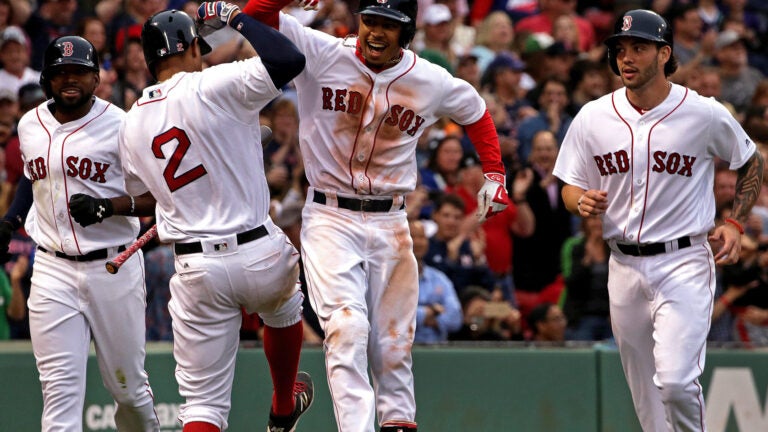 COMMENTARY
Last time we suited up for the Red Sox player power rankings, I noted that the Red Sox have the best offense in the American League. This time, it is my duty to inform you that the team currently has not only the best offense in the AL, it has the second-best offense in baseball's Integrated Era (1947-present) . While that is fueled in part by the best-ever team batting average on balls in play (BABIP) and as such is not necessarily long for this world, it's important context for what the team is doing right now. With the back end of the rotation still creaky, the offense is propping up the team. Hopefully the team's brain trust can figure out the proper plan for the starting pitching before the bats cool off.
28. Clay Buchholz (Previous – 23): Watching Buchholz right now is fairly masochistic. Buchholz has allowed at least eight baserunners in all but one of his starts this season. He's rocking the worst strikeout percentage of his career, and his worst walk percentage since 2008. He's only striking out 4.9 percent more batters than he's walking (K%-BB%) – only five starting pitchers in the game have been worse. The Sox don't have a lot of great options on the farm right now, but it's hard to see how any of them could be doing any worse. Maybe it's too early for Teddy Stankiewicz, but it's definitely too late for Buchholz in Boston. Uncle!
27. Matt Barnes (21): Similar to Buchholz, Barnes is walking nearly as many batters as he's striking out. His 7.5% K%-BB% is eighth-worst among relievers who have tossed at least 20 innings. Carson Smith's return to the disabled list gave Barnes a stay of execution. We'll see if he can make the most of it.
26. Ryan Hanigan (22): The veteran catcher had a three-hit day last Sunday, and it still didn't raise his batting average to .200. It's since plummeted back to .179. He's finished just two games this season with a batting average of .200 or better. To make matters worse, both Baseball Prospectus and StatCorner have Hanigan at the bottom of their catching framing leaderboards, so he's not even adding value on defense. He must be one hell of a clubhouse presence.
25. Carson Smith (19): It's starting to look like a lost season.
24. Marco Hernandez (Not Ranked): He really hasn't had a chance to do much yet, but he was tearing up Triple-A before he was called up, so we'll put him here on the strength of that potential plus his utility as a backup infielder and pinch runner.
23. Brock Holt (12): Holt had perhaps the most delayed concussion announcement I can remember, which is troubling. Hopefully he will be back soon, but he drops this time because he was slumping badly before the concussion. Or perhaps because of the concussion?
22. Tommy Layne (24): The results have been more or less what they were last season, but he's walked more than 15 percent of the batters he's faced, and that's just not a recipe for long-term success unless you can throw 100 mph. Layne throws 89.
21. Joe Kelly (25): Well shut my mouth. Credit where it's due, that was a hell of a return engagement from Kelly on Saturday. In fact, by FanGraphs' new version of Game Score, it was the second-best start of his career, with only his April 11, 2015 outing in the Bronx rating better. Can he build on this? We'll see. He's still walking nearly a batter per inning, but at least there's now something on which to build.
20. Blake Swihart (NR): The good news is he's back. The bad news is he's not catching yet, as he played all three games this weekend in left field.
19. Christian Vazquez (20): Unlike Hanigan, Vazquez actually is good at pitch framing, so at least he's bringing something to the table. But his offense continues to slide. Among the 29 catchers with at least 80 plate appearances this season, Vazquez's offense ranks 25th.  At a certain point, his offense might be so bad that his good defense won't be enough for him to add value.
18. Eduardo Rodriguez (15): The team could still use him, but where two weeks ago we were expecting his return, now – after his latest setback — we're just wishing he returns. And as the great Burgess Meredith once said, you can wish in one hand, and crap in the other, and see which fills up first.
17. Josh Rutledge (26): So far this season, 364 position players have racked up at least 40 plate appearances. Of them, Rutledge has the highest BABIP — .565. Literally 56.5% of the balls he's put in play have fallen in for hits. Second place? Paulo Orlando of the Royals at .478. That is a absurdly hilarious gap. Small sample sizes are fun, as long as we acknowledge that they're meaningless.
16. Heath Hembree (16): He's been fine.
15. Koji Uehara (9): If Koji has been making you nervous, well you are not alone. I am here with you.
14. Chris Young (18): He's still one of the best in the game at hitting lefties, and that's all the team needs from him right now.
13. Robbie Ross Jr. (11): He didn't really didn't do anything to drop, it's more others just doing really well. After allowing three runs in his third game of the season, he's only allowed three in his next 10 outings, and only two of those runs were earned.
12. Hanley Ramirez (8): The batting line looks shiny, but beneath the surface there are troubling signs. He is running a career-high .395 BABIP, which may come down, and his strikeout rate is six percent higher than his career average, and it may not. Hopefully he makes some adjustments before the bottom drops out.
11. Rick Porcello (3): Porcello hasn't been bad, but he definitely hasn't been as good over the past two weeks.
10. Travis Shaw (7): For the week starting May 8, Shaw hit .423/.531/.846 in 32 plate appearances, with just three strikeouts. For the week starting May 15 through Sunday, Shaw hit .200/.226/.367 in 31 PA, with 10 strikeouts. That's about as extreme as two weeks can get. The strikeouts are still an issue, but overall Shaw has still been a big positive.
9. Junichi Tazawa (13): He's held the opposition scoreless in 16 of his last 17 outings, and has been clean in each of his last seven outings. That's about as good as it gets.
8. Craig Kimbrel (10): He's held the opposition scoreless in 16 of his last 17 outings, and has been clean in each of his last nine outings. That's also about as good as it gets!
7. David Price (14): Since that last bad outing against the Yankees, Price allowed just 3 runs in 14 innings across two quality starts, with 17 Ks. Thanks Dustin!
6. Mookie Betts (17): As he heats up, the feats of Mookie begin to pile up. He's racked up multiple hits in each of his last four games, and in eight of his last 12.
5. Steven Wright (2): Everyone is allowed a stinker now and then, and Wright's wasn't even that bad – five runs allowed in 4.1 innings. The Sox have seen far worse this season. He followed it up with a hard luck loss on Wednesday, in which he allowed just six baserunners in eight innings.
4. Dustin Pedroia (4): Pedroia continues to do everything at a better than average clip, and quietly is one of the best players on the team. It's been fun to see.
3. David Ortiz (1): It'd be more accurate to call these rankings 1A, 1B and 1C. Ortiz is literally the best hitter in the majors right now, and not by a small margin.
2. Xander Bogaerts (6): By WAR, Bogaerts has been the sixth-best player in the game and fourth-best in the AL. By batting average, he's been fifth-best overall and best in the AL. Say it with me – Xander Bogaerts is a superstar. Mayhaps he could be as good as Nomar.
1. Jackie Bradley Jr. (5): New Englanders of a certain age will remember the department store Bradlee's. At Bradlee's, you bought what Mrs. B bought. And nobody could buy like Mrs. B. Similarly, right now nobody is hitting like Jackie Bradley Jr. He's got a better batting average than Manny Machado, a better on-base percentage than Mike Trout, and a better slugging percentage than Bryce Harper. And like the department store that more or less bore his name, he's doing it at bargain basement prices. How does he do it?
These are the top Red Sox prospects
[bdc-gallery id="547310″]