Red Sox
Should Red Sox fans forgive Roger Clemens? Um, are you from around here?
The tainted former ace returned to Fenway Park last night for a celebration of the 1986 American League champions. But he's not worthy of the fans' good graces just yet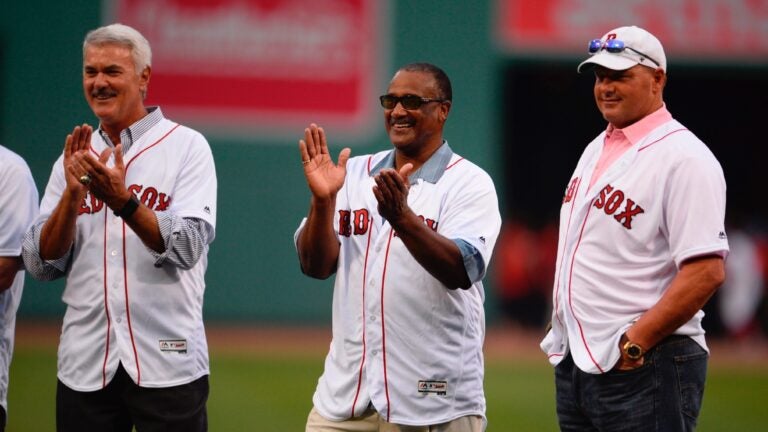 COMMENTARY
Ready for the Rocket Redemption?
If you answered yes, I can only presume you possess either a short memory, are misremembering some false nostalgia, or were born too recently to comprehend Roger Clemens's soulless disregard for Red Sox fans until he needs something.
@GlobeChadFinn I'm concerned there's a generation of Red Sox fans who don't hold a grudge against Roger Clemens.

— Josh Rovner (@JoshRovner) May 25, 2016
If you answered no, perhaps accompanied by a string of well-placed expletives, good answer. Also, too bad, because you're apparently getting at least an attempted reconciliation.
I don't know if we've forgotten any of the ways Clemens oafishly belittled the Red Sox since departing as a free agent following the 1996 season, his 13th year in a record-setting but unfulfilled run with the franchise.
But it's apparent now that he wants us to forget, and expects us to forget, and the Red Sox apparently are willing to be complicit in that baseball amnesia.
The Red Sox honored their 1986 American League Champions last night at Fenway. It was a sweet snippet of sentimentality to accompany another impressive victory by their 30-season juniors. The class reunion had a good turnout, with still-familiar faces Dwight Evans and Jim Rice joined by long-ago stalwarts and old favorites such as Marty Barrett, Bill Buckner (who may have received the loudest cheer, and not for the first time here) and Mike Greenwell.
There were bit players, too – Pat Dodson and LaSchelle Tarver and, hey, is that Rob Woodward? – proudly and justifiably in basking in the sepia-toned achievement. Unfortunately for NESN viewers, they did not trade Steve Lyons for Tom Seaver during the middle of the ceremony. Psycho was there too.
Then there was Wade Boggs, the Hall of Fame third baseman and ahead-of-his-time offensive dynamo (career .369/.464/.527 slash line at Fenway) whose No. 26 will be retired by the Red Sox Thursday.
Boggs was theoretically the man of the hour. But it was Clemens who was introduced and emerged last from the dugout among all of the '86 Red Sox during the pregame ceremony. It was no big thing on the surface – he was the American League Cy Young winner and Most Valuable Player during his transcendent '86 season – but longtime Rocket observers (hello) couldn't help but see it as a typical Clemens moment. Wade gets his turn tomorrow; the Rocket is the biggest star in the sky tonight.
Maybe that is cynical. Hell, maybe it's wrong, and someone else determined the order of introduction. But it seemed fitting on a couple of levels. It positioned Clemens as the main attraction, even though Evans, Buckner, and Boggs all received louder ovations. And it positioned him as someone Red Sox fans should admire above all others. Last is first in this sense.
I've got a beef with that. Oh, of course I recognize that Clemens is in the rotation of the greatest pitchers of all-time – maybe at the front of it. Pedro Martinez's peak was better, but Clemens's lasted so long at such a high level that he's eighth all-time in WAR, trailing only Cy Young and Walter Johnson among pitchers. Wednesday night's reunion – and NESN's recent airings of his first of two career 20-strikeout games – have served as reminders of his transcendence.
But did he have to be such a tactless dope about … geez, everything? Like signing with Toronto for the most money when he said he'd leave only for his home state of Texas (to be fair, there's a decent chance he thought they bordered each other) … or negotiating language into that contract that allowed him to ask out after two years, then manipulatively bandwagon-hopping on the Yankees' juggernaut … or joining southpaw pantload David Wells in rubbing Babe Ruth's monument – and rubbing it in – after Game 7 of the 2003 ALCS, the pinnacle of the Yankees' dominance of the rivalry and the low point for many Red Sox fans who had once rooted for him … or leading Larry Lucchino and the Red Sox to believe he'd come back during the 2007 season, only to, oh my goodness gracious, show up in George Steinbrenner's box and rejoin the Yankees.
I know, we should be over it, all of it. The previous paragraphs don't exactly serve as confirmation, but believe me, we are. The three championships since 2004 changed everything, which is why the '86 team is now celebrated rather than lamented. Hell, we forgave Boggs for riding a bleepin' police horse around Yankee Stadium after the Yankees won it all in 1996; we'd buy him all the Miller Lights he could guzzle if we ran into him at a bar or on a plane nowadays.
Clemens, incapable of candor and sometimes seeming incapable of honesty, is a different case. Unlike Boggs, who always seemed bothered by the separation from Boston, he never gave a damn about the Red Sox unless he needed them. He needs them now. On pure accomplishment, he'd have been a first-ballot Hall of Famer, perhaps someone who challenged for the highest vote percentage ever. Instead, because of the stench of his association with performance-enhancing drugs, he's four years into his candidacy and on the outside looking in, with a high of 45.2 percent of the vote this year.
If he's going to gain the requisite 75 percent of the vote for election over his remaining six years on the ballot, he'd better get that redemption in a hurry. To accelerate that redemption, he needs to be visible, engaging, and maybe even sympathetic. Barry Bonds, who is suddenly doing such fan-friendly things as agreeing to be a speaker at a Society for American Baseball Research gathering, is setting the template for that as the Marlins' hitting coach. Clemens, who was here breaking down David Price's delivery (and surprisingly well) during a recent NESN broadcast, sure appears to be taking the same approach.
One of Bill Simmons's first hugely successful columns at ESPN 15 or so years ago was titled "Is Clemens The Anti-Christ?" It's a classic now, and strikingly prescient on how he would be perceived all these years later:
The prevailing feeling seems to be that Boston fans will soften during the twilight of Clemens' career — when he enters that cuddly "aging and vulnerable" stage that turns everyone nostalgic — and we'll collectively bury the hatchet with him, forgive his sins and accept him back in our good graces. …

Well, I'm here to tell you … this will never happen. Sometimes relationships pass a point where they can be salvaged, as Ike & Tina, Nicole & OJ and Sam & Diane all proved over the years. In the Rocket's case, too much has happened. We can't let it go. We won't let it go. When you give your heart to someone and they basically drop it on the ground, stomp on it a few times, then ask, "What did I do?" … well, you don't forget something like that. Ever.
Ever? Ever. All these years later, and where is Roger? Back in our city, popping out of the dugout last, waiting to be showered with affection, hoping we forgot.
Should Red Sox fans forgive him? Sure – just as soon as he has the epiphany that he actually requires forgiveness. Before the Rocket gets his redemption, at least in our neighborhood, he needs to realize he actually needs it.
Maybe a man can become self-aware at 53 years old. But it seems to me there's a better chance he confirms every word of the Mitchell Report or beats Dave Stewart in a big game. He thinks he's reintroducing himself to us. Little does he know we've known him all along.
Who are the Red Sox' all-time statistical leaders
[bdc-gallery id="661869″]