Red Sox
Only concern with Betts, Bradley, and Bogaerts is how much cash Red Sox should offer them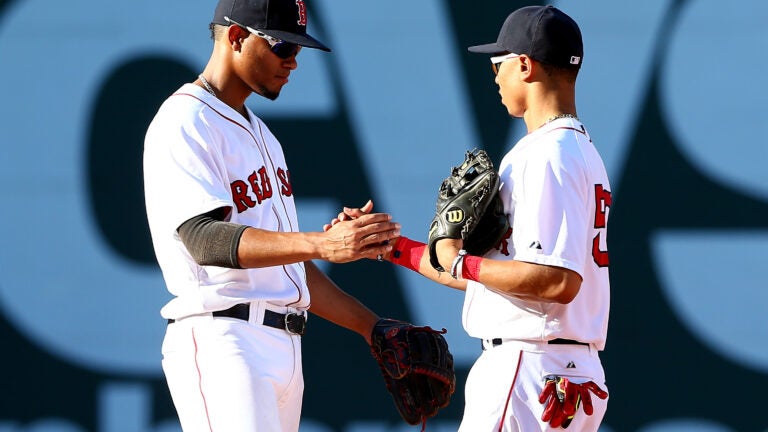 COMMENTARY
Convinced?
Following the likes of Lars Anderson, Garin Cecchini, Will Middlebrooks, Deven Marrero, Anthony Ranaudo, Ryan Kalish, Michael Bowden, Craig Hansen, and a long list of other baseball prospects hyped by Red Sox developers as the foundation for the franchise's long-term future, it takes more than a few good months to sway Boston fans into a commitment with a young star.
Then there are Mookie Betts, Xander Bogaerts, and Jackie Bradley Jr., Princes of Boston, Kings of New England.
If there's a sense of gloom with the impending — we think — retirement of Red Sox superstar David Ortiz, it's tempered to a significant degree with the knowledge that the club is in good hands with its impressive band of young players, who have latched onto the 2016 season as their official coming out party.
Bogaerts leads the majors in hitting at .3478 and has a plate discipline that might compare the 23-year-old shortstop to a right-handed Wade Boggs.
Betts, also 23, is coming off a remarkable two-game performance during which he slammed five home runs in six at-bats in Baltimore, and is fifth in the American League in home runs (14), ninth in slugging (.544). And that's after a fairly slow start during which the right fielders hit only .239 over the first three weeks of the season.
Bradley's Gold Glove-caliber defense in center field is so treasured by the Red Sox that most prognosticators suggested the team would be more than pleased with the 26-year-old if he managed to hit only .250 at the plate.
How's .331 with a 1.010 OPS instead?
The performances of that trio are no small part of what has the Red Sox leading the league in runs scored, hits, doubles, triples, total bases, batting average, OBP, and slugging. The Red Sox are atop their division for the first time in three years, and Boston finally has summer baseball to care about, never mind a crop of youngsters who have already become favorites in their short, productive times in town.
So, when do the Red Sox sign them?
If only it were as simple as principal owner John Henry writing a $450 million check and letting the three of them split it between them on their own authority. (Maybe Tom Werner could even market the scenario into a NESN reality show, a sort of "Brewster's Millions" antithesis, if you will.) Alas, it's up to Dave Dombrowski and Mike Hazen to begin the preliminary talks into keeping Betts, Bogaerts, and Bradley in Red Sox uniforms past their free agent dates, which creep closer with every eye-widening progression they make.
Bogaerts, a client of Scott Boras, has only three more years until he can test the market after the 2019 season. No other player has had more hits than Bogarts (273) since the beginning of the 2015 season, a clear sign that the player has already begun blossoming into the talent the Red Sox had hoped he'd be when they signed the Aruba native as a 16-year-old in 2009. He'll be 28 years old when the bidding could begin.
A year later, it would be Betts and Bradley's turns to test free agency, entering the market as 28 and 31-year-olds, respectively.
With that sort of timeline, it isn't like this should be top priority for the Red Sox, yet the price tag will increase dramatically with each year leading up to the turn of the decade. So, priorities need to be set.
Bogaerts.
Betts.
Bradley.
There's little debate that Bogaerts has the highest ceiling of the three players, a five-tool athlete whose slight downside has been a lack of power. But this year, he's already one shy of the seven homers he hit in 2015, on pace for 18. At the rate he's going, Betts might have that amount by Saturday, but, indeed, the home runs have been more consistent for the shortstop than they have been the last three seasons.
There's Stephen Strasburg's seven-year, $175 million contract that the stringent Boras recently negotiated with the Washington Nationals that floats like a sign that another one of his clients may not necessarily be dead-set on free agency. Either that or the agent is just getting up there in years. The Red Sox played that game for far too long with Jacoby Ellsbury though, something they'll want to avoid with a guy who looks like he's nothing less than a franchise cornerstone.
In a perfect world, the Red Sox could prop both Bogaerts and Betts with new contracts together, a la Jonathan Toews and Patrick Kane, who signed identical eight-year, $84 million extensions with the Chicago Blackhawks in 2014. It's going to take a little more firepower to sign these two though.
As early as last spring training, baseball folks were already comparing Betts to former MVP Andrew McCutchen, who signed a five-year, $51.5 million extension with the Pittsburgh Pirates in 2012, when he was 25 years old. He's making $13 million this season, and is signed through 2017, with a $14.75 million team option for 2018. Four years later, that's probably not even a starting point for Betts.
For all his ability, Bradley, also a Boras client, gets stuck somewhere in the tomb of the unknown. He was a .294 hitter in the minors, but what was there to suggest that the outfielder would bring a stick capable of somewhere around 30 home runs? He's already hit nine this year. He hit 30 over five seasons in the minor leagues.
This is where the Boras association might get tricky. While Bradley is a thoroughly entertaining entity on this Red Sox team, he's also one that is coveted elsewhere, and could be a valuable chip in the team attaining some needed pitching depth up and down the system's ladder. Need we remind anyone that it was Ellsbury who at one year older than Bradley is now, hit .321 with 32 home runs, 105 runs batted in, and a .928 OPS in 2011. Those are numbers he hasn't come close to sniffing during any of the other nine years of his professional career, yet somehow conned the New York Yankees out of $153 million. He's got two home runs so far in 2016.
Would you pay seven years, $153 million for Jackie Bradley Jr.?
Hesitantly. Maybe. Probably not though.
Would you pay it to Betts and Bogaerts?
Yes. When?
We've seen enough to know by now.
We can only presume, so have the Red Sox.
Historical look at Fenway Park
[bdc-gallery id="115689″]