Red Sox
Jose Fernandez is challenging one of Pedro Martinez's historic records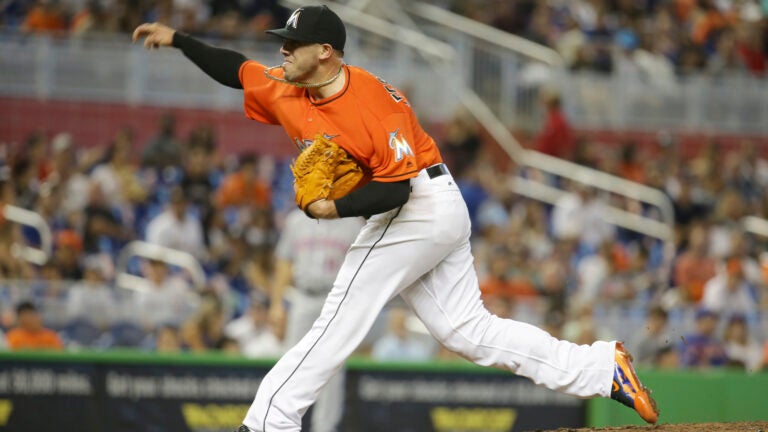 Pedro Martinez struck out a lot of batters over the course of his career — but this season, Jose Fernandez has a chance to break one of his historic records.
The Marlins' 23-year-old hurler has an MLB-leading 110 strikeouts and a 13.26 K/9 rate after a dominating performance against Matt Harvey and the New York Mets on Sunday in which he had 14 punchouts in seven scoreless innings.
But even more impressive, however, Fernandez is on pace to exceed Martinez's single season record for strikeout rate in 1999:
The highest K% in a full season belongs to @45PedroMartinez at 37.5% (1999). Jose Fernandez is at 37.7% – RIGHT NOW. pic.twitter.com/tsm1zCrsfx

— MLB Stat of the Day (@MLBStatoftheDay) June 6, 2016
Fernandez has struck out 10 or more batters in four of his last six starts and has an eight-game win streak, matching Chris Hammond (1993) for longest in Marlins franchise history.
"I think we're seeing a more under-control Jose as far as making pitches and maturity towards pitching," manager Don Mattingly said via MLB.com. "But then we still get to see the emotional kid, who loves to compete. It's fun to watch."
Martinez finished the 1999 season as the Cy Young winner with 23 wins and an ERA of 2.07.  Through 57 contests, Fernandez is 9-2 with a 2.29 ERA.
10 Amazing Pedro Martinez Quotes
[bdc-gallery id="106585″]