Red Sox
David Price's performance isn't a problem, and other Red Sox ponderings
Also: Travis Shaw has much in common, for better or worse, with Brian Daubach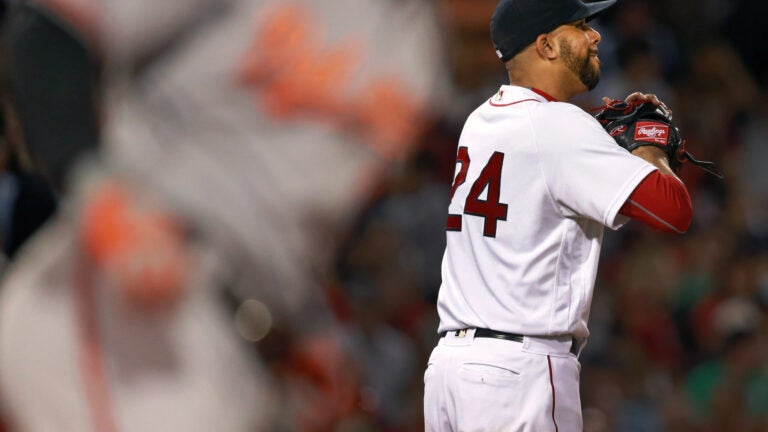 COMMENTARY
The Red Sox have now played 65 games during the 2016 season, with the latest, Thursday night's 5-1 loss to the Orioles, dropping their record to 37-28 and their standing in the American League East to second place.
Sixty-five games may seem like a random benchmark at which to pause and consider the state of the team, and maybe it is. But who are we kidding? Around here, we consider the state of the Red Sox after every single game, win or lose, but especially lose.
We don't have benchmarks. We have daily referendums that are heavily dependent on the previous evening's outcome. It's who we are, man.
No reason to deviate from that now, I suppose, so long as we cling to some sense of reason. So here are a few thoughts on the Red Sox as we await the all-important Game 66 …
* * *
Sure, it's frustrating that David Price has lost his last three starts and doesn't have a victory since May 24. It's also mostly a fluke. He is pitching very well – over his last seven starts, he has a 2.68 ERA and has held opposing hitters to a .193 batting average and a .612 OPS, which means opposing lineups have essentially hit like nine Rusney Castillos against him.
Because the offense has let him down during this run of excellent starts – which is pretty much the opposite of what happened early in the season, when they were scoring runs by the bushel and he was doing a 2010 John Lackey imitation – there's been a murmur that he needs to be even better. (His salary is usually mentioned somewhere early in the murmur.)
That's a demand born from frustration, and while he's certainly more capable than most of pitching an occasional shutout, it's not fair to expect it. Pitchers do not pitch to the score. They pitch to hitters, and then talent sometimes cedes to luck in that matchup. Price is doing excellent work getting those hitters out. He'll have the wins to show for it soon enough.
In the meantime, please resist applying personal character attributions to the guy based on how effective he is at preventing a bat from hitting a ball in a given fraction of a second. I heard one dopey sports radio caller suggest Thursday that Price lacks "grit." Presumably that caller was wearing a Trot Nixon shirsey while waiting on hold for 45 minutes for the fleeting satisfaction of making his vague but moronic point. Grit is a euphemism that needs to go away.
* * *
Just going to leave this here.
Travis Shaw, through 501 career PAs: 20 HRs, 72 RBIs, .268/.332/.459. Average of B. Daubach's first 2 years with Sox: 21, 74, .268/.334/.498

— Chad Finn (@GlobeChadFinn) June 12, 2016
I don't mean this as an insult, by the way. Daubach was a very streaky hitter, but during his hot streaks he hit like a player worthy of another zero on the end of his paycheck.
Shaw was essential to the Red Sox' hot start this year, just as Daubach was for the admirable '99 Sox when he slashed .341/.399/.667 with 19 homers from the season opener through August 15. Shaw's peaks won't be quite that high, but he's going to have his ups and downs. He's in one of the downs right now. He'll come out of it, and his ability to play a competent third base gives him value in the interim.
* * *
Remember when the Yankees, in an amusing and obvious overreaction to the Red Sox landing the coveted – yes, coveted — Daisuke Matsuzaka, attempted to counter by signing lefty Kei Igawa from the same Japanese league?
And remember how Igawa was terrible for the 2007 Yankees (6.27 ERA, 15 homers in 67.2 innings) before being banished to Triple A Scranton/Wilkes-Barre, where he remained through 2011 save for two appearances in '08 with the big-league team?
Well, he may not play the same position or share a homeland, but the Red Sox have their very own Kei Igawa situation in Rusney Castillo.
I suspected part of the reason the Red Sox signed the Cuban defector was the lingering the frustration of just missing out on countryman Jose Abreu the year before. The White Sox won the bidding for Abreu – the Red Sox reportedly were a close second – and he went on to win the 2014 AL Rookie of the Year award and finish fourth in the MVP balloting.
Castillo was the consolation prize, and he's been no consolation at all. He turns 29 next month, he has a career .674 OPS in Pawtucket, and the Red Sox acknowledge that he struggles to hit fastballs. That is not a future big leaguer. That is a cause that has already been defeated. Perhaps the Red Sox could banish him to the International League like the Yankees did with Igawa, but it will be a long stay – he's under contract through the 2020 season, when he'll turn 33.
* * *
I don't believe Christian Vazquez is a starting catcher long-term. He's Jose Molina, not Yadier. The exquisite defense covers for the deficient offense only to a point, and we're close to surpassing that point. He has a 45 adjusted OPS this year in 141 plate appearances. He's hitting .209 with a .547 OPS. And evidence that he's aiding the pitching staff in any meaningful way isn't obvious, either. He can be a useful player because of that defense. But he turns 26 in August, and I don't know how much better he's going to get. The great miracle of this season so far is that he somehow took Dellin Betances deep.
* * *
Xander Bogaerts since the beginning of the 2015 season, a span of 219 games played for the 23-year-old shortstop: .331/.371/.451, 15 homers, 73 extra-base hits, 120 adjusted OPS. Derek Jeter through his first two full years in the majors (1996-97, his age 22-23 seasons), a span of 316 games: .302/.370/.417, 20 homers, 89 extra-base hits, 102 adjusted OPS. Wonder if anyone in New York in those days chirped that Jeter needed to hit for more power, or did they have the sense to appreciate the jump-throwing budding superstar in the No. 2 jersey?
These are the Red Sox' all-time statistical leaders
[bdc-gallery id="661869″]