Red Sox
Red Sox player power rankings: Xander Bogaerts, David Ortiz leading way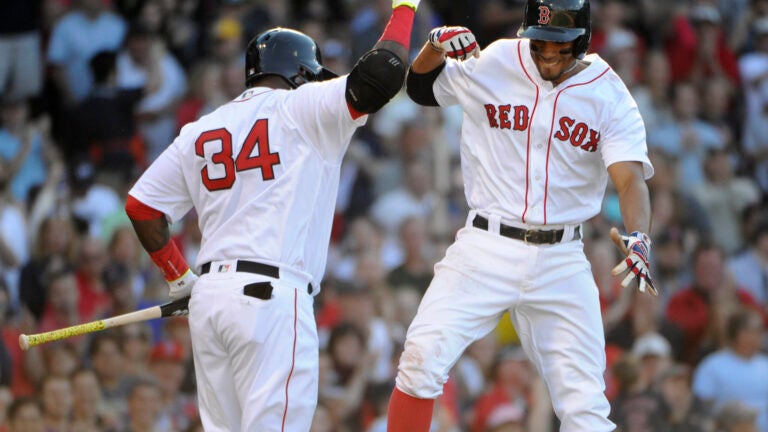 COMMENTARY
We've officially reached the treading water portion of the season for the Red Sox. Some players on the team have been fantastic, but with the roster's bottom still pretty malleable, the team is in constant search of the right mix. So far, internal solutions are being sought.
One potential solution to consider is starting pitcher Aaron Wilkerson, who has a 2.03 ERA at Pawtucket this season, and has become one of the minor league's most statistically interesting players, according to Carson Cistulli of FanGraphs. For this week, we're stuck watching Clay Buchholz again.
29. Ryan Hanigan (Last week, 28): Still on the disabled list. Still useless.
28. Josh Rutledge (19): After hurting his left knee, Rutledge was also placed on the disabled list. It was probably a blessing in disguise. Rutledge doesn't have much of a ceiling, and it'll be nice to see if Marco Hernandez and/or Deven Marrero can make a good impression, since they might.
27. Ryan LaMarre (NR): The former Reds farmhand was called up over the weekend. He hasn't played yet, and might not play much. Still, it's nice to see the 27-year-old collect a big league paycheck, even if only for a limited time.
26. Deven Marrero (NR): Last year, Marrero was a sub-replacement player in his 25 games at the major league level. Let's hope he's better this time around.
25. Matt Barnes (24): Inertia can be a powerful force. Right now, it's the only one keeping Barnes on the roster. He posted a 7.36 ERA the last two weeks.
24. Christian Vazquez (15): The last time around, I was willing to be optimistic that with the entire catching burden thrust upon him, Vazquez would take advantage. Instead, he hit .192/.192/.231, and might now start losing time to Sandy Leon. Sandy Freaking Leon! Vazquez's 1 wRC+ over the last two weeks – as in 99 percent worse than league average – is appalling. The 25-year-old really needs to figure out a different strategy offensively. He's walking less and striking out more than he did in 2014, and if he keeps hitting so poorly, he may be below the Mendoza line in two weeks' time.
23. Sandy Leon (27): Sandy Leon is a 27-year-old with nine extra-base hits in his major league career. And at the moment, he's the best catcher the Red Sox have.
22. Brock Holt (23): Brock Holt didn't play in the last two weeks, yet he moved up a spot in the rankings because the players behind him are/were just that bad.
21. Blake Swihart (22): He won't be back until August, and maybe not even by then.
20. Eduardo Rodriguez (14): It's hard to pinpoint anything that Rodriguez is doing right at this point. One of the biggest things that has gone backward for him is his changeup. Last year, it was a weapon. This year it has been ineffective: only 15 starting pitchers have had a less effective changeup on a rate basis.
19. Marco Hernandez (20): With Travis Shaw still scuffling, it might be the time to see if Hernandez (or Marrero) can provide a spark at third base.
18. Tommy Layne (21): Good news: Layne has been better lately. Bad news: manager John Farrell still doesn't trust him as much as the other relievers.
17. Heath Hembree (18): One of the better minor stories of 2016, Hembree is earning more trust from Farrell. He's probably not as good as his 1.98 ERA, but he should be a solid option going forward.
16. Clay Buchholz (26): They asked him to go to the bullpen and pitch better. And he did. In his 9.1 innings out of the bullpen, he posted a 2.89 ERA, and was only scored upon in one of his five relief outings. His reward is a return trip to the starting rotation. It remains to be seen whether fans see this as a reward for them as well.
15. Travis Shaw (10): Shaw now looks like the slightly above average player we figured he would be before the season, but the trendlines aren't good. Maybe he needs a few days on the bench to reset.
14. Hanley Ramirez (16): There are flashes, but sustained progress has been hard to come by.
13. Koji Uehara (17): He has allayed concerns by turning up the strikeouts. He struck out seven of the 14 batters he faced this past fortnight.
12. Robbie Ross Jr. (12): He's been fine.
11. Chris Young (11): The underrated Young keeps proving that the Red Sox don't need any outfield help.
10. Rick Porcello (13): Porcello has turned it on recently, and is now currently rocking a career-best K% and BB%, though his home runs allowed are still an issue.
9. Junichi Tazawa (8): Tazawa just keeps being a rock in the bullpen. Since he debuted in 2012, only 27 relievers have thrown more innings than Tazawa, and only 21 have been more valuable.
8. Craig Kimbrel (7): Kimbrel isn't at the top of any 2016 leaderboards quite yet, but he is quietly climbing them.
7. David Price (9): I can't believe Price allowed a home run on Sunday, what a bum! (Note: That's sarcasm.)
6. Dustin Pedroia (5): At .234/.275/.298 for the past two weeks, Pedroia has cooled off a little bit. Hopefully, his next hitting streak is just around the corner.
5. Jackie Bradley Jr. (4): His batting average has tailed off, but his power stroke remains intact. His .591 slugging percentage is fourth-best in the American League this season, and sixth-best in all of baseball.
4. Steven Wright (6): He's earned the win in his last five starts, and he's gone 7.1 innings in each of his last two outings.
3. Mookie Betts (2): Betts is now fifth in stolen bases in team history for players through their age-23 season. Three of the players ahead of him on the list played in the Dead Ball Era, when the running game was the main offensive weapon. The fourth, Ellis Burks, only has a 13-steal lead, and Mookie might just catch him by the end of the season.
2. David Ortiz (3): While Ortiz didn't lose nearly five seasons of his career to military service, it's still pretty cool to say he's hit as many home runs as Ted Williams.
1. Xander Bogaerts (1): In past editions of these rankings, I've said that the top three on this list could really be ordered any way you'd like. I'm not saying that any longer. Bogaerts might not be the best hitter, fielder or base runner on the team, but if he's not the best in each category, he's no worse than second best. He is doing it all, and by WAR he's the best position player in baseball, and the best player in the American League. Right now the only player in baseball better than Bogaerts is that Clayton Kershaw guy.