Red Sox
Marty Barrett and the disappearance of baseball's hidden-ball trick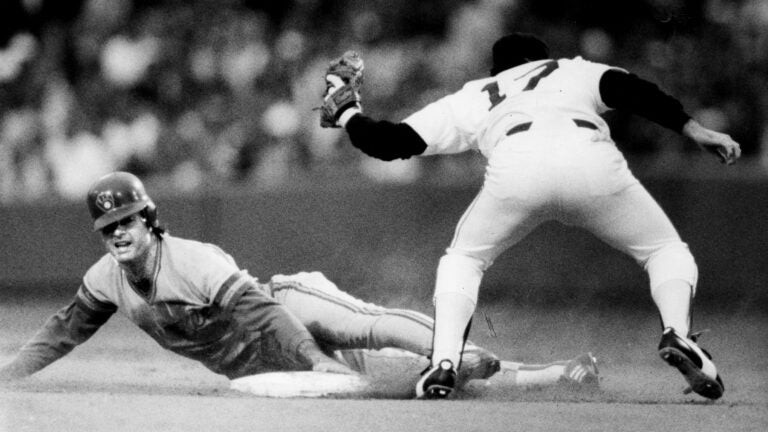 Hall of Fame manager Sparky Anderson admired him for outsmarting the competition.
Former California Angels third baseman Doug DeCinces once referred to his act as "Little League bulls***."
Teammate Bill Buckner admiringly gave him the nickname, "Dekemaster."
Call him a magician, a master of playing head games, or a con artist, former Boston Red Sox second baseman Marty Barrett had a knack for tricking players on the base paths, whether it was by making them believe a throw wasn't coming, alluding that the ball had gone elsewhere during a steal or hit-and-run, or, the play that became his signature, the hidden-ball trick.
"If he outsmarts someone, it's the other guy who ought to be embarrassed," Anderson, then the manager of the Detroit Tigers, said in 1984, a season during which Barrett was emerging as a consistent presence in Boston not only at the plate (he hit .303 in his first, full-time year with the major league club), but also in the field, where his crafty maneuvering and sleight of hand instilled angst in the duped opposition.
"I've always played that way because I always figured I had to," Barrett, who was listed as 5-foot-10, 175 pounds, told The Boston Globe's Peter Gammons 32 years ago. "There are so many big guys with natural ability in the game, a guy my size is at a big disadvantage. So I've always tried to do everything I could think of to win. That's the only chance I've got."
But the second baseman ended up doing more than matching wits against the competition. He hit .278 over nine years in Boston, a stretch that included being named MVP of the American League Championship Series (.367, five runs batted in) in 1986. He struck out against Jesse Orosco with two outs in the ninth inning of Game 7 of the World Series against the New York Mets, putting Shea Stadium in a frenzy, and extending the Red Sox' "curse" for yet another season.
Barrett hit .433 with a 1.014 OPS against the Mets, numbers overshadowed by the anguish of the Red Sox coming up one strike short of their first World Series title since 1918.
"You're shaking your head, but those types of games happen all the time during the season, where you have games in your grasp and there's some type of rally or something happens," Barrett said by phone last week from his home in Las Vegas. "It's hard to match the concentration and the feelings that you have during that time, and it's fun to be a part of it. That's what I try to grab from it, it was just fun to be a part of it.
"I would have liked to have won, it would have been great. We all wanted to win for the city of Boston and [team owner] Mrs. [Jean] Yawkey at the time more than anything, but life goes on."
The life of the hidden-ball trick, however, does not.
Barrett, who was a first-round draft pick out of Arizona State University in 1978, said that he learned how to pull the trick off during his first year of spring training at Double-A camp. Bristol manager Tony Torchia, who would also later manage Barrett at Triple-A Pawtucket, taught him about it, referencing the name of former Red Sox infielder Buddy Hunter, a guy whom Barrett called "the genesis of the hidden ball trick in the whole Red Sox organization." Hunter only played 22 games in the major leagues, but made his use of the hidden-ball trick the highlight of his limited resume.
"There are certain situations you do it in," Barrett said. "It's very simple. More times than not you do it after a bunt play — a sacrifice bunt. The pitchers know what they've got to do too and as soon they know that I'm keeping the ball, they have to go…just couldn't stand on the rubber…stand on dirt with their back to me. I would get the throw from either the first baseman or third baseman, because I was covering on a sacrifice bunt. And the first base coach is always congratulating the guy on a good sacrifice bunt, the third base coach is always looking into the manager, or they're just not paying attention either. So I would keep the ball and slowly walk over to my position at second base, kind of slowly get close to the bag.
"Then, eventually, it's just kind of like the internal clock of the base runner, he sees the batter in the batter's box, the pitcher on the dirt, and they just drift off and you tag them."
In the eighth inning of Boston's 8-6 loss to Chicago earlier this month, White Sox second baseman Brett Lawrie (after hitting a go-ahead home run in the top of the frame) held on to the ball to try to catch Xander Bogaerts napping, waiting to see if the Red Sox shortstop would stray from second base. Bogaerts stood at second with two outs after hitting what was ruled a ground-rule double, following fan interference atop the Green Monster. He didn't bite, but NESN commentator Dennis Eckersley made note of the relative rarity of such an attempt in 2016.
Back in May, Red Sox first baseman Hanley Ramirez attempted to goad Luis Valbuena of the Houston Astros with a fake hidden-ball trick, but the authentic ploy is even more of a rarity than it was in Barrett's playing days. Former Red Sox third baseman Mike Lowell pulled it off — twice — while with the Florida Marlins. In 2013, Tampa Bay Rays third baseman Evan Longoria caught Juan Uribe, then with the Los Angeles Dodgers, napping. One month later, former Colorado Rockies first baseman Todd Helton, playing his final month before retirement, faked a throw back to the pitcher's mound before tagging Matt Carpenter of the St. Louis Cardinals, a step off the bag.
"I've been wanting to do that for 17 seasons. Now I can cross that off my bucket list," Helton said, via The Denver Post. "It had never worked — that was the first time. Five or six times, I've given it a halfhearted effort. I can't believe it worked."
Barrett accomplished the trick three times in the major leagues, once against the Baltimore Orioles in 1988, and twice against the Angels — in the same month.
In 1985, Barrett caught Bobby Grich three steps off second base during the second inning of a July 7 game in Anaheim. That led to plenty of ribbing from Grich's Angels teammates, particularly as California flew cross-country to play the Sox at Fenway Park later in the month.
"So, we got Bobby Grich on that play, and then, a week later, they were coming to play us again," Barrett said. "And I guess Doug DeCinces was kind of teasing and razzing Bobby Grich the whole flight over. Like, 'Hey, be careful of the hidden-ball trick, Bobby. You never know.'"
Al Nipper was on the mound for the Red Sox on July 21 when DeCinces doubled with one out in the sixth inning. Nipper then walked Bob Boone before Dick Schofield sent a fly ball to the warning track in left. Left fielder Jim Rice threw the ball back into Barrett at second base.
"I didn't get the ball back," Nipper told the Globe, "and knew something was up. I didn't want to give it away." Instead, Barrett kept the ball and walked back to his position while Nipper stood on the mound, off the rubber.
Tag. Out.
Understandably, the Angels weren't pleased to get caught again.
"All I heard from DeCinces was yelling, as he was going off, to the umpire, 'You going to let him get away with that Little League bulls***?'" Barrett said.
At least one Angel appreciated it though.
"I guess Bobby Grich just loved it," Barrett said. "It was like the greatest thing for him."
Not so much for DeCinces, who apparently allowed the embarrassment to eat at him. According to the book, Finding the Hidden-Ball Trick: The Colorful History of Baseball's Oldest Ruse, his aggravation seeped into the following season's playoffs. Because he had been victimized, he vowed revenge against the Red Sox, according to author Bill Deane. DeCinces tried the trick against the Red Sox during Game 2 of the ALCS, when Spike Owen was on third in the eighth. Red Sox third base coach Rene Lachemann alerted Owen before DeCinces could lay on the tag.
Two years later, Barrett caught Baltimore's Jim Traber in September. In the second inning, Larry Sheets and Traber opened the inning with singles against Red Sox pitcher Mike Smithson. Sheets was forced at third on a bunt by Rene Gonzales. After the play, third baseman Wade Boggs threw to Barrett at first in an unsuccessful attempt to double up Gonzales. Barrett kept the ball and walked back to his position. When Traber took a lead at second, Barrett flipped the ball to shortstop Jody Reed, who applied the tag on Traber.
"I knew when I saw that both coaches weren't looking that it might work," Barrett said that night. "The coaches are the key, and it's not really the runner's fault. We all want to take a quick lead off the bag. I didn't want to give it away, so I lobbed the ball to Jody. He caught the ball and tagged him in one motion. That's how you have to do it. Bang, bang!"
It was the last time Barrett would find success with the trick. Not that he didn't try.
In 1989, he told second base umpire Jim Morrisson that he was going to attempt to get Oakland A's base runner Carney Lansford sleeping. But instead of allowing Barrett to attempt the hidden-ball trick, the umpire called timeout, foiling the plan.
"We had the hidden ball trick on and he called time out," manager Joe Morgan told the Globe after the game. "They should never do that in those circumstances."
Such timeouts became more frequent though, and, ultimately, filtered the trick from Barrett's game.
"After that, the umpires kind of stopped letting me do it," he said. "I don't know if they thought they would be embarrassed if for some reason they weren't following the ball. They kind of put an end to it.
"Sometimes you could do it on a double in the gap, do the same thing, get it and hold it. But as soon as I tried to hold it, the umpires would call timeout and say, 'Let me check the ball.' But if I didn't hold it and threw it to the pitcher, they wouldn't check the ball. I think something, somehow came down. So, I just stopped doing it after that."
For his part, Lansford said the trick wouldn't have worked that night anyway. Not on him, at least.
"The first time I was on second base, second inning, I told Marty, 'Let me see what's in that glove,'" Lansford said at the time. "Against those guys Red Sox, I don't get off the base until I see the pitcher on the mound. But that little play is gonna get Marty hurt because players don't forget that stuff."
As it turned out, it wasn't a colleague who hurt Barrett. On June 4, 1989, in the midst of the Red Sox blowing a 10-run lead to the Toronto Blue Jays, he tore the ACL in his right knee while tripping over first base. He came back in August and managed to hit .262 for the Sox the rest of the way, but played in only 62 games in 1990, hitting .226. The Red Sox released him that December. In 1991, he played in 12 games for the San Diego Padres before the team released him in June.
A few years later, Barrett would end up suing former Red Sox team physician and part-owner Arthur Pappas, claiming that the doctor's negligence over the serious nature of his knee injury cost him his career. Pappas was ordered to pay $1.7 million in damages in 1995.
Barrett had aspirations of managing in the major leagues after coaching in the Padres' farm system. He managed Single-A Rancho Cucamonga, but when the Padres opened the opportunity for him to move up to Double-A, his son also asked him to coach his Little League team. Barrett wound up doing so for six years. There would be no return for a big league managing job.
"I just kind of weaned myself away from professional baseball," he said.
He was inducted into the Red Sox Hall of Fame in 2012, and recently made an appearance in Boston when the Red Sox honored the 30th anniversary of the 1986 team in a pregame ceremony in May.
"It really felt nice to be remembered like that," he said.
Dustin Pedroia took the field that night for the Red Sox with Barrett watching. The similarities between the two second basemen go beyond the fact that both came to Boston from ASU. There's a fiery edge to each that has helped define their playing careers, even if Pedroia lacks the wily maneuver that made runners so weary of Barrett on the basepaths.
According to Barrett, Pedroia would have a much more difficult time trying it today than when he played in the 80's.
"Umpires switch balls way more often than when I was playing," he said, "They're throwing balls in and out of play all the time because they don't want even the tiniest stuff on the balls. I don't think they got rid of balls nearly as much as they do today."
Umpiring 101.
Play by the rules.
No Little League bull****.
Photos: Historical look at Fenway Park
[bdc-gallery id="115689″]