Red Sox
It's time for Dave Dombrowski to fix the Red Sox' small problems—and the big one, too
There are a few glaring flaws on the current roster—but the lousy starting pitching is in a league of its own.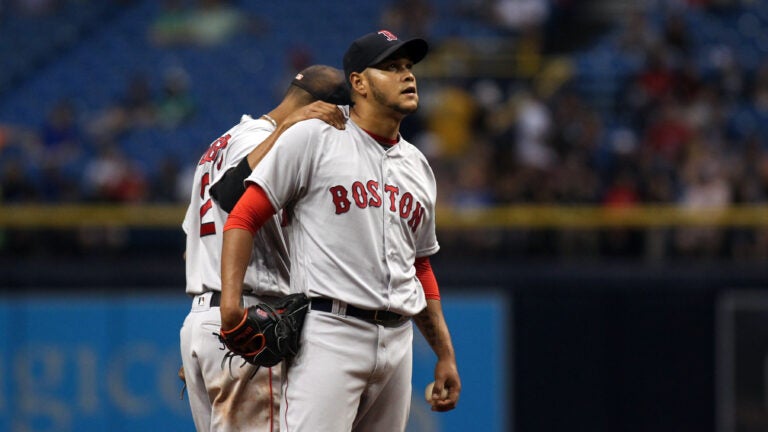 COMMENTARY
The reeling Red Sox, losers of 15 of 24 games since June 1, must repair their obvious roster flaws well in advance of the July 31 trading deadline if they are to restore and fulfill the promise of their season's first two months.
They've got the right man in charge to do it. President of baseball operations Dave Dombrowski is a born dealmaker; he strikes you as someone itching to make a trade just for the sport of it, even when one (or two, or three) isn't as imperative as it is now.
During his nearly three decades as a general manager (or de facto one), he has always been willing to trade talented but unproven players (Randy Johnson, Trevor Hoffman, and Johan Santana among them), often to bring in established veteran help to a perceived contender.
(Dombrowski's list of significant deals with the Expos, Marlins and Tigers is something to behold; it shows a knack and longstanding willingness for making virtually any kind of deal, and it should encourage Red Sox fans. I had no idea that his last trade with the Tigers — which sent Yoenis Cespedes to the Mets — brought budding top-flight starter Michael Fulmer to Detroit.)
There's a reasonable conclusion to draw from all of this: Something needs to happen, something will happen, and that something will probably happen soon. Dombrowski has urged caution and suggested that it is unusual for deals to be made this time of year, especially when so many teams either remain in wild-card contention or aren't ready to acknowledge their non-contender fate before the All-Star break.
That makes sense. It also sounds like lip service, and he cannot allow it to stop him. Rapid repairs to an obvious early-season hole aren't unprecedented around here. Theo Epstein acquired Byung Hyun Kim in late-May 2003 when it was clear the closer by committee approach was failing; and Kim (contrary to how many remember him) made a huge difference.
Dombrowski needs to be similarly proactive, and it's a good thing that it's in his nature. The Red Sox are still six games over .500 (41-35), but they are now 4.5 games back of the Orioles in the American League East after Monday's shameful debacle versus the Rays.
We knew the Red Sox would come back to earth somewhat after the offense cooled from that collective torrid start, but this is more than a slump. It's a trend and a problem, and if it isn't remedied soon, it may be beyond correction. The trading deadline is too late. The Red Sox need reinforcements now.
There are teams dwelling at the bottom of the standings now that have presumably available players who could help this cause. WEEI's Lou Merloni, someone with whom I typically agree on most baseball matters, keeps citing the A's, who are 10 games under .500 in the AL West, as a logical trade partner. Relievers Sean Doolittle and Ryan Madson, infielder Danny Valencia and outfielder Josh Reddick are all players who would fill one of the Red Sox' secondary needs. Maybe something can be worked out there.
The primary need? A starting pitcher, maybe two. You knew that. But I'm not sure many of us — even those among us who wish Clay Buchholz would just go away — realize quite how miserable 40 percent of the rotation has been.
The Red Sox have had 30 starts from pitchers not named David Price, Steven Wright, and Rick Porcello this season. In those 30 starts, Clay Buchholz, Joe Kelly, Eduardo Rodriguez, Henry Owens, Sean O'Sullivan and Roenis Elias have combined to pitch 145 innings. In those 145 innings — fewer than five innings per bullpen-killing start, it should be noted — this hideous amalgam of alleged pitchers has allowed 187 hits and 119 earned runs. It has allowed 79 walks, struck out 110, and given up 35 (thirty-five!) home runs. Those six pitchers, in 30 starts, have a 7.39 ERA and a 1.87 WHIP.
John Farrell shouldn't be managing this team. He should be its No. 4 starter.
If Dombrowski addresses the rotation in a major way — say, in a deal for the Braves' 25-year-old ace, Julio Teheran — here's hoping he can do it without parting with Yoan Moncada, who has kept hitting in Portland and is drawing comparisons to Robinson Cano.
But the asking price for Teheran, or even Oakland's Sonny Gray, is going to be crazy-steep, and we should brace ourselves not just for the asking price, but for the possibility that Dombrowski just might meet it.
Dombrowski gave up four kids with various degrees of promise for Craig Kimbrel without so much as a blink. The riches in the farm system aren't his finds and discoveries, but they sure as hell are his trade chips. I have a hunch, given that Mookie Betts and Jackie Bradley Jr. look like Fenway outfield mainstays, that Andrew Benintendi will make his major league debut with a different organization than the one that drafted him. He profiles as an Adam Eaton-type, and I can live with trading him if it means at least one more spot in the Red Sox rotation is filled with someone who isn't throwing batting practice to the opposition.
For now, though, Dombrowski should at least be set on acquiring the smaller but necessary pieces, and sooner rather than later. If the Phillies would take Henry Owens for Jeremy Hellickson, that would be a decent starting point. An adequate journeyman — someone who can keep his ERA a few runs below, say, 7.39 — wouldn't just be a welcome addition. He'd look like a veritable ace compared to the meatball artists who have occupied the rotation so far.