Red Sox
What's gone right—and wrong—for the Red Sox during their resurgent season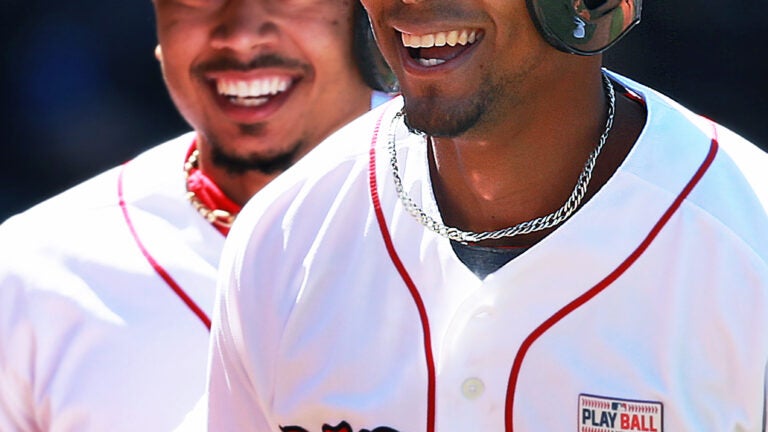 COMMENTARY
One year ago, the Boston Red Sox entered Major League Baseball's All-Star break with a 42-47 record, 6 1/2 games out of first place, and with utility man Brock Holt as their lone representative to the Midsummer Classic.
So, for all the hand-wringing, seeming desperation for pitching, and a manager that has, thus far, escaped dismissal despite finding himself in the constant crossfire of criticism, happy, fun time, right?
For the most part. The Red Sox' resurgence in 2016 after back-to-back years of fruitless aspirations (they were 43-52, 9 1/2 games back at this point in 2014), at the All-Star break has delivered a compelling baseball season into our midst, something Boston hasn't been able to enjoy since 2013, when the perfect mixture of talent and character soared to an unexpected World Series win.
Three years later, here they are, 11 games over .500 at 49-38 and tied with the defending American League East champion Toronto Blue Jays, two games in back of a Baltimore Orioles team that hasn't relinquished sole possession of first place since June 4.
There's been plenty to enjoy with this team.
The Good
1. David Ortiz: Duh. In his (we guess) final season, the Red Sox' designated hitter has put up a season for the ages at the age of 40, hitting his 22nd home run of the season on Sunday against the Tampa Bay Rays, and leads the AL with a 1.107 OPS. He's not far off from Triple Crown contention, and should be one of the first player's name to escape a voter's lips for MVP. Hard to believe there's only 2 1/2 months (in the regular season) left of this.
 2. Steven Wright: Where would the Red Sox be right now if Eduardo Rodriguez didn't wrench his knee in spring training, opening the door for Wright's 10-5 All-Star season? Maybe Wright would have eventually replaced Joe Kelly or Clay Buchholz in the starting rotation, but his stability since Day One has been integral in the pitching staff's ability to stay afloat despite its below-average output. He leads the AL with his 2.68 ERA, and is one of a handful who will get Cy Young votes at the end of the year. What a ride.
3. Mookie Betts: Twenty-three years old and bursting with stardom, Betts is proving why some preseason prognosticators suggested he might be an MVP candidate. He leads all AL leadoff hitters with 59 runs batted in and 18 home runs. His WAR of 4.1 is sixth in the league, and his 202 total bases are tied for the lead with Mark Trumbo and Robinson Cano. If Ortiz can't win the MVP, Betts could very well be the reason why.
4. Xander Bogaerts: He's even added power, the one aspect of his game that some observers were thirsting to see develop. With 10 home runs and a .329 batting average to add to stellar defense at shortstop (oh, where are you now, Stephen Drew?), Bogaerts has become everything the Red Sox had hoped. Offseason priority: Just toss a ridiculous amount of cash at Betts and Bogaerts and have them split it up however they see fit over the next decade.
5. Jackie Bradley Jr.: Yes, he's cooled off since the end of his 29-game hitting streak (he's hitting .240 since), but the scorching-hit Bradley of May was never a reality of what to expect. Yet, he's still sixth in the AL with his .926 OPS, and just on Sunday proved, once again, why he should be considered the best center fielder in the game, axing Curt Casali trying to stretch a single into a double. You wanted Bradley to hit .250 in order for him to have value to the club? How's .296?
6. Dustin Pedroia: Call it the buoyancy of being part of a club he hasn't experienced in three years, or the more likely fact that the 32-year-old is fully healthy, but the second baseman is having his best season since 2013, coming up just shy of the All-Star Game's "Final Vote." Pedroia hit .304 in the first half of the season, and is fourth among AL players at his position with a WAR of 2.9. His contract, which runs through 2021, doesn't seem like the head-scratcher it might have appeared the past couple seasons.
7. Heath Hembree, Matt Barnes, and Junichi Tazawa: While the Red Sox' bullpen hasn't been the most dependable all season (its 3.88 ranks eighth in the American League), this trio has been reason for it staying afloat, each providing a certain semblance of relief that the Sox have been unable to find from Koji Uehara and closer Craig Kimbrel (in non-save situations). Look, they're not lock-down guys you want in the most pressure-packed situation, but so far they've been keys to the bullpen being, at least, a reliability.
8. Dave Dombrowski: Yeah, so his 2016 resume is incomplete, but whose isn't? Not every move has worked (Kimbrel is a migraine at times, and Carson Smith, we hardly knew thee), but the president of baseball operations has already gotten a head start on the trading deadline, picking up infielder Aaron Hill and reliever Brad Ziegler, who will likely get closing duties in Kimbrel's absence over the next month following a knee operation. He's also credit to Pablo Sandoval not being awarded his job at third base after Travis Shaw clearly beat him out for the position in spring training. The best players will play, he said, which was an instant declaration that accountability would be an important factor in 2016. Imagine.
9. David Price: Yes, despite stretches where it seemed team owner John Henry might have as well tossed $217 million into the Kayem Fenway Frank grinding machine, Price ended the first half on a brilliant note with an eight-inning shutout of the Rays at Fenway Park. His ERA was a 6.75 when second baseman Pedroia noticed a mechanical flaw in his rotation. It's now down to 4.34. But he's not ace material? Sorry. Price has 12 quality starts to his resume, as many as Wright this season, and only two behind Aaron Sanchez for the league lead. He could be filthy more consistently, but reports of his demise are inaccurate.
10. Rick Porcello: He's 11-2, with a 3.66 ERA. That's already two more wins than he managed in his disastrous, first year in Boston, after signing a four-year, $82.5 million extension. By the way, about that:
Year 1 of that 80 million dollar contract and Porcello has earned roughly 75-80% of year 1 value at the All Star break.

— Red Sox Stats (@redsoxstats) July 9, 2016
11. Sandy Leon: Batting .455 over 19 games. Obviously, .406 is a reality.
12. Brock Holt: No All-Star bid for Holt this time around, but the Red Sox clearly miss the guy when he's not around. Holt, who was lost to a concussion for a stretch earlier this season, has helped the Red Sox to a 28-12 record in games in which he plays. They are 21-26 without him.
13. Craig Kimbrel: Is it a save situation? Yes = 1.45 ERA, 17 saves
The not-so-great aspects
1. Clay Buchholz: It's been a disaster for Buchholz, 3-9 with a 5.91 ERA on the season, plucked from the starting rotation only to make a return and get yanked again. He's been better as a reliever (2.89 ERA over 9 1/3 innings), but is sort of stuck in a no-man's mop-up role right now. And after giving up 14 runs over three starts in his return, it's clear that's where he'll remain. The Red Sox are even giving Rodriguez a start after the break in lieu of Buchholz, and the young lefty has been nothing resembling the hopeful burst the team saw last season. So, with Buchholz struggling, Joe Kelly either hurt or unable to find effectiveness, and Henry Owens morphing into Matt Young at the major league level, the Sox have become desperate for No. 4 and 5 starters. Buchholz, the No. 2 at the start of the season, hasn't helped.
2. Hanley Ramirez: Well, kudos to the guy for maintaining a solid first base in his switch to the position, but Ramirez's bat has devolved into nothing of the sort that the Red Sox had hoped in signing him to an $88 million deal last winter. It's not that Ramirez has been Sandoval-like at the plate (he's hitting .288 with an .801 OPS), but he's hit only eight home runs, which makes you wonder where the power stroke has gone, and if it's ever coming back. For comparison sake, old friend Mike Napoli has hit 18 for the Cleveland Indians. Ramirez is better, but where are the dingers?
3. Travis Shaw: Well, maybe it was, indeed, all too good to be true, Shaw bursting on the scene with a power bat that seemed buried in the minors. But the third baseman is hitting only .227 since June 1, and has four fewer home runs in 337 plate appearances than he hit last season (13) in 248. The acquisition of Hill helps in that he'll be able to platoon, but there's always the possibility that the 26-year-old Shaw could go elsewhere in a trading deadline package. After all, it's Sandoval's spot anyway come 2017, right? Right?
4. Rusney Castillo: Visit www.pawsox.com for more information.
5. The whole darned catching situation: Let's get this straight. Blake Swihart didn't do a good enough job calling pitches, so in came Christian Vazquez, whom the Red Sox seemed to hail as the second-coming of Johnny Bench. The staff adjusted well to Vazquez, at least we were led to believe, until he was demoted last month. He also managed to hit only .226. Swihart, meanwhile, was reassigned to left field, where he played for both Pawtucket and Boston before suffering an ankle injury. So, the Sox are left with Leon and Ryan Hanigan in a spot that was supposed to be among the emerging spotlights this season. Whoops.
6. John Farrell: I know, I know. He's got them in playoff contention and what more could you want? Noted. Farrell has taken himself off the hot seat after a 7-2 homestead that may have served as his final call had the team faltered. And after last weekend's 21-2 loss to the Angels, that seemed more imminent than ever. But his team responded by winning five of the next six games, two against the AL West-leading Texas Rangers, and made up two games in the standings since the drubbing. His in-game decision making will frustrate until the end of the year, but the players he has are too good, most of the time, to make that a serious detriment. This week, at least. Come back Friday.
7. Carl Willis: With Brian Bannister and Pedroia the ones doing all the video analysis, the pitching coach is destined for a Milton desk somewhere in the bowels of Fenway during the second half.
8. Craig Kimbrel: Is is a save situation? No = 6.28 ERA, 1.674 WHIP.
The Red Sox lead the wild card standings and are on pace for 90 wins, according to FanGraphs, which would be good enough for the division title.
Most important, it's the middle of summer and they're fun again.
Finally.
World Naked Bike Ride 2016
[bdc-gallery id="1098521″]