Red Sox
Can Joe Kelly save the Red Sox bullpen?
The Sox bullpen was great in relief of Drew Pomeranz, but Kelly could help long term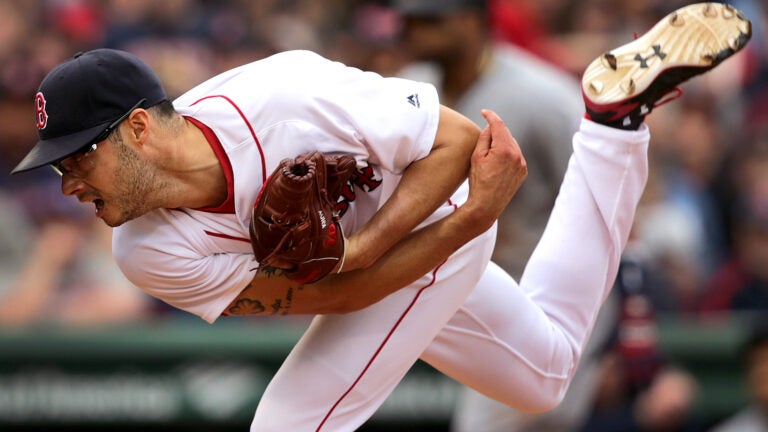 COMMENTARY
Not to sound like John Farrell after another typical implosion by Clay Buchholz, but if you take away the one inning from lefty Drew Pomeranz's debut outing with the Red Sox Wednesday night, it was actually pretty spectacular.
Minus the fourth inning, Pomeranz hurled three shutout innings against the San Francisco Giants in an 11-7 win at Fenway Park. Sweet deal, Dombrowski.
(Am I doing this right?)
"He got some swing and miss from his fastball, I thought he threw a very good curveball particularly in the second and third innings. He threw a number of cutters in some fastball counts," Red Sox manager Farrell told reporters. "But still, the overall command wasn't what he's typically going to show."
(Eh, close enough.)
It was in the fourth inning that Pomeranz, acquired last week from the San Diego Padres in exchange for highly-touted pitching prospect Anderson Espinoza, unraveled faster than Melania Trump's speaking career. Seven straight Giants batters came to the plate. Seven straight Giants batters made it to base, mixing in a three-run shot by Mac Williamson and a two-run blast by Trevor Brown. Pomeranz's night was finished after turning his team's 8-0 lead into an 8-5 lead.
Perhaps fittingly poetic, the 18-year-old Espinoza also lasted only three innings in his debut Wednesday night with the Fort Wayne Tin Caps, allowing seven hits and four runs.
So, the trade is officially a wash then?
Come back in three, maybe four years for that assessment, but Pomeranz's outing was one definitely overshadowed by Hanley Ramirez, who slammed three home runs and made a trio of nifty defensive plays at first base, including two diving stops in the first inning that probably made Pomeranz's first pair of frames look a lot less shaky than they actually might have been.
Alas, the bullpen mates raise their collective hands and ask, "Where's our love?"
Yes, Ramirez is going to get the bulk of the credit for launching the Red Sox back into first place in the American League East with his seven-RBI evening. But if not for Boston's relief corps of Robbie Ross Jr., Heath Hembree, Tommy Layne, Matt Barnes, and Brad Ziegler, we're probably still talking about a half-game deficit to the Baltimore Orioles, who lost to the New York Yankees, 5-0 Wednesday night.
All this on a night after the team placed its second-straight closer, Koji Uehara, on the disabled list with a strained pectoral muscle. He joins Craig Kimbrel, also acquired from the Padres last winter, who is recovering from surgery on torn cartilage in his left knee.
No, it wasn't lights-out spectacular. The five relievers gave up seven hits and two runs over their six innings and allowed two more runs to the surging Giants, but Barnes and Ziegler put out any smoldering flames that emitted from a wild game in the Fens, with four combined innings of shutout relief.
That's a 2.57 ERA on an evening for a 'pen that has performed to a 4.85 ERA in July, the seventh-worst in Major League Baseball.
Missing in action Wednesday night was Noe Ramirez, who's going to have the Lou Merloni Expressway re-named following this season of yo-yo recalls (six now this season).
Also not available, future Cy Young Award winner Joe Kelly, who was left toiling in Pawtucket after Uehara was placed on the DL Wednesday afternoon.
It's clear the Red Sox are going to need bullpen help, especially with Barnes likely out of action for the next few days (or based on Farrell's frequent use of the 41-year-old Uehara, he might pitch Thursday against the Minnesota Twins for four more innings). Red Sox President of Baseball Operations Dave Dombrowski thought he was giving the bullpen a boost with his acquisition of Ziegler from the Arizona Diamondbacks, except that it coincided with Kimbrel going down. Then, Uehara.
Which leaves the guy looking for more relief help with the MLB trading deadline only 10 days away.
So, where's Joe Kelly?
That's not to say that the 28-year-old, hard-throwing Kelly, finally making a more useful switch to the bullpen, would be the solution, but with only a week-plus to decide whether or not to make a move, seeing what he can do at the major league level would serve some use. So, why, with an opening Wednesday was he left at the Triple-A level?
Farrell explained during the Dale and Holley show on WEEI Wednesday afternoon that with Junichi Tazawa potentially coming off the disabled list on Friday, that the team didn't want to make it a "one- or two-day situation for him and be returned back to Pawtucket."
Translation: See, ya, Noe. See ya, soon.
Kelly has looked pretty good in his relief role with the PawSox, throwing three shutout innings over two appearances and striking out six. He could be a shot in the arm for a bullpen that needs long-term reinforcements.
"Clearly, he's throwing the ball well and without a specific date," Farrell said. "That date, whatever that is, is getting closer."
Kelly had been rehabbing from a groin injury prior to the bullpen switch, but that was only after the Red Sox demoted him in the wake of his disastrous outing against the Baltimore Orioles on June 1, when he allowed seven earned runs over 2 1/3 innings. Maybe that outing was the best thing to happen for the Red Sox though.
Maybe it finally convinced them to put Kelly, acquired along with minor leaguer Allen Craig in the 2014 deal that sent John Lackey to St. Louis, into the role he's always resisted, but also one in which he might thrive.
Kelly's career ERA as a reliever (3.25) is nearly a run lower than his as a starter (4.13), and Kelly delivered an 8.46 ERA to the club this season, despite going 2-0. Still the longest active winning streak in the majors too, you know.
Baseball Prospectus had this to say about Kelly's future in 2011, after he started 22 games in the minors and went 11-6 with a 3.68 ERA: "Made a successful conversion to the rotation; he pitched better than his results, but needs to work on his secondary pitches or he'll wind up back in the bullpen."
Five years later and, well, here we are.
But since former general manager Ben Cherington picked Kelly up in what might be considered among the worst trades in Red Sox history, he hasn't progressed much past his blazing, four-seam fastball and his sinker to make him a viable starter in the American League, but that limited repertoire could make him a dominant reliever, something he's always bristled at over the years, but has little choice to accept these days.
Maybe we're starting to find that out in Pawtucket.
Maybe it's just the same Joe Kelly.
Maybe he'll be Carson Smith.
"There's not a check list per se," Farrell said on WEEI. "The one thing he is doing is pitching exclusively out of the stretch. Felt like that has been able to minimize any additional movement in his delivery. He's honed that in.
"The relief work that he's done has been quality."
Joe Kelly. Bullpen savior?
Sweet deal, Cherington.
Historical images of Fenway Park
[bdc-gallery id="115689″]