Red Sox
9 things you need to know about Andrew Benintendi
The Red Sox called up Benintendi after electing not to acquire an outfielder via trade.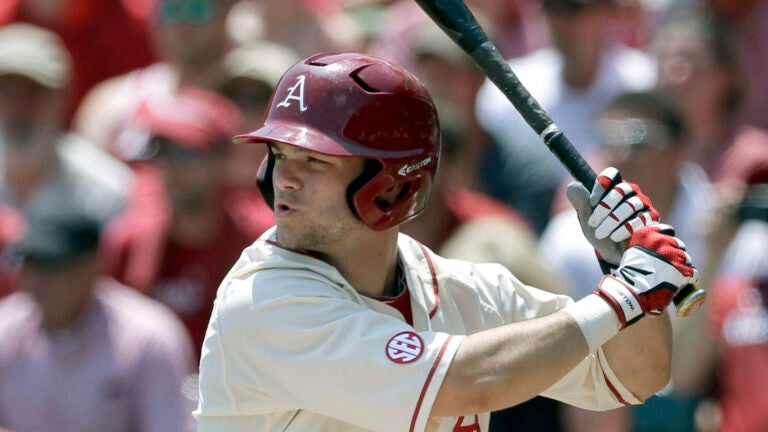 After a relatively quiet trade deadline day, the Boston Red Sox made a splash in another way by calling up outfield prospect Andrew Benintendi from the Portland Sea Dogs.
So grateful to everyone in the @PortlandSeaDogs organization for all the support, can't thank you enough!

— Andrew Benintendi (@asben16) August 2, 2016
Here are the 9 things you need to know about the youngster before he makes his MLB debut.
His pedigree
Benintendi was selected by the Red Sox with the No. 7 overall selection in the first round of the 2015 MLB First Year Player Draft. Benintendi became just the sixth top-10 selection in franchise history, and will be the first Red Sox player to reach the majors within a year of being drafted since Fred Lynn in 1974.
His ascension
His rapid rise through the Red Sox minor league system concluded with a 63-game stint with the Portland Sea Dogs in Double-A. Despite being more than three years younger than the average player at that level, Benintendi impressed the Red Sox enough for vice president of baseball operations Dave Dombrowski to promote him straight to the major league roster, forgoing Triple-A Pawtucket altogether. Dombrowski had previously stated his confidence that players can transition from Double-A to the MLB.
His youth
Benintendi turned 22 years-old on July 6, and with his promotion he now becomes the youngest player on the major league roster (an honor that previously belonged to last night's starter, Eduardo Rodriguez). Benintendi becomes the latest in a recent wave of major league talent under the age of 25, following Rodriguez who was also promoted at age 22, Xander Bogaerts at age 20, and Mookie Betts at age 21.
His college career
He played college baseball with the Arkansas Razorbacks through his sophomore year, in which he was named the Golden Spikes Award winner as college baseball's most valuable player. In his final season, he led the NCAA with 20 home runs and led the Razorbacks to the College World Series where they were eliminated after losses to eventual champion Virginia, and perennial powerhouse Miami.
Congratulations to former Razorback and newest @RedSox player, Andrew Benintendi! https://t.co/qdjNwnNcNI

— UniversityofArkansas (@UArkansas) August 2, 2016
His power
Despite not having the prototypical frame for a power hitter, Benintendi has been able to consistently drive the ball to and over the fence thanks to strong hands, and wrists like fellow undersized slugger Dustin Pedroia. Additionally, Benintendi channels another short-statured Sox slugger – Mookie Betts – by using those strong arms to generate the lightning quick bat speed that further supplies his power.
His defense
Benintendi was lauded for his defensive range in college, thanks in part to great speed and instincts. A centerfielder for most of his career, Benintendi will be shifting to left field given that his natural position is blocked by Jackie Bradley Jr. and the shift should improve his value defensively where he will have less ground to cover. He played four games at his new position in Portland, where there is a replica of the Green Monster to help prospects prepare for Fenway Park.
His speed
As noted above, Benintendi is an athletic player with above average speed that helps him as a defender and baserunner. He stole 26 bases in his 151 games in the minor leagues, and combined that speed with his power to hit 16 triples and 38 doubles in that span, as well.
#RedSox prospect Andrew Benintendi lines a single off pitcher. Watch his speed down the line pic.twitter.com/liWTtht0Oz

— Christopher Smith (@SmittyOnMLB) July 8, 2016
His hitting
While many players see their careers fall short of expectations because of an inability to put the bat on the ball and utilize their speed and power, Benintendi has had no such issues to date. His batting has impressed talent evaluators, with his hand-eye coordination giving him the ability to barrel the baseball to all parts of the field. Benintendi hit .341 with the Salem Red Sox this year, and .295 with the Sea Dogs. His time with Portland culminated in a .329 batting average over 24 games played in July.
His impact
While fans should temper their expectations for the youngster at the plate in his first exposure to major league pitching, Benintendi's addition allows manager John Farrell to slide Brock Holt back into the utility role that he is more comfortable in. Benintendi will step in as the left-handed hitting platoon partner for Bryce Brentz in left field while the team awaits the return of injured outfielders Chris Young and Blake Swihart.