Red Sox
Just how many missteps will the Red Sox allow John Farrell?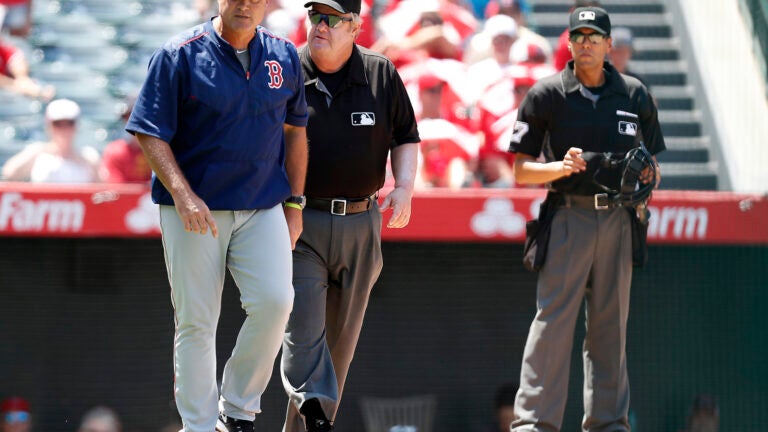 COMMENTARY
It's good to have John Farrell around.
It was a year ago this week that the Red Sox manager found himself embroiled in a far more meaningful struggle than what he could possibly expect from Pablo Sandoval on any given night. Last August, Farrell discovered that he had been diagnosed with stage 1 non-Hodgkin's lymphoma, prompting immediate treatment and a leave of absence from the Red Sox' dugout.
"Life throws you different challenges and different sets of experiences along the way," Farrell told reporters a year removed from the cancer diagnosis. "It was hell going through, but I've learned a lot about myself. I've learned a lot about the things that, again, life deals people. You find you put faith in a lot of people to help you get through some tough moments. Honestly, I'm very fortunate."
Farrell's cancer was announced to be in remission last October. One year on from that good news, the Sox should be celebrating his health in the postseason.
But can he actually get them there?
With his 2013 World Series success growing more distant by the day, it's quite possible that Farrell's health was a primary reason he wasn't fired last offseason after a second straight last-place finish in favor of bench coach Torey Lovullo, who led the Sox to a 27-20 record in his interim stint as skipper. Ever-conscious of their image and fearful of public backlash, the Red Sox certainly weren't about to let go of a man who had faced life's biggest challenge, even if he'd already proven himself subpar in his role with the team.
Maybe the time has come to move on.
Farrell's team is floundering. Following Wednesday night's disastrous, 9-4 loss to the New York Yankees at Fenway Park, a game in which the Red Sox' bullpen blew a 4-1 lead after six innings, Boston is only 12-13 since the All-Star break. The Red Sox' bats, the same ones leading the American League with 5.41 runs per game, have managed to score only 3.6 per game over the last two weeks. The offense now might also have to deal with David Ortiz missing for a few days after he fouled a ball off his right shin and limped off the field in the  ninth inning Wednesday night.
Not that the injury was Farrell's fault, unless you wonder why the already-sore Ortiz was at the plate in the ninth inning to begin with down by five. The manager had already drawn enough fire before that point anyway, highlighted by losing a guy who has arguably been his best pitcher this season by pinch-running him over the weekend in Los Angeles.
Steven Wright will miss his turn in the rotation Thursday night against New York after jamming his shoulder during a dive back to second base on a fake pickoff move by Dodgers pitcher Joe Blanton. Wright pinch-ran for Ortiz, who walked as a pinch-hitter in the pitcher's spot in the sixth inning Sunday, with the Red Sox losing, 6-5. Once Ortiz moved to second on an RBI single by Mookie Betts, Wright got the call to run for him with only Hanley Ramirez and Sandy Leon remaining among positional players.
Fellow starting pitcher Drew Pomeranz, who has base-running experience as recently as last month with the National League's San Diego Padres, remained on the bench. Wright, who said he hadn't run the bases in more than a decade, got the nod from Farrell thanks to the way he carried himself at the plate during Friday's complete-game victory at Chavez Ravine.
"The way he swung the bat . . . was more of an indication to me of, 'Here's a guy that's just a baseball player.' Rick Porcello has flown back early and was not available to us," Farrell said. "Looking at a starter that's not going to be used."
Pomeranz had eight total bases this season as a member of the Padres.
Wright has zero.
Eduardo Rodriguez will get the call in Wright's absence Thursday, opening the door for Clay Buchholz's return to the rotation this weekend, his first start since July 2.
Buchholz hasn't allowed a run in his last 6 1/3 innings of relief, a resurgence he's already credited to pitching guru Brian Bannister's tape review. His season has been a disaster on the whole, perhaps only fixed by a third man in uniform who might be sweeping up the mess laid by a pair of supposed pitching doctors in Farrell and coach Carl Willis.
Farrell's supporters argue that it's not the manager's fault that his offense has gone quiet, twice again failing with the bases loaded Wednesday night, the second time with zero outs in the fifth. The Sox are three for their last 27 with the bases jammed, a pathetic statistic that speaks to poor execution, bad luck, or both.
Farrell, of course, can only deal with the pitchers he's dealt, including what looks like a washed-up Junichi Tazawa, the lost presence of Koji Uehara, an erratic David Price, and Pomeranz, who makes Daisuke Matsuzaka look like the most efficient pitcher on the planet by the time he reaches the fifth inning.
But those aspects only represent the tip of things. Even Farrell's increasingly-delusional backers have to understand that.
Besides, the more games like Wednesday's yuk-fest against the Yankees and the calls for Farrell's job will only get louder, particularly if the Red Sox, currently hanging onto the AL's second wild card spot and 2 1/2 games out of first place in the East, continue to lose ground over the season's final 50 games, 30 of which are on the road.
An MRI on Wright's shoulder came back negative, but it's fair to question the Red Sox' confidence that he'll miss only the one start. If Wright has to move to the disabled list and Buchholz proves once again ineffective as a starter, Jimmy Garoppolo is going to get a whole lot more attention in September than Ortiz will in the final month of his career.
Still, barring an immediate, August collapse by his team John Farrell will likely be around to manage that stretch.
But if Ortiz has his sights set on a final playoff push, he probably shouldn't be.
New England Olympians in Rio
[bdc-gallery id="1206072″]