Red Sox
Here's where John Farrell ranks among the best and worst Red Sox managers since the '70s
He's not as good at Tito and not as bad as Bobby V. But where does he rate among the rest?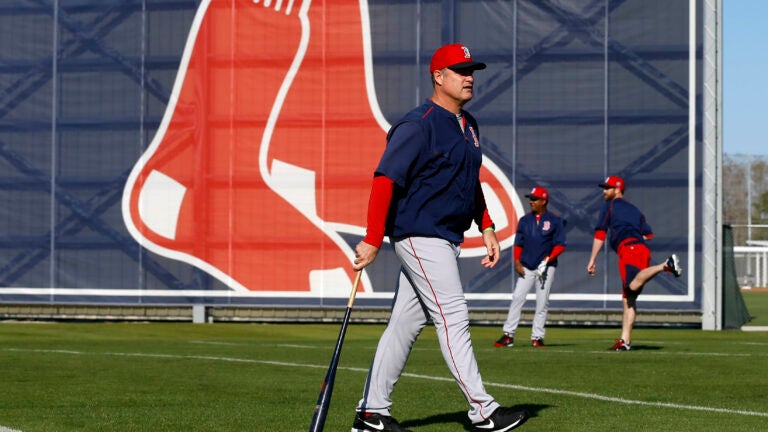 COMMENTARY
Baseball managers are generally held to an impossible standard for a bunch of reasons, but one of the more basic ones is this: Most every fan believes on some level that they have the fundamental tools, wisdom and knowledge to manage a team.
It's not true, of course, even as accessible as baseball strategy can seem. John Farrell might do some ridiculous things – the man used a knuckleballer as a pinch-runner, and it's probably not even his most puzzling tactical curiosity of the last month — but he knows more about running a baseball team than I will ever know about anything.
As baseball fans, we don't know it all, but it's easy to believe we do, and we're sure happy to share that belief. That manifests in relentless chirping that the Red Sox manager is an incompetent bum, not matter how he was actually faring or what known and unknown challenges he was facing. Sure, we are often right. But there are some among us who referred to the best manager the Red Sox have ever had as Francoma, too.
Which brings us to the current boss. John Farrell is an easy target, and sometimes he even applies the bull's-eye himself – his seventh inning Tuesday night was not exactly torn from the Earl Weaver Guide to Strategic Managing. I do believe that if the Red Sox and Orioles traded managers, the former would be leading the latter in the AL East by a comfortable margin thanks to the Buck Showalter upgrade.
As it is, the Red Sox are tied with the Orioles, a game back of the Blue Jays. Not a bad spot — they've shown some encouraging resilience lately — and the manager has done some things right to get them there. Yeah, Farrell probably takes too much grief. The Red Sox have won a World Series on his watch, young players have developed into cornerstones (holy smokes, Mookie), and he generally handles the behind-the-scenes stuff – the brush fires us La-Z-Boy Managers rarely know about – with aplomb.
The next couple of months will be the definitive determinant on his Red Sox career, but we can say this now: The Red Sox have had many worse managers, and recently. In the in-progress quest to figure out just how capable Farrell is at this gig, at least in context of his predecessors, I decided to rank the last dozen Red Sox managers – the ones I've seen with my own beady eyes since becoming a fan in 1978, so don't you old timers start in with the Dick Williams fanboy stuff – to see where Farrell falls. Here they are, wholly subjectively and fully disputable, from worst to best.
Joe Kerrigan: 2001: 17-26, .395 winning percentage
The worst. He tried to make Pedro pitch through an injury, and he wanted Manny to change his swing. If that's not a double helping of unassailable evidence that he was unfit to serve, that fifth-worst winning percentage in Red Sox history (among managers who were around for more than 40 games) ought to clinch the verdict.
Bobby Valentine: 2012: 69-93, .426
Andrew Miller morphed into an excellent reliever on his watch. And there you have all the nice things I have to say about Bobby V. What a colossally stupid idea he was. He's probably half the reason Larry Lucchino is in Pawtucket now.
Don Zimmer: 1978-80: 411-304, .575 
True story: He got mad at me when, during his media availability before his Red Sox Hall of Fame induction, I asked him about the 1978 Red Sox' thin bench. Didn't even get a chance to ask him about Bobby Sprowl's ice-watery veins, the team-destructive pettiness screwing over Fergie Jenkins and the Buffalo Heads, or tell him why I thought Pedro went easy on him. Regrets, man. I've got 'em.
Butch Hobson: 1992-94: 207-232, .472
I can't look at him objectively, because if I did, I'd have to admit he was the worst manager the Red Sox have had in the last 30 years, at least among those who weren't undermined by their own narcissism or named Joe Kerrigan. And I could never admit that. Butch was my first favorite player, a power-hitting, bat-rack-crashing hustler whose self-destructive tendencies affected him on the field and off. (Zimmer did nothing to protect him from himself.) I've convinced myself he would have been fine here had the roster not deteriorated around him (Tom Brunansky led the '92 Red Sox with 15 homers and 74 RBIs; Mookie Betts might have those numbers on this road trip alone). I rank Butch so low only because I have absolutely no evidence to back up my justification that he might have been competent someday.
Ralph Houk: 1981-84, 312-282 .525 
I actually don't remember much about him as a manager, other than that he seemed grandfatherly, gut-punch serious, and had the good sense to give Wade Boggs a chance. Though his record was decent in what was a stacked AL East, I remember that as a dreary time in Red Sox history. Carlton Fisk, Fred Lynn, Rick Burleson and Butch Hobson moved on, leaving the promise of those star-studded late-'70s teams ultimately unfulfilled. Houk was left to treat the hangover.
Kevin Kennedy: 1995-96: 171-135, .559
Just looking at the numbers, it would seem like he did a fine job here. The 1995 Red Sox won the division (and outperformed their Pythagorean W-L by six games) despite using a then-franchise-record 53 players. (Where have you gone, Bryan Bark?).  Mo Vaughn and John Valentin developed into stars on his watch, and Dan Duquette scrap-heap reclamations such as Troy O'Leary, Reggie Jefferson, and Tim Wakefield became steady contributors. The problem was … well, it was Kennedy. He desperately wanted to be bros with Jose Canseco before we even knew what bros were. His coaching staff's style – mustaches and shades – could best be described as State Trooper Chic. (Sometimes, he let his mustache make out the lineup card. Mustache loved Dwayne Hosey.) But his real transgression was his habit of taking credit after wins and blaming the players after losses. Other than banning fishing, beer and pickup trucks, there's not a quicker way to lose a clubhouse than that. When the Red Sox started the '96 season at 6-19 amid rumors that he didn't get them prepared in spring training, his days were numbered. He was 42 when that happened. It's telling that he never managed in the majors again.
John McNamara: 1985-88; 297-273, .521
Been reading journeyman '70s pitcher John D'Acquisto's highly entertaining autobiography lately – it's further evidence that sometimes those on the fringes of history are the most astute observers. One thing he wrote that surprised me: John McNamara was popular with his Padres players during his tenure as manager in the mid-'70s. McNamara was such a miserable SOB (son of baseball, obviously) during his time in Boston that it's a wonder he didn't grow up to become a sports-radio host. He did superb work with the underdog '86 Sox, at least through Game 5 of the World Series. In '87, he worked in the likes of Ellis Burks and Mike Greenwell to great effect. In '88, he needed to get the hell out of here for the Sox to get their act together. It's a complicated legacy, but at the least you can admit this:  Had you managed the '86 Sox, you'd have been sentimental enough to leave Buckner on the field too.
Grady Little: 2002-2003: 188-136, .580
His fate was just. In one of the biggest moments in franchise history, at the pinnacle of Red Sox-Yankees mutual hatred, he ignored the data that told him that Pedro Martinez turned into Frank Castillo after 105 pitches. He paid for his willful ignorance with his job and reputation, and he deserved it. He'll always be Grady Gump to you and me … yet now, 13 years removed from the blunder, and knowing that the beauty of 2004 doesn't happen the same way or matter as much without all that came before, we can admit that Little deserves credit for something. The culture of the Red Sox – after that wretched Everett/Bichette/Lansing roving pack of insubordinates – changed on his watch. And I will always wonder whether the cacophony following the 2003 ALCS would have been just as loud had he pulled Pedro when he should have, only to have Scott Williamson, Alan Embree, or Mike Timlin give it up. I suspect he wouldn't have gotten the benefit of the doubt if the right move tactically had backfired.
http://cinesport.boston.com/boston-globe-sports/finn-john-farrell-underappreciated/
John Farrell: 2013-  : 311-292, .516
We've been over this Is-Farrell-a-decent-manager-or-not? territory a lot the last three seasons – hell, we've been over it a lot this week — and we'll continue tread it until he wins another World Series or Dave Dombrowski trades him to the Tigers for Brad Ausmus and a bench coach to be named later. No matter how his final scene eventually plays out, however, we have to give him this: Only two of the 35 Red Sox managers since 1918 won a World Series in that span. Farrell, whether because he was lucky and/or good, is one of them. It's why he gets the better rating here than McNamara, Kennedy and Little.
Jimy Williams: 1997-2001: 414-352 .540
Williams was an easy target for the segment of the fan base that sports-radio lucratively plays for lemmings. He spoke in bewildering aphorisms ("If a frog had wings, it wouldn't bump its booty), wore a flat-brimmed hat before it was in style, and didn't play patty-cake with the media. He seemed uncool. You had to pay attention – or recognize that he was competing with some mighty Yankees teams with a roster of Nomar, Pedro, 20 role players, and three sore-armed former aces – to realize that he was savvy and sly in all the right ways. He's probably the most underrated manager in recent Red Sox lore, and allowing him to get shivved by Joe Kerrigan is probably the most shameful thing Dan Duquette did here.
Joe Morgan: 1988-91: 301-262, .535
Probably the most popular manager the Red Sox have had in my lifetime, and not only because the Walpole native spoke our language. The Sox won 24 in a row at home after he took over after the All Star break in '88, and he oversaw two AL East winners in his three-plus seasons on the job. When he was fired after finishing tied for second during the '91 season, he warned: "These guys just aren't that good." I'm assuming he meant Phil Plantier specifically, but no matter the context, was he ever right.
Terry Francona: 2004-11: 744-552 .574
What an easy choice. Given the complexities he faced when he got here – the 86-year drought, the intense media coverage and fan interest, a roster that had just had its hearts torn out the previous fall – and what he ultimately accomplished, I don't think there's a hint of hyperbole in saying he is the best manager the franchise has ever had. It's not that I wish it had ended better. It's that I wish it had never ended.