Red Sox
Red Sox player power rankings: the rise of Sandy Leon
Xander Bogaerts slides down, while Mookie Betts crushes the competition in this edition.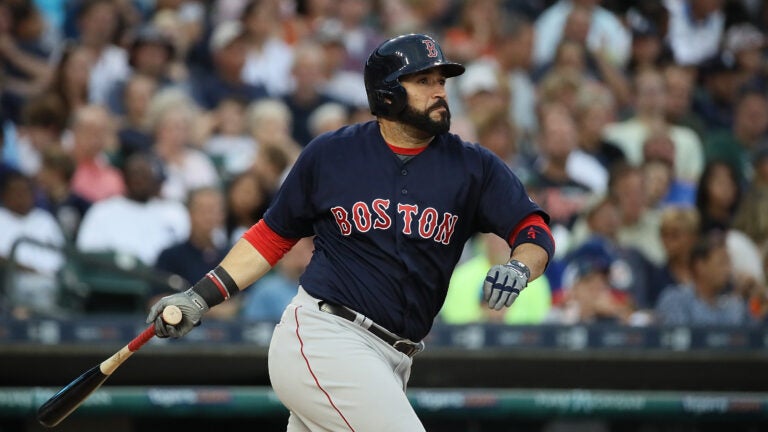 COMMENTARY
While we know that perception and reality are aligned, we have a hard time of spotting the specific instance in which they are not. For instance, the perception of the Red Sox pitching staff is that it's in shambles. Yet, the reality is this – in the first half, Red Sox pitchers allowed 4.9 runs per game. In the second half, they've allowed just 3.8. In August specifically, it's just 3.6, even after yesterday's drubbing by the Tigers. The previous monthly best this season was 4.38 runs per game, way back in April. So, while it may seem bad, the team is pitching better than it has all season.
Onto the rankings.
29. Henry Owens (Not Ranked): On Sunday, Owens allowed more runs than he had in his previous three starts on the season. He's only made it to the sixth inning in one of those four starts.
28. Ryan Hanigan (24): He landed on the disabled list exactly a month after being activated from it. In that month, he only started seven times, and reached base just three times in 27 tries.
27. Chris Young (22): He has started a rehab assignment, which is great, but with Andrew Benintendi holding his own in left field and needing to play most nights to continue his development, playing time may be sparse for Young when he returns.
26. Koji Uehara (20): There is now hope he can return this season, but we'll be conservative here anyway.
25. Bryan Holaday (NR): Meet the new backup catcher, same as the old backup catcher. In 21 plate appearances since being acquired by the Sox, Holaday has hit .150/.190/.150. Yikes. I have been the low man on Christian Vazquez, but there's no way Vazquez could be worse than this. When Pawtucket's season ends, hopefully Vazquez will get Holaday's reps.
24. Fernando Abad (NR): While I can avoid using bad puns about Abad's name, I can't avoid noting that he simply hasn't worked out so far. The price of relievers at the deadline was high, but the price of not paying said cost and being one good reliever short of a World Series caliber roster might end up being higher.
23. Junichi Tazawa (17): As I wrote in this space yesterday morning, Tazawa just isn't right, and he did nothing to quell those fears when he allowed two runs in mop-up duty yesterday afternoon.
22. Brock Holt (14): When he came off the DL to start July and had his best month of the season hitting- wise, it was very encouraging, but that progress has not translated to August. Whereas in July, he posted a 119 wRC+ (weighted runs created plus) – i.e., 19 percentage points better than league average – in August he has slipped to a 67 wRC+. That's a big gap, and it looms large now, as the team's third base situation has become jumbled.
21. Travis Shaw (11): Shaw hasn't been much better, though he has heated up in the past week. The team is no longer committed to Shaw like they were in the beginning of the season though – he's only started two of the last 10 games at the hot corner. He did get the reps at first base when Hanley Ramirez was on bereavement list though, so perhaps that's not a fair representation. Either way, Brock Holt and Aaron Hill are eating into his playing time.
20. Heath Hembree (NR): Hembree came back up this past week, faced eight batters across two appearances, and retired seven of them. Unfortunately, the one guy who he didn't get out hit a homer. It wasn't the difference in the game, but the Sox did have to sweat it out, and they needed Craig Kimbrel to come on and record a four-out save.
19. Robbie Ross Jr. (18): He's been fine.
18. Aaron Hill (21): If you subscribe to the theory that consistency is key and the Sox should just pick a third baseman for the stretch drive, you might line up behind Hill as your candidate. Granted, he isn't doing much to drive the point home, but he has been the team's best option during August.
17. Brad Ziegler (13): When he has trouble finding the zone, he really has trouble finding the zone. In August, he's hit the strike zone with just 34.5 percent of his pitches, which is third-worst among all major league relievers who have tossed at least five innings in August.
16. Clay Buchholz (29): Well shut my mouth. Not only was Buchholz able to relieve in back-to-back games on Aug. 6 and 7, but he has also put up two decent-to-promising starts now that he's back in the rotation. He's unlikely to be a huge factor on the proverbial postseason roster since the team won't need five starting pitchers, but he's already done more in the second half than I thought he would.
15. Andrew Benintendi (NR): The rookie is holding his own, and looks comfortable. He has quickly ingrained himself in the lineup, and the future ahead of him looks very promising.
14. Matt Barnes (15): I was very hard on Barnes early in the season when he was walking people. For a time, specifically from June to July, he was able to significantly reduce his walk total. But it has come back with a vengeance in August. He is also striking out more batters for the month, which is nice, but his 5.87 ERA this month is surely not a trend that can continue. And it starts with the walks.
13. David Price (6): After netting more walks than strikeouts for just the 10th time in his career when he pitched against the Dodgers on Aug. 7th , Price has rebounded well. There is a nitpick to make in nearly every one of his starts though, which makes fans understandably nervous.
12. Steven Wright (9): His start in LA on Aug. 5th was his best start of the season and it wasn't close, but then he went and got himself injured. Whether you blame him for this or manager John Farrell, the end result is the same – no Wright on the mound for a few weeks.
11. Craig Kimbrel (19): His four-walk outing against the Yankees seemed like a harbinger of bad news, but since, he's racked up four saves in four tries, striking out twice as many hitters as he's allowed to reach base.
10. Xander Bogaerts (2): It's been a rough month for Bogaerts. During Saturday's telecast, Red Sox assistant hitting coach Victor Rodriguez explained that Bogaerts' leg kick had gotten too high, and it was causing him to reach for pitches that he should be squaring up. Since Rodriguez and the coaching staff worked with him on that issue, Bogaerts has responded well, but so far August has easily been Bogaerts' worst month of the season.
9. Drew Pomeranz (10): Just as fans were starting to write him off, Pomeranz has responded by posting a 2.25 ERA in August, which is good for 10th best in the American League. Somehow, that only ranks him third-best on the Red Sox, but Pomeranz has certainly shown why the Red Sox went out and grabbed him last month.
8. Eduardo Rodriguez (16): One of the two starters who has posted a better ERA than Pomeranz this month is Rodriguez, whose August ERA is a minuscule 2.08. Truth be told, Rodriguez should be higher in this edition of the Red Sox Player Power Rankings, but his hamstring injury has left both him and the team in limbo. As a result, the team is being more or less forced to carry 13 pitchers while they try to figure out if Rodriguez needs a stint on the DL. This is decidedly suboptimal.
7. Jackie Bradley Jr. (5): From Sunday Aug. 14 through yesterday, Bradley only banged out seven hits, but he made them count – four were homers and one was a double.
6. Dustin Pedroia (1): He's hit for a high average this month, but his walk rate has cratered. This is surely a blip for the ever-patient Pedroia, but it's troubling nonetheless.
5. Sandy Leon (12): Break up Sandy Leon! Leon now has 15 more hits this season than he did in his previous four major league seasons. His transformation from also-ran to Silver Slugger caliber catcher has been amazing.
4. Hanley Ramirez (8): After hitting just eight home runs in 349 first-half plate appearances, Ramirez has already socked eight in 117 second-half plate appearances. Unfortunately, he's traded some plate discipline for that power, but overall, he's been much more like the guy the Sox thought they were getting last year.
3. Rick Porcello (3): Porcello has been the Red Sox's DJ Khaled this season, because all he does is win. His 17 wins are already a career high for him, which is nice. What's nicer is the 3.22 ERA that is currently a career best, his 16.4% K%-BB% — also a career best — and the 3.69 FIP, which is close to his career best (3.53 in 2013).
2. David Ortiz (7): Just when you were starting to worry about Big Papi slowing down, he picked it right back up, and his next homer will mark four straight seasons of 30 or more homers.
1. Mookie Betts (4): With his recent home run barrage, Betts pulled past Francisco Lindor and Manny Machado on the American League WAR leaderboard.