Red Sox
Pablo Sandoval joins Red Sox in Tampa Bay, works out at third base
The burly third baseman has reportedly lost a significant amount of weight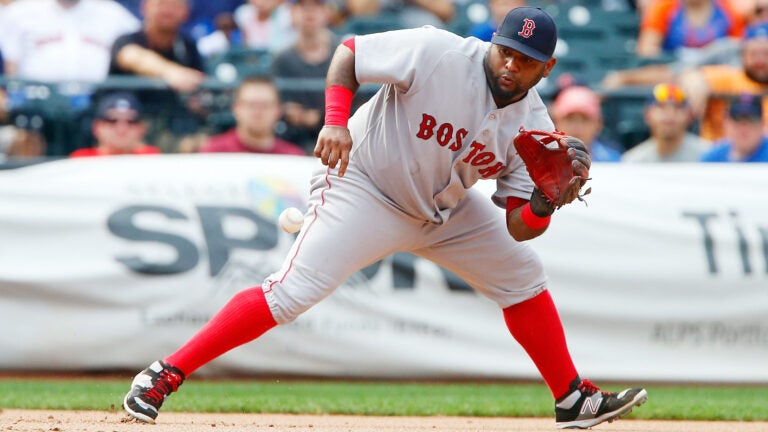 Just before the Red Sox began their game with the Rays last night at Tropicana Field, one they would go on to lose in heartbreaking fashion, a surprising tidbit of news emerged via Twitter.
Pablo Sandoval has joined the Red Sox at Tropicana Field today. pic.twitter.com/GFQYjmeCQF

— Brian MacPherson (@brianmacp) August 24, 2016
That Pablo Sandoval arrived to join the team the same week that John Henry publicly stated the team needs him to return to form surely is not a coincidence. Equally notable is that the third baseman arrived having reportedly lost 22 lbs. He lost his starting job in spring training to Travis Shaw as much because of his issues with conditioning as his poor performance on the field.
Sandoval's 5-year, $95 million contract loomed large after the 30-year-old turned in a disappointing debut in 2014 and then was shut down for the season as he underwent shoulder surgery to repair a torn labrum this spring. He made just seven hitless plate appearances before the injury.
But in addition to his improved physique, Sandoval also seems to have brought a more humble attitude this time around.
Pablo Sandoval looks terrific. Says he's working out six days a week. Said he's made mistakes, learned lessons, hopes to contribute in 2017.

— Jason Mastrodonato (@JMastrodonato) August 24, 2016
"It's tough. You learn your lesson from all the mistakes you made," he said. "Human beings make mistakes. You have to put all the things in the past. You have to workout." Sandoval also spoke of how supportive his family has been in encouraging him to better himself, and that his 3 month-old son is his biggest motivation.
"Every time I wake up, looking at him, I want to do everything for [him] so he can see me back on the field and play baseball," he said. John Farrell, too, seems to be buying in on the new Sandoval after benching him to start the season.
"To me, I see a guy who's got a lot of pride," he said. "But it's clear through my conversations over the course of time he's been in Fort Myers [that] he's motivated."
Whether he can earn back his third base job next year, over Shaw and maybe the surging Yoan Moncada, remains to be seen. But as Henry points out, the team will also have to find a new designated hitter for the first time in more than a decade, and will need all of the offense they can muster.