Red Sox
2016 has treated fans to vintage Dustin Pedroia
Pedroia is in line to finish with numbers similar to his 2008 MVP campaign and statistically phenomenal 2011 season.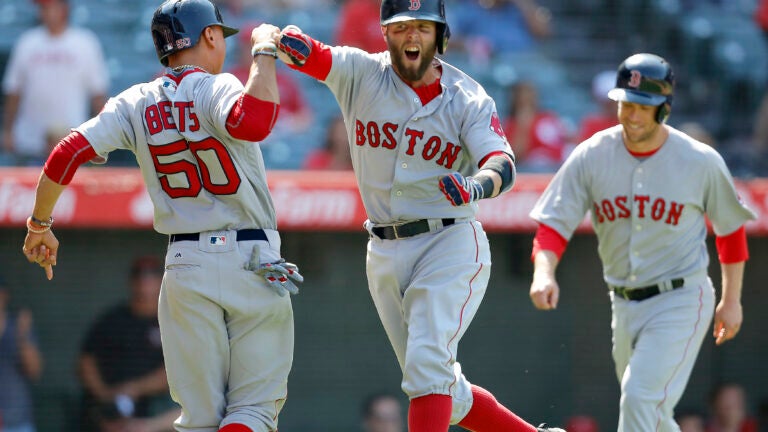 COMMENTARY
Dustin Pedroia just completed a mini-stretch where he went 11-for-11. It was exciting to watch, and with the Red Sox offense floundering (they had only scored nine runs in the four games prior to Saturday) it was just what the team needed. His streak underscores the larger point – we are seeing a vintage Dustin Pedroia season.
Following the 2014 season, I wrote over at the Boston Globe that we should no longer expect offensive greatness from Pedroia. Between the natural effects of aging and the possibility that Pedroia's past finger, hand and wrist injuries would forever alter his power stroke, it seemed reasonable that his days of being a plus hitter were behind him. Several of his prior peers had had one good season from age-31 on, but that they would taper off afterward.
Pedroia has more or less laughed in the face of such forecasts, and it's been a great reminder that not everything can be captured by looking at comparable players of the past. He started off great in 2015, and while a hamstring injury sapped much of his second half, he hit even better in the second half when he did suit up. And he has kept on rolling in 2016.
With Saturday night's game, he has now tallied four hits in a game four times this season, just the second time in his career he has done that. Since 1913 (the first year Baseball-Reference has game log data), only 12 other members of the Red Sox have managed this feat (Wade Boggs is the leader, he had at least four four-hit games in seven seasons, including consecutively from 1983-1987). The other year Pedroia pulled it off was in 2008, when he won the American League Most Valuable Player Award.
There are plenty of other great statistical markers in Pedroia's season. He's already at 4.6 wins above replacement (WAR) for the season, which gives him his best season since 2013, and with a strong finish, he could equal the 6.3 WAR from his MVP '08 campaign. His only other better season than 2008 was when he piled up 7.8 WAR in 2011. In other words, Pedroia has a chance to put together his second-best season ever, at least by WAR.
The best part of this season is how he's been quite valuable with both the bat and the glove. By wRC+, Pedroia has been the 35th -best hitter in baseball (18th -best in the AL), and by UZR (Ultimate Zone Rating), the 12th -best defender (seventh-best in the AL). Most impressive in his defensive performance is his increased range, which had fallen off last year given his hamstring troubles. Among second basemen, he's been the seventh-best hitter in baseball and the very best defender, again by wRC+ and UZR. Just like in his late-aught's heyday, he is a force on both sides of the ball.
What's been the most fun though is that he's doing it in the same manner that he used to. As players age, they're supposed to have to make big concessions in how they play. For Pedroia, not so much. He's still done most of his damage against fastballs. He still rarely swings and misses, and while sometimes older players expand their strike zone as they more frequently fall behind in the count, Pedroia hasn't had to do that. While he's seeing fewer pitches in the strike zone this season, he's also swinging at fewer pitches overall, which has led to an uptick in his walk rate and a drop in his strikeout rate. He's not quite at 2009 levels, when he walked 74 times and only struck out 45 times, but his walk and strikeout numbers are at their best ratio since 2013. Finally, FanGraphs keeps statistics on the force with which a batted ball is struck – soft, medium or hard. Pedroia's Hard% is his highest since his rookie year of 2007.
Given his age and his recent health record – Pedroia missed 30 percent of Boston's games when you combine 2014 and 2015 – Pedroia's projections are likely to remain conservative. At FanGraphs, Pedroia's "rest of season" offensive performance is projected to be 16 percentage points worse than it has been this season. But the diminutive Pedroia has made a career out of defying expectations. His .357/.417/.497 batting line makes him one of the best hitters in the AL during the second half, and for the season, he's been the 14th -best position player in all of baseball (10th-best in the AL). This has been a vintage Pedroia season.
Baseball history instructs us not to expect this for long, but Dustin Pedroia has taught us to not worry about stuff like that, because he's one of a kind.