Red Sox
John Farrell is managing to make a bad Red Sox bullpen even worse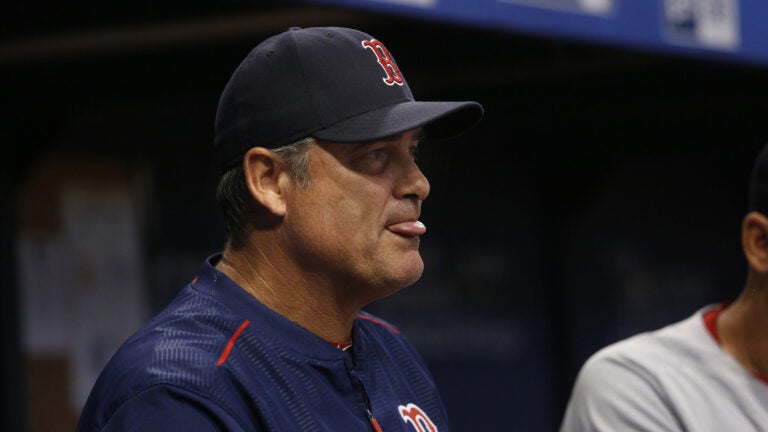 COMMENTARY
Exciting that Red Sox top prospect Yoan Moncada is joining the big league club on Friday.
Can he pitch the eighth inning?
Oh, granted, the Red Sox have a thirst for help at third base, where Travis Shaw and Aaron Hill have combined to give Boston a .573 OPS at the position since the All-Star break, worst in the American League by a wide margin (the Detroit Tigers, have gotten a .612 OPS from their third basemen over the same time period, are just ahead). The 21-year-old Moncada had a .910 OPS over his 45 games with Double-A Portland, but only played nine games at third with the Sea Dogs, a switch from the normality of second base that opened the door for a September contribution at the major league level. And the way veteran Dustin Pedroia is going (he hit .406 last month), Moncada won't be supplanting him in the middle infield anytime soon.
Sure would be nice if he brought a curveball along with him though.
Not that any pitching ability would help improve the morass of the Red Sox' bullpen anyway, particularly considering manager John Farrell's baffling inability to manage its personnel.
It's not like Farrell has the Cincinnati Nasty Boys out there in lieu of what will go down as yet another fruitless experiment by Dave Dombrowski, who is to bullpens what Adam Sandler is to box office success. But the manager continues to confound in the way he handles his relief arms, with one disputed maneuver after another imploding to the point where Koji Uehara and Joe Kelly are being considered possible saviors.
That's not good.
The eighth inning, in particular, has been Farrell's albatross. On Tuesday against the Tampa Bay Rays, he announced that Clay Buchholz would become his penultimate man out of the bullpen, only to watch the embattled righty surrender a game-winning home run to Red Sox-killer Evan Longoria. On Wednesday, things got even worse as Farrell called on Junichi Tazawa, a guy who has had a worse summer than Paul LePage, to take over for terrible deadline acquisition Fernando Abad, who loaded the bases with two outs.
Logic seemed to call on closer Craig Kimbrel going for the four-out save. Kimbrel had pitched the night before (22 pitches), but hadn't in the six days prior to that with an off-day looming Thursday when the Red Sox made their way to the west coast.
Instead, Tazawa emerged and gave up a two-run single to Logan Forsythe, tying the game at six.
Hill, breaking an 0-for-20 slump, bailed Farrell out in the top of the ninth inning, leading Kimbrel to finally take the mound and earn the save by throwing all of 10 pitches.
That extra out would have been brutal, at least according to Farrell. 
"After we got him an inning of work [Tuesday] night because he had not pitched in six days, was not going to go with a quick turnaround and look to get four outs from him," Farrell said. "Being his sixth day without getting on the mound, that was part of the plan to get him to the mound [Tuesday] night. Knowing it was a day game following a night game, that was still taken into account. But with the off-day following, he was not going to throw more than two days consecutively."
Huh?
Farrell didn't have Brad Ziegler available for the second straight game as the righty had reportedly been stricken with the flu. Nor did he have Buchholz to pitch in his new role, not because he had pitched the night before, but because he was also coming off a 29-pitch workload in Monday's game, a 9-4 victory during which he pitched the eighth inning, allowing one run, for some reason.
If Farrell was planning on using Buchholz as his setup man, then why the hell is he pitching in a game with a six-run lead?
"I want Clay to feel like that's his place in this bullpen right now," Farrell said. "You want guys to grab the opportunity and run with it."
That's all well and good. Except the guy making the calls on those opportunities seems like he might have a difficult time deciding if he needs a Philips or a flathead for any given screw.
Barring Wednesday's comeback, the Red Sox might have lost their eighth game this season in which they led at the beginning of the eighth inning. Their 4.64 eighth inning ERA ranks 11th out of 15 AL teams.
So, no, this isn't all Farrell's fault. Every move he's tried to make late in games has imploded. Maybe its the law of averages paying him back for striking gold with Uehara as closer in 2013, but everything he's tried in the eighth inning has blown up in his face. How about this note from ESPN's Mark Simon:
"My Stats and Info colleague Jason McCallum shared this note: Koji Uehara was injured on July 19 and has not pitched since then. Since July 20, the Red Sox bullpen has a 7.02 ERA in the eighth inning when the score is within two runs. That is easily the worst in baseball during that span. The major league average is just under 3.00."
But Carson Smith will be nails in 2017. Right?
Still, Farrell doesn't help himself in instances like Wednesday's Tazawa decision or his insistence to stay away from pitchers based on workloads that are pointless to their roles when necessary.
The Red Sox have so far survived his incompetence at handling his relievers, lingering two games in back of the Toronto Blue Jays in the AL East with a showdown looming next week north of the border. Kelly will have been recalled by then after impressing with a 1.54 ERA at Pawtucket. Maybe he'll slide nicely into Tazawa's role.
Uehara (2-3, 4.50 ERA this season) also seems ready to come off the disabled list next week. Maybe the 41-year-old's experience will serve as a better bridge to Kimbrel than Buchholz might.
Joe Kelly and Koji possibly providing bullpen salvation?
It's come to this?
"We've had some guys go through some streaks where they haven't been as consistent," Farrell said. "Trying to stay with a defined role has been a state of flux with the group that we have."
A state of flux. In September.
The eighth-inning hole remains a mystery.
Not to mention the source of complete mental breakdown by the manager.
New England college mascots
[bdc-gallery id="655041″]