Red Sox
10 facts Red Sox fans should know about Yoan Moncada
Moncada has the potential to be even better than Mookie Betts and Xander Bogaerts.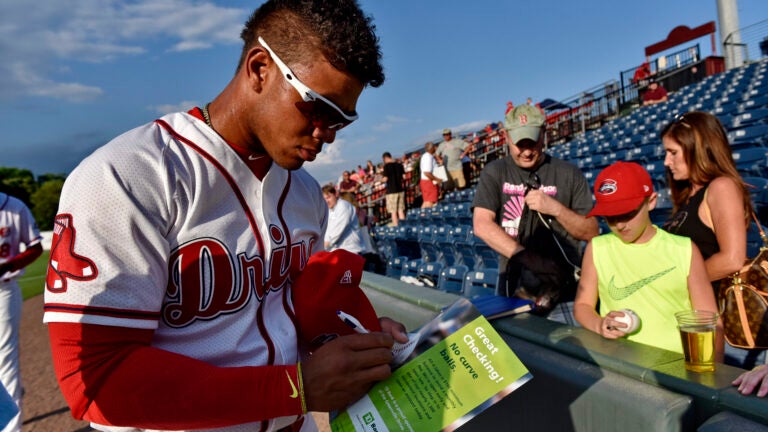 Dave Dombrowski gave Red Sox fans some good new this week, calling up mega-prospect Yoan Moncada, who will be joining the team in Oakland Friday prior to the team's game against the Athletics. Moncada has dominated the minors all season long, and while his game is not flawless, he has shown enough to earn a spot with the big club.
Here's 10 things you absolutely need to know about the youngster as he tries to get his major league career off on the right foot.
1. He was an international signing from Cuba in February, 2015
As one of the last (and perhaps best) moves made by former-general manager Ben Cherington, Moncada incited a bidding war in the winter of 2014-15 after he left Cuba the previous June. It was reported that the Red Sox, Yankees, and Dodgers were leading the blind bidding for Moncada, and it was ultimately Ben Cherington's $31.5 million gamble – and willingness to also sign Moncada's friend, Carlos Mesa – that prevailed.
2. His signing bonus is the largest ever for an amateur player… and the team paid even more for him
Moncada's $31.5 million deal easily lapped both Yoan Lopez's then-record $8.5 million signing bonus for an international, as well as Stephen Strasburg's $7.5 million for a player in the MLB Amateur Draft. But because of MLB's spending limits on international players, the Red Sox were taxed a full 100 percent for their investment, thus paying more than $60 million total and also sacrificing the opportunity to sign international players for more than $300,000 for the next two signing periods.
Though the Red Sox did attempt to circumvent the latter penalty.
3. He justified that purchase by being named the No.1 prospect in baseball
Moncada has looked every bit the part since joining the Red Sox organization, which is a relief given that the Red Sox' last splashy signing from Cuba, Rusney Castillo, has been a colossal bust after the team missed out on Jose Abreu. Moncada was named MLB's No.1 prospect, ahead of even the best players from last years draft such as Dansby Swanson and Andrew Benintendi, even though those two have already made an impact on their major league teams.
4. He was named the MVP of the MLB All-Star Futures Game
He didn't have as many hits as Astros 3B/SS Alex Bregman, but Yoan Moncada's mammoth home run earned him MVP honors as Team World blew out Team USA in the MLB All Star Futures Game.
Your @SiriusXM #FuturesGame MVP: @MLBPipeline No. 5 overall prospect @ymoncada19. https://t.co/hGT0PWOGIL

— MLB (@MLB) July 11, 2016
5. He has more power potential than any of the Red Sox' young stars
In just 45 games since his promotion to Portland, Yoan Moncada has belted 11 home runs, with most of them being absolutely crushed. Averaged over a full MLB season, this would put him on pace for just about 40 home runs. For reference, no Red Sox player has hit 40 home runs since David Ortiz did it in 2006.
Sea Dogs "Tail" of the Tape: Yoan Moncada blasted a 411 foot home run in the 2nd inning, his 10th Double-A home run. pic.twitter.com/8Huelv0DCp

— Portland Sea Dogs (@PortlandSeaDogs) August 24, 2016
6. And also probably faster than any of them too…
If there is anything that can change an MLB game as much as elite power, it's elite speed, and Moncada is just shy of 100 steals in just two minor league seasons. Boston hasn't had a player steal 50 bases since Jacoby Ellsbury did it in 2013.
So Moncada has power potential like Ortiz, speed like Ellsbury, and also draws comparisons to Robinson Cano for his smooth defense and easy swing.
With No. 1 prospect @ymoncada19 comes awesome speed, power and comparisons to Robinson Cano: https://t.co/ZVOJu6REjn pic.twitter.com/1ZLp88xBOq

— Cut4 (@Cut4) September 1, 2016
7. The Red Sox moved him to 3rd base because he is blocked at 2nd base and shortstop
Moncada has played just nine games at 3rd base since joining the organization, so he may be a little sloppy at first glance. But as a former shortstop, Moncada has the range for the position and a cannon for an arm that will aid his transition.
8. He is not quite as polished as Andrew Benintendi yet and that's okay
Moncada is younger than Benintendi, and has far fewer games to his credit on American soil. He has twice as many strikeouts in the minors as he does walks, and his still developing plate discipline could mean that he won't hit the ground running quite like Benintendi did.
9. He's a switch hitter, but does better batting from the left side
Moncada has not done quite as well against left-handed pitchers (batting from the right side) as he has from the other side of the plate versus righthanders. Across two levels, he has hit .242 while batting as a righty, and .310 batting as a lefty. Being a switch hitter can be useful as teams strategically deploy their bullpens against him, though.
10. He almost certainly won't hurt the team, and he will probably help them as they vie for the playoffs
With Travis Shaw crashing back to Earth in a heap (batting .208 since June), the Red Sox have been absolutely devoid of offensive production at 3rd base this summer. With the offense starting to slow, Moncada may be the boost they need to crank it up another notch again, and barring serious defensive miscues, it's tough to see him hurting the team.
John Farrell certainly believes Moncada will help, and has insinuated that he won't merely be used as a pinch runner.