Red Sox
Yoan Moncada receives encouragement from David Ortiz, Dave Dombrowski after benching
Yoan Moncada looked ready to hit the ground running in Oakland, but has scuffled in San Diego.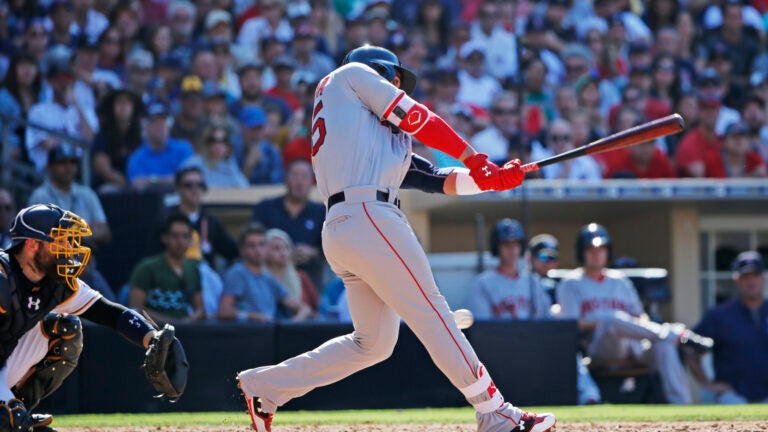 When Yoan Moncada recorded four hits in nine at bats in his two starts against the A's, it looked like the 21-year-old was ready to contribute.
After striking out seven straight times against the Padres since then, the Red Sox have needed to reconsider their handling of the young switch-hitter. The team thus decided that it would be stalwart Travis Shaw making the start Wednesday night instead of the supremely gifted Moncada, as originally planned.
For a player who has not only seen success, but been the best, everywhere he has gone, one might wonder how the youngster might handle the adversity. So far though, he seems to be taking it in stride, and the Red Sox – now very accustomed to integrating youthful players into their lineup – have had his back in spite of the decision to give him the day off.
"These [weren't] my first strikeouts, and they won't be my last," Moncada said via the Boston Herald. "Just got to keep moving forward and know that the players that strike [me] out are players that are actually playing in the game."
Red Sox president Dave Dombrowski was also in San Diego with the team and sought out Moncada to reassure him.
"He's not a finished product by any means, at this point," Dombrowski said. "But he has a chance to be an extremely good major league player… I would find very few guys that get to the big leagues that aren't going to go through a significant learning curve at the major league level."
Moncada also received words of wisdom from a player who is very familiar with that learning curve: David Ortiz.
"He just told me that, first of all, that happened to him when he first broke into the league, he struck out four times in one game. And that the game's not easy, it's a process and to just stay focused on getting better and playing my game," he said Ortiz told him.
Every major league hitter goes through slumps when pitchers and scouting reports identify a weakness, as Xander Bogaerts did in 2014 when pitchers started throwing him a high volume of breaking pitches (and as he is now, to a lesser degree). What separates the major leaguers from the ones who flame out is whether or not the hitter can adjust in a timely manner.
For a team that is succeeding but slowing down, as the Red Sox are, they hope Moncada will make those adjustments sooner rather than later.