Red Sox
Breaking down the possible Red Sox playoff roster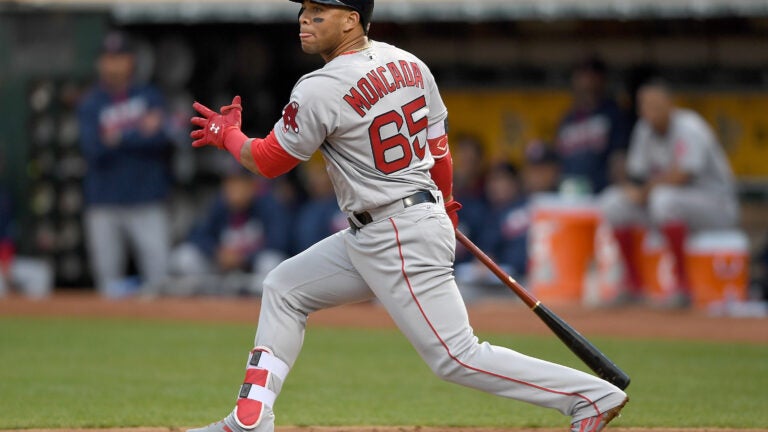 COMMENTARY
The Red Sox are probably going to make it to the postseason. As of Wednesday, their playoff odds stood at 86 percent, according to FanGraphs. They have hovered around that number for awhile now – the last time their playoff odds were lower than 80 percent was August 14th, as you can see in the graph below:
Since the team stands such a good chance of getting to October, it only makes sense that we look ahead to how the team's playoff roster will shake out. If you're the superstitious sort, and would rather not contemplate such things until a playoff berth has been clinched, well, you've been warned.
Before we get into this year's team, it's instructive to look back at the one time manager John Farrell has picked a playoff roster in his five previous seasons as a manager. In 2013, he got to set his roster three times. He picked the exact same roster, and the ratios he chose represented a best-case scenario – 14 position players, 11 pitchers. In the regular season, teams generally carry at least 12 pitchers, and often now teams carry 13, but in the postseason, you need one fewer starting pitcher, so 11 pitchers is the better alignment. A really daring team could try to get away with just having six relief pitchers (10 pitchers overall) but that's not realistic.
One part of Farrell's roster construction that sticks out is that of the 11 pitchers he carried, six were actually starters. They weren't all used as starters – Clay Buchholz, John Lackey, Jon Lester and Jake Peavy were the only pitchers who started games during the '13 postseason – but Ryan Dempster and Felix Doubront were both kept on the roster throughout. The Sox have a similar situation this year, in that they have had six main starting pitchers, though whether they keep all six on the postseason roster will likely be a function of Steven Wright's health. Nevertheless, in 2013, Farrell showed the willingness to use starters in relief roles.
Outside of the starter-reliever tidbit, everything was how you would expect it to be. The team only carried two catchers, using the remainder of their bench spots for infielders and outfielders. With that, let's get to this year.
I'll lay out my roster in full, and then walk through its intricacies. Let's call this roster Version 1.0. As we get closer to October, we'll revisit it, and make adjustments as needed (all players are listed alphabetically).
Starting Pitchers (4): Drew Pomeranz, Rick Porcello, David Price, Eduardo Rodriguez
Relief Pitchers (7): Fernando Abad, Clay Buchholz, Joe Kelly, Craig Kimbrel, Robbie Ross Jr., Koji Uehara, Brad Ziegler
Catchers (2): Sandy Leon, Christian Vazquez
Infielders (6): Xander Bogaerts, Aaron Hill, Brock Holt, Yoan Moncada, Dustin Pedroia, Hanley Ramirez, Travis Shaw
Outfielders (4): Andrew Benintendi, Mookie Betts, Jackie Bradley Jr., Chris Young
Designated Hitter (1): David Ortiz
No one will quibble with Porcello and Price, I don't think, but I imagine some may want to have Buchholz or Steven Wright in the rotation. If the Sox end up playing the Blue Jays, I could see that, as Toronto is the one American League team who has really beaten up on left-handed pitching this season, but in general, I think Pomeranz and Rodriguez are the best bets. Even during Buchholz's late-season rejuvenation, he has mostly faced poor-hitting teams. In addition, he is now more familiar with pitching in relief than is Pomeranz or Rodriguez.
As for Wright, only one of his last five starts was a quality start, and he only took the hill three times in August. If he can come back strong in the last couple of weeks, it'll be a harder decision, but right now, he's off the roster.
The bullpen is definitely in flux. Left off of this roster are bullpen mainstays like Matt Barnes and Junichi Tazawa. Barnes is in a terrible slump, and now has only pitched once during September. That is either a sign that Farrell has lost faith in him, or that he has been moved down in the pecking order. The end result is the same – he's on the outside looking in.
Tazawa is sort of in a tie with Kelly and Uehara. Should Kelly not prove capable of being a quality reliever, or Uehara prove that he is not really healthy or effective, Tazawa could easily get his spot back.
While no one would question Sandy Leon as the primary catcher at this point, the backup catching position has been in flux. Don't be surprised to see Ryan Hanigan here, but I would give the nod to Vazquez. It's unlikely that the backup catcher will be needed before Game 5 of the American League Championship Series, as that is the first time that the team would have to play on a third consecutive day. The number of off-days make the backup catcher almost superfluous, and certainly there is no need for a third catcher.
The infield has no surprises. The starter at third base will continue to be a case of much debate, but the players on the roster should line up the same way. The only player who you would give consideration to here would be Marco Hernandez. He is likely faster than both Aaron Hill and Brock Holt, and probably plays a better shortstop as well, but those factors aren't quite enough to tip the scales in his favor. Moncada gets the nod as at least a pinch runner, which is a role he could fill well.
The outfield is also pretty cut and dry. Since Young came back from the disabled list, he and Benintendi have started the majority of the games in left field, and if Benintendi does come back next week as has been speculated, by the postseason Holt might not be playing much outfield at all. Benintendi and Young will likely trade starts, as Daniel Nava and Jonny Gomes did in the 2013 postseason, with the player not starting being available as a pinch hitter or runner late in the game.
Finally, there's David Ortiz. It's going to be difficult to do these sorts of roster construction pieces next year, knowing that he won't be on them anymore.
As the Red Sox go into the postseason, they have both good depth and quality players in the starting rotation, infield, outfield and at DH. The bullpen is not at its best, but there is time to sort that out, and there is still hope that Kelly and Uehara can become the weapons they have been projected to be/once were. And catching is still a bit of a mystery. Sandy Leon has cooled off, but he still remains the best bet at this juncture.
This Red Sox team isn't perfect, and is certainly no slam dunk favorite, but they have a roster peppered with good starters and good role players, and they are going to be very hard to kill.