Red Sox
Bogaerts, Betts help Red Sox rally past Yankees 6-5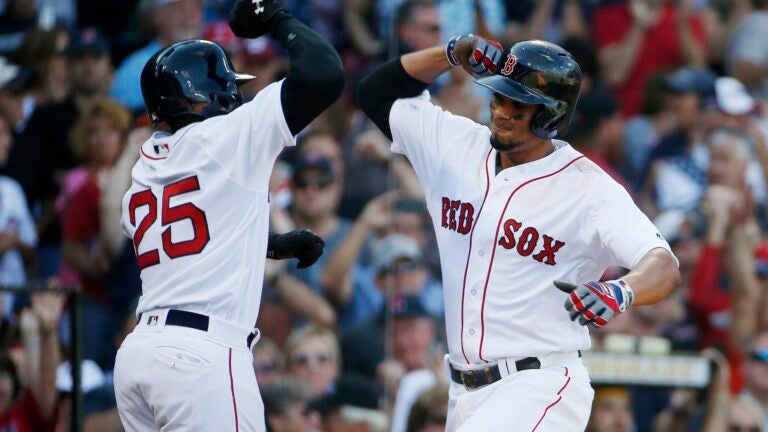 BOSTON (AP) — With the potential tying run on third base, Mookie Betts wanted to get the ball in the air. It didn't matter given the good bounces the Boston Red Sox were getting.
Xander Bogaerts hit a two-run homer and drove in three runs, Betts had the tying single before scoring the go-ahead run and the Red Sox beat the Yankees 6-5 Saturday for their third straight win over New York.
Trailing 5-4 in the seventh, the Red Sox took the lead with two well-placed bounces.
Betts' high-chop grounder bounced over drawn-in shortstop Didi Gregorius to score Bogaerts, and Betts scored when Adam Warren (3-2) bounced a wild pitch that caromed to the right of Sanchez.
Hanley Ramirez, who started on second, went to third, stopped, then tried to score when he saw Sanchez had his back to the plate. The catcher scampered back in time for the tag.
"Fortunately it was able to bounce over his head," Betts said. "Anytime I get a situation like that, you want to get the run in. Ideally, you want to get it in the air, but I just got on top of it."
Ramirez and Bogaerts each had three hits for the AL East-leading Red Sox (84-64), who improved to three games ahead of Toronto and Baltimore.
"This is a day where we kept fighting back and we had to," Boston manager John Farrell said.
New York (77-70) wasted 3-0 and 5-2 leads and lost for the sixth time in seven games. The Yankees, already four games back for the AL's second wild card coming in, dropped seven games behind the Red Sox in the AL East.
The Yankees lost the opener 7-5 when Boston scored five runs in the ninth, capped by Ramirez's three-run homer.
"It's been tough and just frustrating because I felt like we were on a good roll there and just kind of haven't been able to finish a game and come out on top the last couple," Warren said.
Second baseman Starlin Castro left in the fifth inning after straining his right hamstring while rounding first base on a double. Rookie Gary Sanchez hit his 15th home run since his Aug. 3 recall from the minors, a two-run drive.
New York opened a 5-2 lead on Austin Romine's two-run double off the Green Monster in the fourth. Chase Headley, the second baserunner on the play, read the flight of the ball well and was just a few feet behind Gregorius when the pair crossed home plate.
Bogaerts homered off a billboard above the left-field wall in the fifth, slicing the deficit to 5-4.
Matt Barnes (4-3) pitched 1 1/3 innings in relief of David Price, and Craig Kimbrel struck out the final four batters for his 27th save in 29 chances.
"We've lost some really tough games," New York manager Joe Girardi said.
New York took a 3-0 in the third on Brett Gardner's RBI triple and Sanchez's homer, which cleared the Monster seats above the left-field wall.
TRAINER'S ROOM
Yankees: CF Jacoby Ellsbury slid hard into the side of the bullpen, trying to make a catch and stayed in for an inning before leaving the game with what the team called a right knee injury. Girardi said Ellsbury and Castro are going back to New York for MRIs.
"He hurt his right patellar when he slid into the wall," Girardi said of Ellsbury.
Red Sox: Farrell said before the game that 40-year-old DH David Ortiz may get Sunday's finale off after running a lot the last couple of days.
PRICE NOT RIGHT
Price gave up five runs and nine hits in six innings with seven strikeouts and no walks. He had allowed two runs or fewer in his previous six starts with a 1.93 ERA.
"It was a very big win. These guys had my back," he said. "We find a way to win. It was a very big win for us."
UP NEXT
LHP CC Sabathia (8-12, 4.10 ERA) is to start Sunday night's series finale for the Yankees. He has allowed three or fewer runs in six of his last seven starts. LHP Drew Pomeranz (2-5, 4.60) starts for Boston after allowing five runs over two innings Tuesday in a loss to Baltimore, his shortest start since he was acquired from San Diego in July.