Red Sox
Hanley Ramirez's weekend was one long Gatorade shower
Or was it Powerade?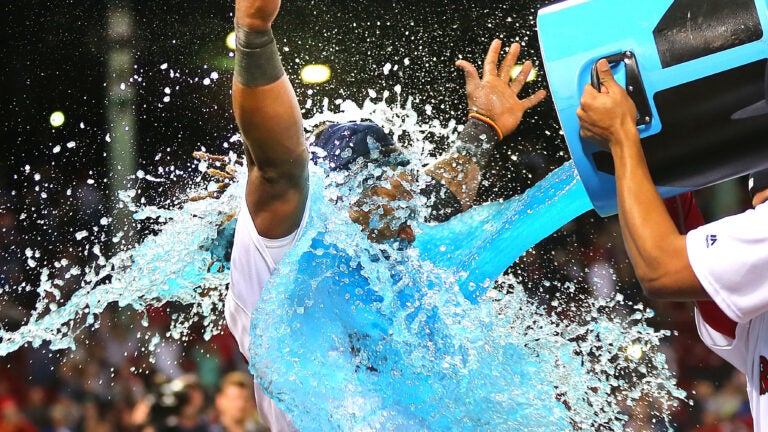 Hanley Ramirez had himself quite a weekend.
After struggling through 2015 out of position, the Red Sox first baseman really found his form this year—perhaps no more so than in his clutch performance during the team's four-game sweep of the New York Yankees.
He also found himself drenched in sports drink.
The Red Sox started off the series Thursday with a late-inning four-run comeback against the Yankees. Down by one with two outs in the ninth inning, Ramirez stepped up and finished off a five-run rally (and the game) with a dramatic walk-off three-run home run.
He subsequently received a double-dousing of Powerade and ice water.
Double Gatorade shower for Hanley Ramirez after a Hollywood ending tonight: 3-run walk-off win against the Yankees pic.twitter.com/tJTIfuzlVg

— Linda Pizzuti Henry (@Linda_Pizzuti) September 16, 2016
Judging by his reaction, it looks like he was less prepared for the second one.
Hanley homers would become a theme. While he was able to make it through Friday and Saturday's games unsoaked by any variety of sports drink, it was not out of a lack of hitting.
Ramirez hit another home run, going 2-for-3 with 2 RBIs, in Friday's 7-4 win against their AL East rivals, (though it was Jackie Bradley Jr. who was showered in Powerade).
Inexplicably, Ramirez did not hit a home run on Saturday. However, he did rack up three hits, including a double. The Red Sox won 6-5 following another late-inning comeback.
Finally, Ramirez saved his best performance for the fourth and last game of the series against the Yankees.
Playing as the designated hitter Sunday night, Ramirez hit a laser two-run home run, his 27th of the season, in the fifth inning to bring the Red Sox within one run, after they had trailed 4-0.
The turning point. https://t.co/4ksOun1fXL pic.twitter.com/gWlEFJGlsb

— Boston Red Sox (@RedSox) September 19, 2016
He returned to the plate in the seventh inning with the game now tied and blasted another home run—this time clearing the entire Green Monster.
You just cannot get @HanleyRamirez out right now. ??? pic.twitter.com/fGWNt5opWB

— Boston Red Sox (@RedSox) September 19, 2016
The Red Sox held on to that lead for a 5-4 win.
As for Hanley, he finished the four-game sweep as he began it Thursday.
Ramirez's final stat line for the series was 9-for-16, with four home runs and nine RBIs. Not bad for a long weekend.