Red Sox
Rick Porcello and the best out-of-nowhere extraordinary seasons in Red Sox history
The 21-game winner has been a revelation in his second season Boston. But his is not the only unexpectedly great season in franchise lore.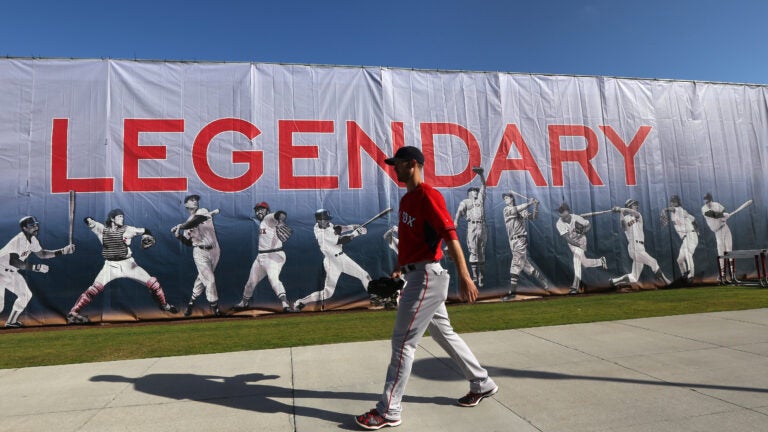 COMMENTARY
Let us briefly pause, shall we, our ongoing stream of Hanley Ramirez apologies and mea culpas to issue a similar humbled tip of the cap to Rick Porcello, the 21-game-winner, likely Cy Young Award recipient, Ben Cherington redeemer, and all-around boss. I was more wrong about Porcello than … well, than Skip Bayless is about everything. That's a lot of wrong right there.
A year ago, Porcello seemed the epitome of a mid-rotation innings eater, a conventional Tim Wakefield, someone who was welcome in the rotation but in no way seemed capable of fronting it. Now, he's the staff ace, coming off the most efficient pitching performance in the major leagues this season in a game that was one of the half-dozen most important the Red Sox will play this regular season.
He is having a season that would fit right in on the baseball-reference.com pages of Josh Beckett, Curt Schilling, Roger Clemens … hell, even a just-past-his-peak Pedro Martinez. Porcello has been the right-handed version of Jon Lester, and what enhances his extraordinary season is that if anyone saw this coming, they kept it to themselves. His performance this season is one of the great unexpected ascents I can remember in 30-plus years following this franchise. Or as reader Aaron noted Monday night:
@GlobeChadFinn ever been a more shocking *great* season from a sox player than Porcello? Maybe Lowell in '07? This is incredible

— Aaron Kriss (@atkriss) September 20, 2016
That's a great question, and not only did it get me thinking about the best unexpectedly excellent seasons in Red Sox history, it sent me on a far more efficient path than simply relying on memory. Hello again, baseball-reference.
There I set up two simple but narrowing searches: One for single seasons in Red Sox history in which a batter had an OPS+ of 125 or better — meaning he was 25 percent better than the league-average hitter — and one that gave me all of the qualified Sox pitchers with an ERA+ of 125 or better.
As you might imagine, that gave me a list primarily made up of the best seasons by the biggest names in Red Sox history. Did you know Ted Williams had seven full seasons with an OPS+ of 200 or better? As if we needed more ways to quantify his brilliance.
That initial list required some obvious paring. First, I eliminated the best seasons of the superstars, since those were simply expectations being fulfilled.
I then eliminated the superb seasons by previously established performers, such as John Valentin '95, who led the AL in WAR by a non-pitcher that season but who quietly had had an OPS over .900 the previous year. Loved Val. One of my all-time favorites.
Finally, I eliminated outstanding seasons by big-time prospects who were breaking through: Fred Lynn '75, Roger Clemens '86, even Wade Boggs '82 since he always raked in the minors. Small-sample sizes were dismissed, too: No one really thought Rudy Pemberton '96 was a .512 hitter, right?
After sorting through all of that, this is what remains: Nine players, excluding Reader Aaron's wise suggestion of Lowell, who like Rick Porcello this year, hit us with a phenomenal season that we never saw coming …
Jacoby Ellsbury, 2011: In 349 games and 1,513 plate appearances from 2007-10, Ellsbury hit 20 home runs, or roughly one every 17 games. In 604 games and 2,672 plate appearances from 2012 until his most recent injury, Ellsbury hit 45 home runs, or roughly one every 13 games. In 2011, Ellbury hit 32 home runs in 660 plate appearances, or roughly a hell of a lot more than anyone would have ever expected. Ellsbury also hit 45 doubles, drove in 105 runs, stole 39 bases, and pretty much singlehandedly tried to thwart the September collapse, slashing .358/.400/.667 with eight homers that month. He was a fine player. He was a key to two championship teams here. He won Red Sox fans a taco once. But no one ever expected him to have a season then that might have been superior to the gem Mookie Betts is crafting now. And fewer expect him to do it again.
Tom Gordon, 1995: As a starter, "Flash" was an enigma, using his mind-bending curveball and arrow-straight fastball to pitch a couple of brilliant innings before inevitably falling apart in the middle. As a closer, a role he converted to late in the lost '97 season, he turned out to be as dominant as any stopper the Red Sox had ever featured to that point, save for perhaps Dick Radatz. After getting the nod as the closer over some guy named Eckersley early in the '98 season — a controversial decision at the time — Gordon was the picture of perfection, saving all 46 of his opportunities in the regular season before faltering in the playoffs. Generously, he paid the Red Sox back as a key member of the Yankees' flammable postseason bullpen in '04. I like to believe he was embedded, his heart in Boston all along.
Ken Harrelson, 1968: Released by the A's in August 1967 after mouthing off to management, the Red Sox snapped up the charismatic "Hawk" for the stretch run to help fill the hole in the lineup left when Tony Conigliaro was beaned that same month. Harrelson didn't do much, hitting .200 with three homers in 85 plate appearances and going 1 for 13 in a seven-game loss to the Cardinals in the World Series. But in '68, Harrelson submitted a season that would not have looked out of place among Tony C.'s early-career stat totals, hitting 35 homers — 12 more than his previous career best — driving in a league-leading 109 runs, and finishing third behind the Tigers' Denny McLain and Bill Freehan in the AL MVP balloting.
Derek Lowe, 2002:  The only pitcher as simultaneously frustrating and talented in recent Red Sox history as D-Lowe is Clay Buchholz. Lowe was a dependable setup man (2.63 ERA in '99) and an effective closer (42 saves in 2000).  He was also a mess in both roles in '01, the nadir being when he blew a save against the Royals and was showered with giveaway posters featuring his visage. But as a starter in 2002, he found his mojo, winning 21 games with a 2.58 ERA and finishing third in the Cy Young voting to Oakland's Barry Zito and teammate Pedro Martinez. Lowe would go on to have many more enigmatic moments, but the final chapter of his Red Sox career — which included winning three series-clinching games in the '04 postseason — was one of redemption. Buchholz should have such an ending himself.
Bill Mueller, 2003: On Opening Day 2003, the Red Sox' starting lineup against the Tampa Bay Devil Rays included designated hitter Jeremy Giambi and third baseman Shea Hillenbrand. David Ortiz and Bill Mueller were on the bench, with the latter entering the game as a defensive replacement. Just imagine how Red Sox history would be different had the organization not recognized (or lucked into) the value of those early-season afterthoughts. Actually, don't imagine it. We don't want to know. Mueller, who had never hit more than 10 home runs or higher than .295 in a full season before '03, seized the third base job from the overrated, soon-to-be-traded Hillenbrand and became a cornerstone during the most rewarding stretch in modern Red Sox history, winning the batting title in '03 with a .326 average and emerging as an unlikely conqueror of Mariano Rivera's cutter.
Daniel Nava, 2013: Nava's baseball origin story as an Independent League refugee purchased by the Red Sox for $1 is well known. But it's sometimes easy to forget that for a brief time, he wasn't just a surprising feel-good story, but a very useful major league player. After basically serving as the prototype for a replacement-level player in 2010 and '12 for the Sox, hitting .243 over 148 games, he flourished in '13, slashing .303/.385/.445 for the eventual world champions in 536 at-bats. He's never been as good again, but like so many of his teammates that special season, he was unexpectedly excellent.
Luis Tiant, 1972:  One of the most beloved players in Red Sox history arrived as an afterthought. Released by the Twins after struggling to recover from a broken shoulder blade in 1970, he ended up with the Braves' Triple A team, got released in May 1971, and signed with the Sox a couple of days later. Tiant was ineffective with the '71 Sox, going 1-7 with a 4.85 ERA. He was 30 years old (allegedly), and his career appeared to be at another crossroads. Little did anyone know his beautiful second act was just beginning. El Tiante went 15-6 with a league-leading 1.91 ERA in 43 games and 19 starts, en route to winning 121 games for the Sox from '72-'78.
Tim Wakefield, 1995:  And so we've reached the Temporarily Unhittable Knuckleballers portion of our program. This year's version of Steven Wright certainly qualifies for this list. The 31-year-old made the team out of camp basically because he was out of options, but emerged as an All-Star and crucial contributor until John Farrell stunted his season by mistaking him for Herb Washington. Wakefield, though, might be the all-time unexpected success story in Red Sox lore. Released by the Pirates following a 1994 season in which he went 5-15 with a 5.84 ERA in Triple A, he was snatched up by Red Sox GM Dan Duquette because … well, because Duquette pretty much signed anyone who'd had a Topps baseball card in those days. After a brief stay at the start of the '95 season with Pawtucket, Wakefield was recalled to Boston, where he promptly had what must be the greatest prolonged stretch of pitching a knuckleballer has ever experienced, all Niekros included. In mid-August, he was 14-1 with a 1.65 ERA for the first-place Sox, who would go on to win the AL East. He never approached such dominance again, but was as steady as a knuckleballer could be during a 17-season run in Boston.  After David Ortiz and Tiant, he might be the best scrap-heap find in Red Sox history.
Carl Yastrzemski, 1967: No, Yaz's mega-breakthrough wasn't totally out of nowhere. He was cast as the replacement for Ted Williams as a 21-year-old in 1961, so he hardly had a stealth arrival on the scene. He was excellent in 1965 (20 homers, .932 OPS), but slipped to just a decent year in '66, hitting .278 with 16 homers, 80 RBIs, and a 119 OPS+. But nothing he did previously foreshadowed his '67 season. Yaz, as any New England baby boomer with a baseball bent will happily recount, won the Triple Crown during a season in which he made the impossible dream a reality, slashing .326/.418/.622 with 44 homers and 121 RBIs.  It is one of the most iconic individual seasons in Red Sox lore, right there with — if not surpassing — Williams's 1941 when he hit .406.  Yaz was good. We knew that. No one knew he'd be transcendent.