Red Sox
Is David Ortiz putting together the best final, age-40 season ever?
The numbers suggest Big Papi is in hallowed territory when examining both categories.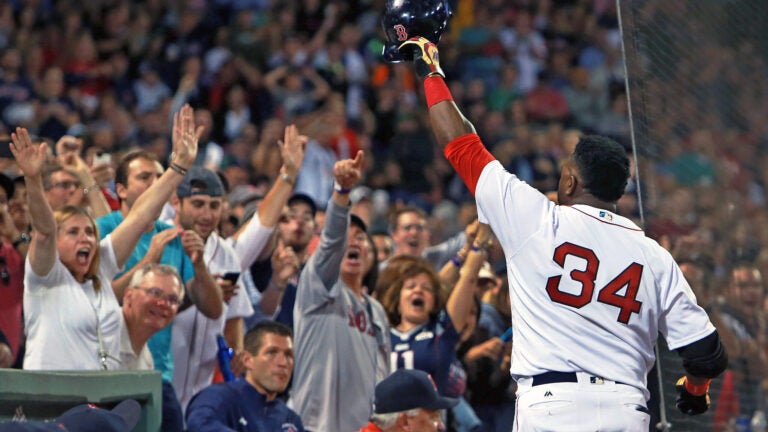 David Ortiz will begin his final regular season series as an active major league player Friday night as the Red Sox welcome the Blue Jays to Fenway Park. With Boston having already clinched the division, the weekend will provide ample opportunity to celebrate Ortiz's remarkable, 20-year career. Within that celebration, however, we should also take the time to appreciate what Ortiz has done this season. Since announcing his retirement on his 40th birthday in December, Ortiz has compiled one of the greatest final seasons in major league history and the greatest season ever by a hitter in his forties.
You may already know that Ortiz broke Dave Kingman's 30-year- old record for the most home runs by a hitter in his final season when he hit his 36th round-tripper last week, but that's just the tip of the iceberg. Ortiz has also set the record for most doubles and extra-base hits in a final season, has tied Dave Orr's record of 124 RBIs in his final season, set in 1890, a tie Ortiz is likely to break this weekend, and enters his final regular season series needing nine total bases to tie Shoeless Joe Jackson's final-season record of 336.
Jackson had the greatest final season of any hitter in major league history, hitting .382/.444/.589 with 218 hits, 42 doubles, a league-leading 20 triples, 121 RBI and 105 runs scored, but he didn't leave the game on his own accord. He and seven other members of the 1919 American League champion White Sox were suspended from the game prior to the 1921 season by newly-appointed commissioner Kenesaw Mountain Landis and ultimately ruled permanently ineligible for their roles in throwing the 1919 World Series. Jackson, one of the greatest hitters who ever lived, was just 32 in his final season in 1920. One of the other all-time great final seasons belongs to another of the banned Black Sox, center fielder Happy Felsch, who hit .338/.384/.540 (142 OPS+) in 1920. He was just 28.
Comparing Ortiz's final season at the age of 40 to the final seasons of star players banned from the game in their prime is unfair to Ortiz. Still, entering his final series, Ortiz's 161 OPS+ (on-base percentage plus slugging, adjusted for ballpark and set against league average of 100) stands as the second-highest by a batter with 500 or more plate appearances in his final season, trailing only Jackson's 172 in 1920. By that measure, Ortiz's 2016 season stands as the greatest final season ever by a hitter who retired voluntarily.
That still doesn't tell the whole story, however. Ortiz's 2016 season ranks among the most valuable final seasons in baseball history even when one factors in pitching and fielding contributions. If we remove the Black Sox, 19th-century pitchers, who often blew out their arms after seasons of 300 or more innings pitched then vanished from the game, and players who died during their careers, the all-time leader list of wins above replacement (Baseball-Reference.com version, hereafter bWAR) in a the final season of a player who retired voluntarily looks like this:
Player bWAR Year Age
Sandy Koufax 10.3 1966 30
Mike Mussina 5.2 2008 39
David Ortiz 4.9 2016 40
Jackie Robinson 4.5 1956 37
Even on that list, Koufax stands out as an exception, as he retired due to arthritis in his pitching elbow. Certainly he would have continued pitching if not for that condition, though he did retire before the condition noticeably diminished his performance.
Another way to frame Ortiz's final season, one that sidesteps the need to explain away the various involuntary reasons that players have departed the game before experiencing natural declines, is to compare him to other players in their forties. With three games left to play, Ortiz has already set the record for the most home runs, doubles, total bases, extra-base hits and RBI by a hitter in his forties, and he could go hitless this weekend and still set the record for the highest slugging percentage by a qualified hitter in his forties.
Several of those marks he has completely obliterated. Compare his current .622 slugging percentage to the previous record of .539 set by a 42-year-old Cap Anson in 1894, or his 48 doubles to the previous record of 35 set by a 40-year- old Sam Rice in 1935. Dave Winfield was the previous record holder among hitters in their forties in total bases (286), extra-base hits (62) and RBI (108). Ortiz has broken all three records by a considerable distance, with his totals currently standing at 327, 86, and 124. No hitter in his forties, or in his final-season under any circumstances, has ever led his league in slugging. With three games left to play, Ortiz is leading the majors in that category by a comfortable distance.
The only way to argue that Ortiz isn't having the greatest season ever by a hitter in his forties is to broaden the definition of "hitter" to include fielding. Do that, and the only hitter who clearly has him beat in the all-encompassing wins above replacement is Willie Mays. Here is the all-time leader list of hitters in their forties per bWAR:
Player bWAR Year Age
Willie Mays 6.3 1971 40
Honus Wagner 5.0 1915 41
Luke Appling 5.0 1949 42
David Ortiz 4.9 2016 40
Darrell Evans 4.9 1987 40
Carlton Fisk 4.8 1990 42
Context is important here. In the National League in 1971, teams averaged 3.91 runs per game, compared to the 4.97 runs per game scored in the American League this year, and Mays played in cavernous, wind-swept Candlestick Park, not cozy, hitter-friendly Fenway. Still, even after adjusting for those disparate hitting environments, one must still include Mays' superlative play in center field to get him above Ortiz in overall value. In terms of hitting alone, however, Ortiz still tops Mays, and every other hitter in his forties in major league history, as illustrated by park-adjusted OPS+ (on-base plus slugging scaled against a league average of 100):
Player OPS+ Year Age
David Ortiz 161 2016 40
Willie Mays 158 1971 40
Edgar Martinez 141 2003 40
Dave Winfield 138 1992 40
Stan Musial 137 1962 41
Other than Ortiz, none of the hitters mentioned above retired after their impressive post-thirties showing. That's probably not surprising. The larger surprise may be that Ortiz has not changed his mind about retirement. What the numbers above don't capture is how much more difficult it is for Ortiz to endure day-to-day grind of the major league baseball season at his age. As he wrote in his recent farewell to New York for The Players' Tribune, "Sometimes I get outta bed in the morning, and it's like, Damn. What happened? I got old. It takes me a long time to get my body ready for these games now."
Given his age and his body type, it's surprising it took Ortiz this long to reach that point. Consider the career paths of other bulky, slow-footed sluggers of comparable size. When Ortiz first emerged as a star with the Red Sox, he bore a strong resemblance to Cleveland's designated hitter, Travis Hafner. Both were late-blooming left-handed sluggers of similar size and age who had passed through multiple organizations before becoming stars. Hafner, however, struggled to stay healthy in his thirties and retired after his age-36 season. Ortiz also prompted numerous comparisons to former Red Sox first baseman Mo Vaughn, another bulky left-handed slugger. Vaughn's final season game at the age of 35. Earlier this year, we saw Prince Fielder forced into retirement at the age of 32. Ryan Howard is likely done at 36 and had his last valuable season at the age of 31. Adam Dunn was finished at 34, as was Kent Hrbek. Greg Luzinski retired after his age-33 season. Boog Powell hit just nine home runs after his age-33 season.
Ortiz appeared to be part of this trend in his age-33 season. After posting career-high 171 OPS+ in 2007 at the age of 31, his OPS fell to 124 in 2008, his lowest mark since joining the Red Sox. He played in just 109 games that year due to a torn tendon sheath in his left wrist. In 2009, at the age of 33, his production fell again, resulting in a .238/.332/.462 line and a 102 OPS+ that indicated that he was merely a league-average hitter with no value outside of the batter's box. He was also uncharacteristically lousy in the postseason in those years, hitting .164/.281/.291 in 14 games. Given the trend outlined above, the end appeared imminent.
In seven seasons since then, however, from the ages of 34 to 40, Ortiz has hit .292/.383/.562 with a 151 OPS+, all of those numbers exceeding his career rates. He has done that despite the fact that, for the majority of those seasons, run scoring league-wide was in decline. Not only that, but, with the exception of an Achilles injury in 2012, he has stayed healthy, appearing in at least 137 games in six of the last seven seasons. That run has been capped by a farewell season that stands out not only against other final seasons or other forty-year- old seasons, but against Ortiz's own career. His batting average and doubles total are second-best among his qualified seasons. His on-base percentage, slugging percentage, and OPS+ are his third-best among his qualified seasons, and his home runs, RBI and bWAR totals are his fourth-best.
Because of his age and its finality, Ortiz's 2016 performance has been one of the most unique in major league history. That's all the more reason to appreciate his final three regular season games and to be thankful that we'll get an encore in October.