Red Sox
Farewell to David Ortiz, the best thing ever to happen to the Red Sox
The Red Sox have had a few better players. But no one has been more important than Big Papi. He changed the franchise. And he changed us, too.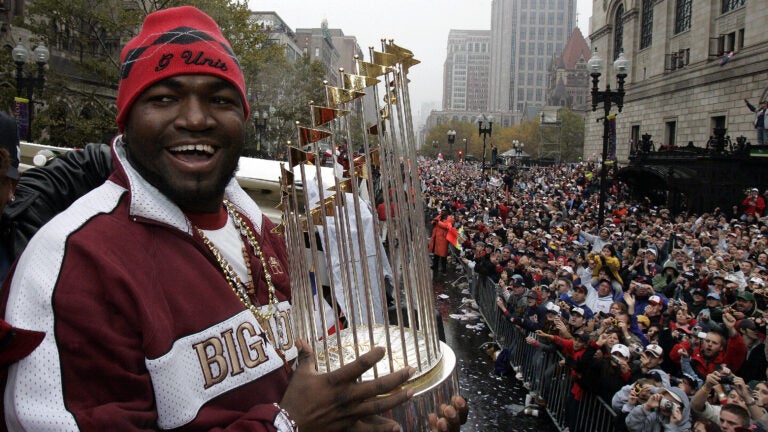 COMMENTARY
Well, of course it's so hard to say goodbye to David Ortiz. It took generations for someone like him to finally say hello.
He is not the best hitter in Red Sox history, though he's in the argument for the silver. He is not the best player. But he is the most important person the franchise has ever called its own, and anyone with a rudimentary sense of Red Sox history — especially over a certain 86-year span — should know that statement is really not up for debate.
He is the one who ended that relentless self-fulfilling prophecy.  Red Sox fans were trained to expect autumn to bring heartache even after the most successful summers. Inevitably, cruelly, it would prove our fatalism was justified, year after year, decade after decade, generation after generation.
He is the one who changed that, the one who came through, the legend of the fall, the Red Sox slugger who didn't make the last out, lose his swing in the big moment, or suffer a freak injury just when the stakes were highest.
He is the one who delivered, making up for the past October disappointments of Ted Williams and Carl Yastrzemski, of Jim Rice and Mo Vaughn. He evened the ledger of history, delivering so many blessings in his 14 seasons with the Red Sox that it's hard to believe we ever felt cursed.
Teddy Ballgame is the greatest hitter who ever lived. Yaz started a Red Sox renaissance when he taught us how to make the impossible possible. Rice and Vaughn captured Most Valuable Player awards in superb, winning seasons.
Yet none knew the elation of winning a World Series. None were champions. None could do what Ortiz did, time and time again, when the ballgame, if not the season itself, held in the balance. None won. So often, Ortiz would not let the Red Sox lose.
Ortiz changed everything about us, and the massive undertaking began in 2003, his first season here. The first huge Ortiz hit I can recall was his go-ahead, two-out, two-run double off A's closer Keith Foulke in Game 4 of the hotly contested 2003 ALDS. As we'd learn a year later, Foulke was no pushover in such moments, but Ortiz got him then.
His greatest hits came the next October. In that seismic postseason, he delivered two walk-off hits in a 24-hour span in the ALCS against the Yankees en route to the most stunning series comeback in professional sports history. And neither of those hits – a homer in the 12th inning of Game 4, a single in the 14th inning of Game 5 – stand alone in my mind as his most important in that series.
A dozen years later, we talk about that Game 7 that year as if it were won with ease. It was not. It was terrifying through, oh, at least the 26th out. History made it hard to trust what we were witnessing in real time. We knew that the only way to suffer a more agonizing loss than the year before would have been to rally all the way back from the three-game deficit, build a big lead in Game 7 … and blow it. Anything seemed possible, and not in a good way.
Yet it was Ortiz who gave us a clue early in the game that this one was going to be different. After Johnny Damon got thrown out at the plate on a Manny Ramirez single in the first inning, it felt like a missed opportunity that was certain to haunt later. But the next batter – Ortiz, of course – tempered the frustration with a two-run homer, giving the Red Sox a 2-0 lead. The next inning, Damon hit a grand slam, and the rout was on, even if it couldn't be savored until it was complete. A walk-off wasn't necessary from Ortiz that night. He gave the Red Sox a beginning to believe in.
Had Ortiz stepped off the duck boat and decided to become, I don't know, a goat farmer in October 2004, he would have been securely entrenched then as the premier clutch hitter in Red Sox history. Once upon a time, I wrote this about him:
He's Mo Vaughn with an uncanny knack in the clutch and no strippers-and-bacon-sandwiches baggage. He's Reggie Jackson without being an arrogant, phony $%%#@. He's Dave Henderson with more ability, more pure power, more duende. He is the greatest clutch hitter you, your dad, your granddad, and in all likelihood your unborn children will ever see. He's Big Papi, larger than life, bigger than the biggest moments.
When did I write that? In June 2005. Eleven years ago, after a walk-off home run off Orioles closer B.J. Ryan. Eleven years! Even then, early in his Red Sox tenure, he had secured his bona fides as the master of the major moment. Every clutch hitter in Red Sox lore at that point – Yaz, Hendu, Carlton Fisk, hell, Troy O'Leary – had a coda of disappointment attached to their baseball heroics, because their teams did not ultimately prevail.
Papi wasn't a hero in defeat. He was the hero who delivered victory, and he continued to do so since. He is the rare player who has a better slash-line in the postseason (.295/.409/.553 in 82 games) than the regular season (.286/.380/.552). Just think of everything that has happened in these last 11 years, or even since he and the '04 Sox wiped the perma-smirk off Derek Jeter's face.
He hit .688 in a World Series. He turned an outfielder upside down and a bullpen cop into an icon. He made the FCC essentially say, "Meh, no harm, no foul. It is our [expletive] city, after all." He hit 54 homers in a season and the 500th and beyond of his career. And he did it all with an irresistible, Tiant-level charisma, a charisma he was willing to share.  He made sure to have a moment for everyone — a fist-bump, a selfie, a smile — even if he didn't have the time. He treated people he just met like they were lifelong friends.
The cynics among us will say that this celebration – he was feted in every city, and the party is extended for three full days in Boston – is too much, over the top, maudlin even. Maybe, but why shouldn't it be prolonged? I'll never get those Red Sox fans who don't appreciate him in full, and  I don't want to understand them.
I know, his legacy is not flawless. He has a temper, and it can get ugly. He complained about a lost RBI once at the wrong time, and he did not seem to enjoy the Orioles' recent gag gift of a replica bullpen phone – a replica because he beat the other one to smithereens many years ago – during his recent salute in Baltimore.
As for his most damning transgression, I'll care about the four names leaked among the 103 who failed the "anonymous" 2003 performance-enhancing drug test when we know the identities of the unscathed 99. I guarantee you it would change how we perceive baseball history. I can tell you one Hall of Fame vote Ortiz is going to get right now.
Maybe that uncanny poise and command in the clutch has been taken for granted in recent years, his big-moment deliveries becoming as familiar now as they were unexpected then, in spring 2003, when he arrived as a Minnesota Twins discard, a barely noticed transaction in agate type.
But  we've remembered to appreciate them in recent weeks, as the days on the schedule dwindled and the realization that no change of heart was forthcoming. He really is leaving, and voids, plural, will be left in his wake.
I have no idea how the Red Sox will replace his 38 homers and league-best 127 RBIs in the heart of the lineup, though other accomplished hitters can be found. I don't believe they can replace the leadership void, the pied piper effect, the way he connects with complicated veterans like Hanley Ramirez and advises earnest young stars like Mookie Betts and Xander Bogaerts. He'll be missed in ways we cannot see.
A half-dozen years ago, during one of those Aprils or Mays when he looked alarmingly incapable and the end seemed to be coming up fast on the horizon, I wrote something along the lines of this: Now we know what it will look like when the end comes for Ortiz. Meaning, it wasn't going to be pretty when his skills had abandoned him for good. He seemed to be the next Red Sox in line for a bad ending.
Not even the Twins were as wrong about him as I was with that sentiment. He's been here 14 seasons, longer than Manny, Pedro, Eck, Mo or Tiant. All these years later, he's set up for the perfect ending. He's had the best walk-off season in baseball history, and while I still harbor a small wish that he'd punk Sunday's ceremony by announcing he's sticking around for another year — imagine the crowd reaction to that — at least we know that the final regular-season game is not the end.
There's still the postseason, the spot where he made his name and turned us into believers. If anyone in baseball history is going to have a walk-off walk-off – would, say, a Game 7 grand slam to beat the Cubs too much to dream on? – why wouldn't it be Big Papi, still larger than life, still bigger than the biggest moments?
This is not the last goodbye, but it is the precursor to his final scene. Here's hoping it's a famous one. But in case we get lost in the moment and forget to say it at the end of the postseason, whenever it comes, we'd better say it now. So thank you, Papi. Thank you for the laughs, the kindness, the confidence that it would all be OK. Thank you for the familiarities, the double-clap before you step in, the mighty swing, the leisurely home-run trot. Thank you for the walk-offs, for rewarding the faith, for making our bleeping city your own. Thank you for all of it, Papi, for everything, thank you.