Red Sox
Red Sox vs. Indians: Everything you need to know about the American League Division Series matchup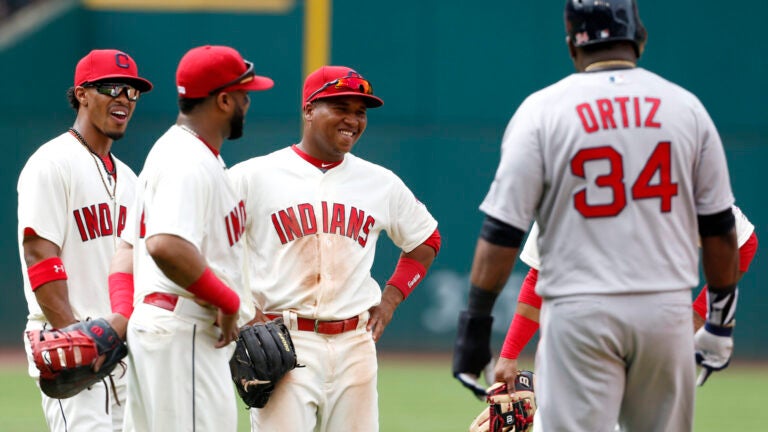 COMMENTARY
The Matchup: Boston Red Sox (93-69, .574, AL East Champions) at Cleveland Indians (94-67, .584, AL Central Champions).
The Indians have made the postseason 11 times dating back to their most recent championship in 1948. Of those 11 October runs, this is the seventh to involve a confrontation with the Red Sox. As a result, the Red Sox and Indians have a rich playoff history dating back to the one-game playoff to decide the American League pennant in 1948. Cleveland won that game in an 8-3 rout, swept the Sox in the Division Series in 1995 on their way to their first pennant in 41 years, and beat Boston in the ALDS again in '98 three games to one. Boston has had its revenge since. In the 1999 Division Series, Cleveland got out to a 2-0 lead only to have the Red Sox win the next two games by a total score of 32-10 then come from behind to win Game 5 behind six innings of hitless relief by Pedro Martinez, who was pitching through a latissimus dorsi strain suffered in Game 1. In 2007, the two teams met in the American League Championship Series, with Cleveland taking a 3-1 lead and the Red Sox again storming back to win the series, taking the final three games by a combined score of 30-5 on their way to the second of their three recent championships.
This year, the two teams opened the regular season by splitting a rain-shortened series in Cleveland, after which the Red Sox took two of three from the Indians in Boston in late May. In mid-August, the Sox returned to Cleveland and won the makeup from the opening week to win the season series 4-2.
Lineups
Below is each team's typical lineup against right-handed starting pitchers with each batters' weighted runs created plus in parentheses (weighted runs created plus, or wRC+, is a total-hitting stat which gives appropriate extra weight to on-base percentage over slugging and is park adjusted and set on a scale with 100 as league average). Against lefties, the Red Sox will typically sub in right-handed hitters Chris Young (125) in left field and Aaron Hill (89) at third base, while the Indians will typically sub in righties Rajai Davis (85) in center and Brandon Guyer (122) in right.
Red Sox
R – Dustin Pedroia, 2B (120)
R – Xander Bogaerts, SS (113)
L – David Ortiz, DH (163)
R – Mookie Betts, RF (135)
R – Hanley Ramirez, 1B (127)
L – Jackie Bradley Jr., CF (118)
L – Brock Holt, 3B (86)
S – Sandy Leon, C (123)
L – Andrew Benintendi (120)
Indians
S – Carlos Santana, DH (132)
L – Jason Kipnis, 2B (117)
S – Francisco Lindor, SS (112)
R – Mike Napoli, 1B (113)
S – Jose Ramirez, 3B (122)
L – Lonnie Chisenhall, RF (103)
S – Coco Crisp, LF (90)
L – Tyler Naquin, CF (135)
R – Roberto Perez, C (58)
By runs scored per game, these were the two most potent lineups in the American League in 2016, but that description is a bit misleading. Cleveland's 4.8 runs scored per game were closer to twelfth place than first as the Red Sox practically lapped the field, scoring 101 more runs than the Indians and plating a major league-best 5.4 runs per game. What's more, while the Red Sox led the majors in not only runs (878), but also batting average (.282), on-base percentage (.348), slugging (.461), OPS (.810), OPS+ (110), hits (1,598), doubles (343) and total bases (2,615), Cleveland didn't lead the majors in a single offensive category.
The Indians did lead the American League in a few offensive categories, however, and those paint a picture of Cleveland as the best baserunning team in the AL this season. Not only did they lead the league in steals (134), but they led in stolen base percentage (81 percent), and in extra bases taken both on hits (going first to third and second to home on singles, and first to home on doubles) and otherwise (on passed balls, wild pitches, fly balls, balks and defensive indifference). Indeed, no AL team scored more runs on sacrifice flies than Cleveland, which tagged up and scored 60 times this season. Cleveland's top base stealer is platoon outfielder Rajai Davis, who led the AL with 43 steals in just 49 attempts; but Jose Ramirez, Francisco Lindor and Jason Kipnis were all in double-digits in steals, as well.
The Cleveland lineup has depth, with six batters having posted a wRC+ 12 percent better than league average or better. However, the Red Sox have eight such regulars, and no one in Cleveland's order has been anywhere near as productive as 40-year-old David Ortiz, who was second only to Mike Trout in the major leagues with a 163 wRC+ this season.
Lineup Edge: Red Sox
Defense
As quick as Cleveland may be, they may not run as easily against the Red Sox as they have some other teams. Boston catcher Sandy Leon has thrown out 41 percent of attempting base stealers this season and 43 percent on his career, both well above the league average of roughly 30 percent. Boston's Game 2 starter, David Price, has allowed just one stolen base in five attempts in the last two seasons combined. Fellow lefty Eduardo Rodriguez has been similarly stingy, allowing just four successful steals in eight attempts in his young major league career, and Clay Buchholz has allowed just five steals in 13 attempts over the last two years.
The Red Sox, who steal less often but with similar efficiency (78 percent success, second-best in the league), will be similarly limited by the strong arm of Cleveland catcher Roberto Perez. Perez has thrown out exactly half of the 26 men who have tried to steal against him this year and has matched Leon with 43 percent caught stealing on his career.
Overall, park adjusted defensive efficiency (the rate of turning balls in play into outs, adjusted for ballpark) tells us that Cleveland has been the better defensive team this season. However, much of that performance is a result of the excellent play of their middle infielders, in particular sophomore shortstop Francisco Lindor, who is not only the best defender on either team but one of the best at any position in all of baseball. Though just 22, Lindor is already Cleveland's best position player, largely due to the quality of his fielding. On the other side of the coin, the team's centerfield platoon of rookie lefty Tyler Naquin and the veteran Davis is subpar in the field despite its speed, undermining the play of the men in the corner pastures. First base is also a trouble spot, as 34-year-old Mike Napoli is no longer the fielding wiz he was in Boston and often swaps places with designated hitter and fellow former catcher Carlos Santana.
For the Red Sox, young outfielders Mookie Betts and Jackie Bradley Jr. and veteran second baseman Dustin Pedroia are all exceptional fielders. However, despite being stashed at first base, Hanley Ramirez is still a DH forced to play the field, and the team's left-side defense is merely adequate. Overall, both defenses are closer to the middle of the pack than they are to either of the extremes.
Slight Edge: Indians
Starting Rotations
Red Sox
R – Rick Porcello (22-4, 3.15 ERA)
L – David Price (17-9, 3.99)
R – Clay Buchholz (8-10, 4.78)
R – Eduardo Rodriguez (3-7, 4.71)
Indians
R – Trevor Bauer (12-8, 4.26)
R – Corey Kluber (18-9, 3.14)
R – Josh Tomlin (13-9, 4.40)
For most of the 2016 season it would have been a no-brainer to give the Cleveland rotation the edge over the Red Sox's starting quintet, but things changed dramatically down the stretch as the Indians' rotation was riddled with injuries while the Boston starters rounded into shape.
For Cleveland, Carlos Carrasco's season came to an end in mid-September when a comebacker fractured the fifth metacarpal in his pitching hand. Danny Salazar will pitch out of the bullpen, if at all, in this series due to a mild flexor strain in his right forearm which has sidelined him since his last start on Sept. 9. Cleveland ace Corey Kluber will start, but not until Game 2 due to a right quadriceps strain that caused him to miss his final regular-season start and limited him to 60 pitches the last time he did pitch. That has made the erratic former first-round pick Trevor Bauer, who posted a 7.28 ERA over his final five regular-season starts, Cleveland's Game 1 starter by default. Josh Tomlin will start Game 3 after having recovered from a brutal August (11.48 ERA) with a strong September (1.69 ERA), but with Salazar limited to bullpen duty, at best, manager Terry Francona may be forced to bring Bauer back on short rest for Game 4, leaving the Indians with the three-man rotation listed above.
Boston, meanwhile, has Cy Young candidate Rick Porcello and former Cy Young winner David Price lined up for the first two games. Porcello has an active streak of 13 straight quality starts with a 2.60 ERA over that span. Price posted a 3.27 ERA over his final 11 starts, all of them quality except for a pair of outings against the Yankees. With mid-season acquisition Drew Pomeranz pushed to the bullpen by a sore left forearm, Porcello and Price will be followed by Clay Buchholz and Eduardo Rodriguez, though the order of those two has yet to be determined. In eight starts in August and September, six of them quality, Buchholz posted a 2.98 ERA. Rodriguez posted a 3.27 ERA in six September starts.
Edge: Red Sox
Bullpens
Given that I'm writing this before the full ALDS rosters have been revealed and that postseason innings tend to be clustered among a team's top relievers, we can probably limit this to a discussion of each team's top four relievers.
Red Sox
R – Craig Kimbrel (3.40 ERA, 31 SV)
R – Koji Uehara (3.45 ERA, 50 G)
R – Brad Ziegler (2.14 ERA, 68 G)
R – Junichi Tazawa (4.17 ERA, 53 G)
Indians
R – Cody Allen (2.51 ERA, 32 SV)
L – Andrew Miller (1.45 ERA, 70 G)
R – Dan Otero (1.53 ERA, 62 G)
R – Bryan Shaw (3.24 ERA, 75 G)
Both of these bullpens made major additions before the non-waiver trading deadline, with the Red Sox adding Diamondbacks closer Brad Ziegler and the Indians acquiring former Boston lefty Andrew Miller from the Yankees. The Boston quartet may get the nod on reputation, but Cleveland's top relievers have out-pitched them this season. That tips things in favor of Cleveland even before we consider that Miller, the best relief pitcher on either team, is neither a closer nor a matchup lefty but a true fireman who will enter games as early as the seventh inning to snuff out pivotal rallies and often records more than three outs in a single appearance. A strong showing from Pomeranz as a matchup lefty, a role in which he excelled for the A's last year, could help even things up, but that's no sure thing given his forearm issues.
Edge: Indians
Managers
John Farrell, Red Sox
Career postseason record: 11-5 (.688), 2013 World Series champion
Farrell doesn't meddle in the action very much, a point driven home by the fact that the Red Sox set a major league record for fewest sacrifice bunts this season with eight. Some of that was strategy and some of it was execution. Farrell called for a major league-low 18 sacrifices, but the Red Sox succeeded in just eight of them, a major league-low 44 percent. The previous record was held by the 2005 Rangers, who made just 12 attempts, but succeeded nine times. Farrell is also stingy with intentional walks, issuing just 16 this season, more than only three AL teams (the Yankees, Blue Jays and Royals). He's also not overly concerned about matching up his relievers, as only Baltimore's Buck Showalter made fewer pitching changes than Farrell this season. The one strategy he does favor is the hit-and-run. There is no definitive tally of hit-and-run calls, but no team in the majors this year put the ball in play with a runner in motion more than the Red Sox, who did so 119 times per Baseball Prospectus's numbers.
Terry Francona, Indians
Career postseason record: 28-18 (.609), 2004 and '07 World Series champion
Napoli, Miller and Coco Crisp give the Indians' roster a bit of an old-friends flavor for Red Sox fans, but the three of them combined don't bring half the baggage to this matchup that Cleveland manager Terry Francona does. The man who took the Red Sox to the curse-breaking World Series victories of 2004 and 2007 plus three other postseason appearances in eight years as the Boston skipper spent one year as a broadcaster for ESPN before returning to the dugout with Cleveland in 2013. His first Indians team was a wild-card entry but lost the Wild Card Game to the Rays. This is his first postseason appearance since.
In sharp contrast to Farrell, his former pitching coach in Boston, Francona is very active in the dugout. He led all AL managers in intentional walks this season, and despite his team's speed, Francona has been more likely to call for a sacrifice bunt than to see any of his players bunt for a hit this season. Cleveland trailed only the bunt-happy Royals, Twins and Angels in sacrifice attempts on the season with 47, but only Boston and Baltimore bunted for fewer hits. Francona is also far more mindful of matchups on both sides of the ball. Among AL managers only Paul Molitor and Mike Scioscia made more pitching changes, and no team's hitters had the platoon advantage more often than Cleveland's, who faced opposite-handed pitchers in 70 percent of their plate appearances this season.
Edge: Even
Prediction: Red Sox in 4