Red Sox
Red Sox vs. Indians ALDS Game 1 preview: Rick Porcello vs. Trevor Bauer in series opener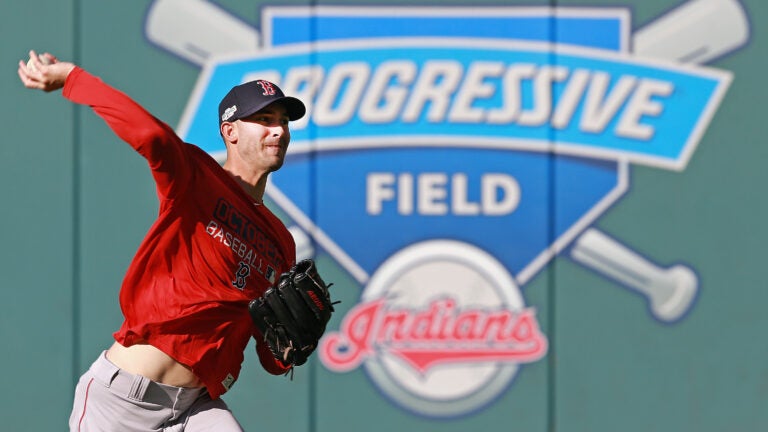 COMMENTARY
Series: American League Division Series, Game 1
Start Time: 8:08 p.m. EST
TV: TBS
Starting Pitchers: RHP Rick Porcello (22-4, 3.15 ERA) for Boston vs. RHP Trevor Bauer (12-8, 4.26 ERA) for Cleveland
Red Sox fans need not fret about the local nine's failure to secure home-field advantage in this series. In 68 previous best-of-five postseason series following the current 2-2-1 home/away pattern, the team with home-field advantage has emerged victorious just 33 times, a mere 48 percent. Far more important in a short series like this one is getting out to an early lead. In those 68 series, the winner of Game 1 has gone on to win the series 49 times, 72 percent. Fortunately for the Red Sox, the Game 1 pitching matchup is strongly in their favor.
Pitchers: A rash of injuries to their starting rotation has forced the Indians to go with would-be Game 4 starter Trevor Bauer in Game 1 of this series. Drafted out of UCLA by the Diamondbacks with the third-overall pick in 2011, Bauer is intelligent, but also eccentric and erratic. In Arizona, he butted heads with his coaches and catchers over his unorthodox warmup routine and fierce independent streak, leading to his being dealt to Cleveland in the three-team trade that sent Shin-Soo Choo to the Reds. He harnessed his early control problems to establish himself in the Cleveland rotation in 2014, but has yet to live up to his prospect hype. Nonetheless, 2016 was the 25-year-old's best major league season. He set career-bests in innings (190), ERA+ (110), FIP (3.99), walks per nine innings (3.3), and strikeout-to-walk ratio (2.40), pitching his way back into the rotation after starting the year in the bullpen.
His signature performance this year was five innings of scoreless relief in extra-innings in Toronto in the Indians' franchise-record 14th straight win on July 1. Since that outing, however, he has posted a 5.51 ERA in 16 starts, including a 7.28 ERA over his final five regular-season starts. In two appearances against Boston this year, a relief appearance in Cleveland on Opening Day and a start in Boston in late May, he has allowed six runs in six innings with as many home runs allowed as strikeouts (two each). Bauer throws in the mid-90s with a sinker, curve, cutter and high-80s changeup.
Morristown, New Jersey native Rick Porcello was also a first-round draft pick (27th overall in 2007) who struggled to live up to his prospect hype in his early twenties. A full-time starter in the majors at 20, he showed only gradual improvement through his age-25 season, after which the Tigers traded him to Boston in December 2014 for Yoenis Cespdedes's walk year and reliever Alex Wilson, starting a transaction chain that ultimately brought likely Rookie of the Year Michael Fulmer to Detroit. The Red Sox quickly signed Porcello, who was also entering his walk year, to a four-year, $82.5 million extension, then watched him struggle through his first season in Boston, going 5-11 with a 5.81 ERA in his first 20 starts for the Sox before landing on the disabled list with a triceps strain in early August 2015.
Since returning from that injury in late August of last year, however, Porcello has picked up where he left off with the Tigers, posting a 3.14 ERA over his final eight starts last year and emerging as a surprising Cy Young candidate in an admittedly weak AL field this year. Now 27, Porcello led the majors this year in wins (22, thanks in part to the best run support of any starting pitcher in the game) and strikeout-to-walk ratio (5.91) while posting career-bests in ERA (3.15), ERA+ (145), FIP (3.40), innings (223), WHIP (1.01) and walks per nine innings (1.3). He enters this start having turned in 13 consecutive quality starts, posting a 2.60 ERA over that span with the Red Sox going 10-3 in those games. His only start against Cleveland this year came back in late May and fell just shy of that standard (5 2/3 IP, 2 R, 1 BB, 5 K). A sinker/slider groundballer in his earliest major league seasons, the 6'5" Porcello is more of a fly-ball pitcher these days and throws a larger mix of pitches, with added emphasis on his curve and the addition of a cutter in 2014 to compliment his low-90s heat and low-80s changeup.
Matchups: Xander Bogaerts' six plate appearances against Bauer lead the Red Sox, so there are no meaningful samples here. Still, David Ortiz is 4-for-5 with two doubles and a home run against Bauer. Mookie Betts is 3-for-5 with two doubles and a homer. Jackie Bradley Jr. has singled once and walked twice in three plate appearances against Bauer, and Brock Holt is 2-for-3 with a triple against him. Sandy Leon and Andrew Benintendi have never faced him.
A former intradivisional foe, Porcello has a much more extensive history against the Indians' hitters. Carlos Santana has faced him 46 times and has hit a mighty .293/.370/.561 in those confrontations with three home runs. Jason Kipnis has hit .323/.400/.452 in 35 plate appearances, and Mike Napoli has hit .318/.348/.500 against him in 23 PA. Santana's success, however, is concentrated in Porcello's early years with the Tigers. He is just 3-for-17 (.176) with a double and three walks against Porcello since 2013. Tyler Naquin has never faced Porcello.
Other: With three days off between the final game of the regular season and this game, every player on both rosters is fully rested, but also somewhat removed from any season-ending slumps or hot streaks. The second season starts tonight at 8 p.m. For more on this series, see my full series preview here.