Red Sox
Don't blame John Farrell, but this still needs to be the end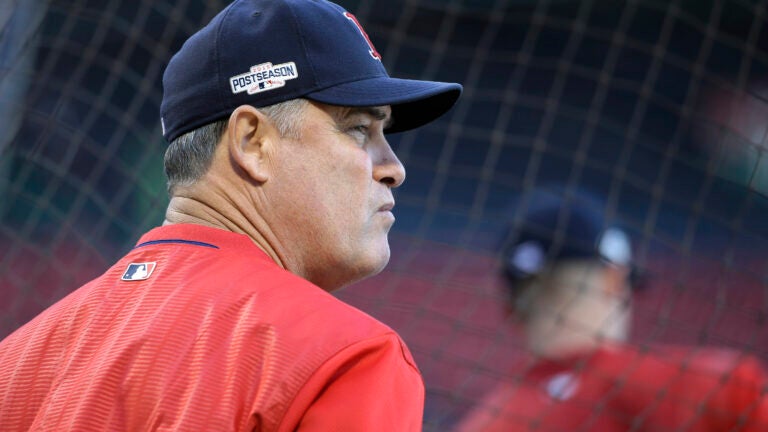 COMMENTARY
It wasn't John Farrell's fault that Red Sox batters went collectively as silent as Mo Vaughn and Jose Canseco managed together in October 21 years ago.
You can't blame John Farrell for David Price pitching more like David Pauley in Game 2 of the ALDS, for Rick Porcello turning into the human golfing tee in Game 1, or the fact that Coco Crisp, of all people — Coco Crisp — ended up being the difference between the Red Sox being able to force a Game 4 and getting swept by the Cleveland Indians.
Yet, this series perhaps exposed Farrell's shortcomings as a big league manager all the same. You could give him and Terry Francona two seats to deal with, and Farrell would probably still lose playing musical chairs to his old friend.
Farrell doesn't have to stay because of the success that the Red Sox found this year, winning the American league East after back-to-back last-place finishes. He needs to go because of the continued promise of watching his in-game decisions backfire, and particularly after watching Francona manage circles around him, almost as if he were in his pickup willingly doing donuts on Farrell's own manicured lawn.
We'll never know how much better the 2016 Red Sox might have been if they had grabbed home field advantage instead of spending all of their energy celebrating David Ortiz over the final weekend of the regular season. Just as we'll never know if the Red Sox might have been able to better pull off a comeback on Monday night with Andrew Benintendi hitting against Cleveland closer Cody Allen in the ninth, if only he hadn't been pulled for Chris Young against Andrew Miller earlier in the game.
It wasn't a good end to what was a remarkable Red Sox season. Farrell helped deliver meaningful baseball back to Boston, something the Hub hadn't been able to experience since 2013. His resume now includes a World Series title, two last-place finishes, and a late-season collapse that extended into the postseason.
It's difficult to imagine this is the guy the Red Sox want to stick with any more.
"Given where this team finished last year, there's a lot for them to be proud of," Farrell said after Boston's 4-3 loss Monday night. "We're AL East champions, and I know that doesn't mean much sitting right now. But there's been sizable progress made on the part of so many individual players for us as a team. This is a big stepping-stone for a lot of players in our clubhouse. This team is in very good shape as we move forward."
It is. Ortiz may finally be on his way out, but Mookie Betts, Xander Bogaerts, and Andrew Benintendi represent the most exciting trio of young players the Red Sox have had in years. Jackie Bradley Jr. may be what he was this season (26 home runs, .835 OPS), or a guy that Dave Dombrowski figures he can sell high on this offseason with normalcy perhaps on tap for 2017. Dustin Pedroia and Hanley Ramirez had Renaissance years. Rick Porcello morphed into an ace, Yoan Moncada is on the way, and Carson Smith is on the mend. If Edwin Encarnacion is in the free agent plan, the Red Sox will be prohibitive favorites to win the division again next season and beyond.
Just not with Farrell.
Farrell's decision to lift Benintendi for Young was the most-debated move in Game 165, particularly with a struggling Bradley to come down the line. Seeing how Benintendi struggled against Miller in Game 1, the move made some sense. Seeing how Bradley struggled against anyone with a ball in his hand 60 feet away, it was dubious at best.
At least Farrell had a good explanation for it all.
"The number of pitches Miller's thrown, if we wait to get to Jackie in that inning, we may never get there," Farrell said. "And then they're going to go to Shaw with the right-handers coming in the next inning. That's the shot we took with him. He draws the walk, starts with the potential of getting something going. Either Benintendi or Jackie is going to have to get an at-bat if that inning gets extended. But if it's not, not going to get left with the pinch-hit starting the next inning, and then they go to Shaw to lead things off."
Got it?
Farrell didn't have a Grady Little moment during the postseason. He never really had a chance. Nor was the collapse (1-8) anything like the one Francona presided over in 2011 (7-20). But immediately after the Red Sox won 11 in a row to put a stranglehold on the division, everything fell apart. Maybe the Ortiz pageantry was to blame. Maybe we should have known after the bizarrely-forced celebration the team had after winning the East in the wake of surrendering a game-winning grand slam at Yankee Stadium.
We'll never know how this series might have been different if Porcello were able to start Game 1 at Fenway, where he was 13-1 this season. Home-field advantage should have been a priority. It wasn't.
Farrell will win Manager of the Year, a nice achievement particularly after rebounding from the cancer scare that ended his 2015 season prematurely. But this is also why bench coach Torey Lovullo was signed, even with Farrell under contract for one more season. In case the bottom fell out, the Red Sox had someone they could turn to.
The bottom has fallen out. The Red Sox have someone they can turn to.
The Red Sox are finished thanks to the Cleveland Indians. The better team. That's not all Farrell's fault.
But after watching the way Francona managed his victories, it's hard to figure out why Farrell will still be here. His decision-making is suspect and the pitching staff struggled for long stretches despite his imposed "guru" status. He'll have his defenders, those who increasingly excuse every blunder with a shrug of their shoulders, but it's a safe bet that the franchise will side with those who are leading the, ahem, "overreaction" charge.
It isn't Farrell's fault the Red Sox lost to the Indians.
But enough has been over the last four seasons to warrant a divorce.