Red Sox
Growing up in the age of David Ortiz
David Ortiz was so much more than a baseball player to an entire generation of fans.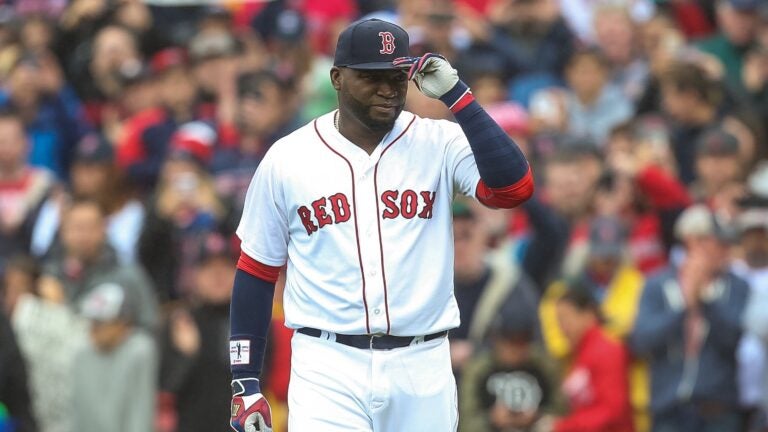 COMMENTARY
The first time I paid attention to a baseball game, when I actively sought to understand the rules, learn the names of the players and cheer for a team, was July 26, 2003. I was eight years old and about to go into third grade in Brookline at Lawrence School, the alma mater of one boy wonder Theo Epstein. The Red Sox were playing the Yankees on a Fox afternoon broadcast and as a first-generation Korean-American, submarining, middle finger-flipping Byung-Hyun Kim's presence on the mound caught my attention as my dad, then a PhD student at Boston University, watched the game in our family's little two bedroom apartment.
Kim shut down the Yankees in the ninth inning, which eventually led to the first time I watched David Ortiz hit. It was Ortiz's first year as a member of the Red Sox, and at the time, he was nothing more than Jeremy Giambi's platoon partner, which is basically like sharing screentime with Stephen Baldwin. My dad had previously gone on and on about Pedro Martinez, whose electric performances at Fenway Park caught his attention after our family came to this country in 1995, when I was two months old. He exalted him with the same kind of praise a desperate middle school boy would give a girl he has a crush on. But Ortiz immediately stood out to me; he looked fierce at the plate, carried a bat as if he was ready to destroy a dugout phone in an instant, and exuded pure confidence, even if nobody at the time could tell him apart from the next guy on the bench.
Facing Armando Benitez, down one ball, two strikes with two outs in the ninth, Ortiz came through, with a single off the Green Monster driving in Giambi for a 5-4 victory over the Yankees. It was the first walk-off hit in Ortiz's Red Sox career.
Everyone knows what happened from there. Ortiz became a Boston folk hero through his violent follow through, walkoff hits against the Yankees in 2004, his game-tying grand slam off Joaquin Benoit in the 2013 ALCS, among many other moments.
My dreams to be a writer are fueled by these memories. I've literally never followed a Red Sox team that did not have David Ortiz on the roster, and for young people around New England, it's hard to separate the two.
David Ortiz is the Boston Red Sox. David Ortiz is baseball.
Ortiz is obviously beloved in Boston for his postseason heroics, but his connection to the city stretches beyond the field. For better or for worse, Boston is seen by many as New York's little brother. There's an inferiority complex built into the blood of Bostonians, a character streak that defines the city. People in Boston can't ever imagine why anyone would ever leave. If someone moves out, the question that's always asked is, "When are you moving back?" Boston's need to constantly prove itself makes the city the place that it's been throughout history.
This underdog mentality is why Boston feels connected to Ortiz in a way that's unique to any other athlete in this city; his rise to fame and stardom came out of failure, out of people doubting that he could be successful. His biggest successes, the biggest moments on the brightest stages, were always when the team was down, when the team needed a catalyst for a comeback.
Of course, Ortiz's tenure in Boston still came with trials and tribulations. There's the alleged positive performing-enhancing drug test from 2003 — though it's still unclear what exactly triggered that positive test. And there was that period from 2008 through 2009 where it looked like he could no longer hit a 95-mph fastball on the inner half of the plate. Of course, it was dumb for all of us to assume that Ortiz would go down with a whimper. It's simply not in his character to not make a comeback.
Coming face to face
They tell you to never meet your heroes. More often than not, the experience is going to lead to disappointment, that they're going to let you down. You've spent years and years building up this person, whoever they may be, in your head. In your brain, this person is more than just a person; they're an unrealistic idea of someone who can do no wrong, who's accomplished feats so unimaginable that any notion of besmirching their reputation seems ridiculous.
It's a pretty sound piece of advice. With our heroes, especially those we grew up worshipping as children, it's easy to forget that they're also people. As an unassailable sports fan growing up, I never thought of my favorite athletes as humans; they were people on the television who performed athletic feats I could only dream of accomplishing. The thought that these athletes went home, ate dinner, bought groceries, fought with their families, did what every human does, never really crossed my mind.
I got the chance to interview my hero in 2014. At the time, I had just finished my freshman year of college and was interning at WEEI.com for the summer. Alex Speier, who was one of my supervisors, told me to write a story for the Fourth of July connecting my new U.S. Citizen status to the immigration experiences of some of the players in the clubhouse. I mustered up the courage to ask Ortiz if he could chat about his journey to America, and given the team's struggles defending their World Series title, he seemed enthusiastic to chat about something non-baseball related.
After his last round of batting practice, he tapped me on the shoulder and we stood on the top steps of the Red Sox dugout. People immediately whipped out their phones and started taking pictures of Ortiz, because that's what people do when he's around. People called for him asking for autographs, but he kept his focus on me.
He talked about his experience coming to America, struggling through his first few seasons in the majors. We shared our stories of moving to this country, how it's affected his family for generations to come and I couldn't help but think of the sacrifices my parents made when we moved in Boston in 1995. He asked me about why my family came to America, why I wanted to cover sports, how I'd gotten to this place.
They tell you to never meet your heroes
"I did not know how life was going to turn out and what it was going to like if I couldn't be a baseball player," Ortiz said. "It's not something that I could really tell you. Everybody's life is different. You've got to prepare for something just in case something else doesn't work, but I definitely was going to be doing something because I'm the kind of guy that thinks about the future a lot, always."
In a day and age when any quote can be plastered all across social media in seconds, many athletes often resort to cliches, focusing on the next day's game instead of focusing on the past. Ortiz never needed to do that. When he always spoke his mind, sometimes with a colorful vocabulary, and it made him feel human. In a day in age where athletes seem increasingly paranoid about their brands, Ortiz's always seemed authentic to the core.
A nickname implies familiarity with a person, and there's something about calling another person what literally translates to "Large Father" that's inherently endearing. The combination of that big gap-toothed smile, a unique energy out on the field and the majestic moon shots that lit up the Boston skyline brought Ortiz into the limelight unlike any other star in this town. It's why when the chapter closed on the 2016 season on Monday, people didn't chant for David Ortiz. They chanted for "Papi." They wanted one more glance of someone who's become a surrogate family member across New England.
Ortiz's last game
As I waited for Ortiz to emerge from the dugout on Monday, I looked around the park. I did not see any disappointment, despite the elimination of the hometown team. When Red Sox Nation once expected the worst, Ortiz has given fans happiness, a reason to hope. And the crowd at Fenway expected nothing less but for Big Papi to come through one last time.
I began to think about what Ortiz told me a little over two years ago. It's advice that I still think about as I finish up my last semester of college at Cornell University. I don't have any doubts that writing about sports is what I want to do with the rest of my life, but I feel the anxieties that come with entering "the real world." Ortiz knew he wanted to play baseball professionally, but ultimately what made him successful was his readiness for whatever came his way, the pressure, the criticism, the moments when Boston needed him to come through. Whatever the situation, David Ortiz was prepared.
Of course, Ortiz came back out on the field, acknowledging the thousands that stuck around waiting for a final glimpse of the legend in a Red Sox uniform. And as he lumbered towards the mound as the theme of The Natural ran through Fenway, Ortiz teared up. For all of his heroics on the field, Ortiz's emotion, his vulnerability in that moment, showed why Boston loved him. He celebrated home runs, enjoyed all of the walk-off hits and said what everyone was thinking after the Boston Marathon bombings.
But for all of his superhuman feats, David Ortiz never hid his humanity. And as he disappeared into the Red Sox dugout one last time, I couldn't help but think about how my hero didn't let me down.
Joon Lee is a freelance writer from Boston. He's been published in The Washington Post, The Ringer, Boston Herald, WEEI.com and The Hardball Times. You can follow him on Twitter at @iamjoonlee.