Red Sox
Has Terry Francona thought about his legacy? 'Never'
"I'm not saying I don't care, but it's just not something that's ever been on my mind."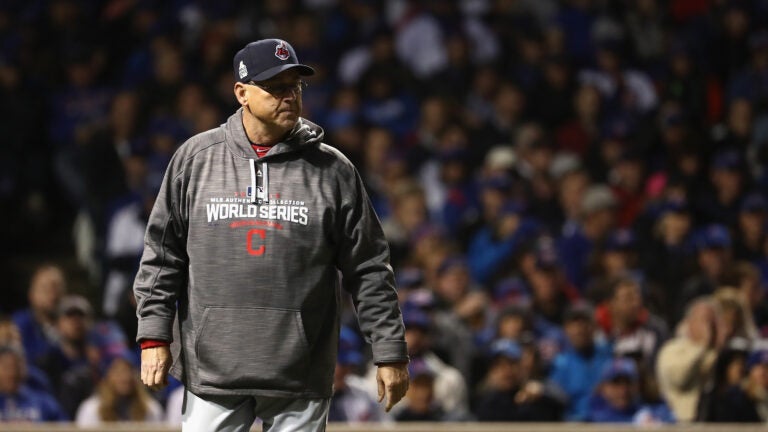 CHICAGO — Terry Francona ducked under a drain pipe and headed up the dank and narrow tunnel leading to the visitors clubhouse at Wrigley Field, the ancient baseball shrine. The clubhouse — any clubhouse — is his sanctuary, his favorite spot in the world, the place where he starts his day preparing for a game, well before his players arrive, so he can give them his full attention when they do.
But, first, a question. Just one more, alone in this hallway, after Francona's news conference before his Cleveland Indians played the Chicago Cubs in Game 5 of the World Series on Sunday.
With another championship in his grasp — a third for Francona, after two with the Boston Red Sox — did he ever think of his legacy? He is probably already bound for the Hall of Fame, but another World Series title would make it all but certain.
"Never," Francona said. "Never once. You know why? I don't care. I like what I'm doing. The journey and all the stuff that goes into it — I love it. I don't care what happens when I'm 80 or 70 or whatever. I like doing what I'm doing and who I'm doing it with."
Francona, who is 57 and has been a star of this postseason, reconsidered. Born into baseball as the son of a former Cleveland outfielder, Tito Francona, he has too much respect for the game to dismiss the notion of Cooperstown.
"I'm not saying I don't care, but it's just not something that's ever been on my mind," Francona said. "Take it a step further, I feel like I'm pretty darn lucky. I'm a baseball lifer. I got put in a situation in Boston that was incredible. Sometimes you get put in a lucky situation and maybe take advantage of it, but I caught some breaks. I know that. But I just like what I'm doing, that's what it is."
After four losing seasons as manager of the Philadelphia Phillies, Francona took over the Red Sox in 2004 and won the World Series in his first season. He won another Series three years later. He arrived at Wrigley on Sunday with a three-games-to-one lead in this World Series, but the Indians lost, 3-2, to send the series back to Cleveland for Game 6 on Tuesday.
Francona has gotten here despite losing an All-Star outfielder (Michael Brantley) and two starters (Carlos Carrasco and Danny Salazar, who is back as a reliever). An elite catcher, Jonathan Lucroy, turned down a trade to the Indians in July. Yet Francona has made it all work, earning widespread acclaim for his aggressive, opportunistic managing in October, expertly deploying relievers and pinch-hitters.
"He has a great deal of humility, so he's very uncomfortable with all of the attention he's getting," said Chris Antonetti, the Indians' president of baseball operations. "But his preparation, his intelligence, his thoughtfulness, his baseball IQ is off the charts. He wouldn't want to acknowledge that, but nothing surprises him because he's prepared for all those moments."
Joe Torre, who played with Tito Francona and recommended Terry to the Phillies, has congratulated Francona this postseason on a job well done. Torre, now the league's chief baseball officer, said the trust Francona has built with his players shows itself on the field.
"Everybody bought in, that's the key," Torre said of the Indians. "You can do a lot of things, but if your players take it the wrong way, it's going to be a little tougher to do. I credit the players, too, because they trust in their manager that even though it may have been a little unorthodox, he's trying to win. You can only win as a team, anyway."
Torre, who was inducted into the Hall of Fame two years ago, said Francona would get there, too.
"Yes," he said, "and if he wins this series, I don't think there's any question, if for no other reason than he took two teams that hadn't won in 100 years or whatever it was and got them to the promised land. That's pretty impressive."
Francona has a 1,381-1,209 record in the regular season. Only two managers with multiple championships and as many wins as Francona are not in the Hall of Fame: Bruce Bochy, who is still managing the San Francisco Giants, and Ralph Houk.
Houk's case is hurt by timing; he inherited a juggernaut New York Yankees team from Casey Stengel in 1961 and won World Series in his first two seasons, then another pennant in his third. But in his last 18 seasons, with the Yankees, Detroit and Boston, Houk never reached the postseason.
The best historical parallel to Francona, for now, is probably Whitey Herzog, who reached the Hall of Fame in 2010. Francona has more victories and a better winning percentage than Herzog, who is best known for guiding the St. Louis Cardinals in the 1980s. Like Herzog, Francona has led three teams to the World Series, but Herzog won just once.
A third title would give Francona as many championships as Herzog, Bobby Cox and Earl Weaver combined. Only 10 managers have won at least three World Series, and all but the active Bochy are in the Hall of Fame.
As Torre suggested, the story of Francona's championship teams would be irresistible to veterans' committee voters. In his first season with the Red Sox, in 2004, Francona's team ended the franchise's 86-year title drought. He won again three years later, and took over a Cleveland team that last won in 1948. His arrival, before the 2013 season, heralded new urgency for the Indians.
"We were very fortunate to land him, there was no arguing that," said Jason Kipnis, the veteran second baseman. "You knew the reputation he had as a players' manager, you knew he had just won rings in Boston, guys loved him, and when you get a guy that brings that over to your side, there's nothing but excitement."
Francona was a star in college but a marginal player for a decade in the majors. Injuries ravaged his potential, but he never felt cheated from a prosperous career. His struggles then would help him later.
"Andre Dawson and I would stand on the trainer's table together every day," Francona said, referring to his star teammate with the Montreal Expos. "We'd get our knees taped the exact same way. He went out and hit 30 home runs and drove in 100. And I hit .247 with two home runs."
He continued: "So I guess I felt like if you're a really good player, you can get past whatever. And I couldn't. But I think it helped me being on this side of the game, because I saw a lot of different things because I went through a lot of different things."
Francona has used those experiences to craft one of the most successful tenures of any manager, bringing a winner's glow to cities steeped in losing. The weight of history, he insists, is something else he does not think about.
"I don't feel responsible for the fact that my dad wasn't good enough to win when he played here," Francona said, smiling. "Winning is hard enough."
By winning so often, Francona has built a powerful legacy, whether he notices or not.