Red Sox
Dave Dombrowski's offseason will serve as a referendum on whether the Red Sox should have kept Ben Cherington
The Red Sox have lost some of their best player-development personnel. This can't be a good thing.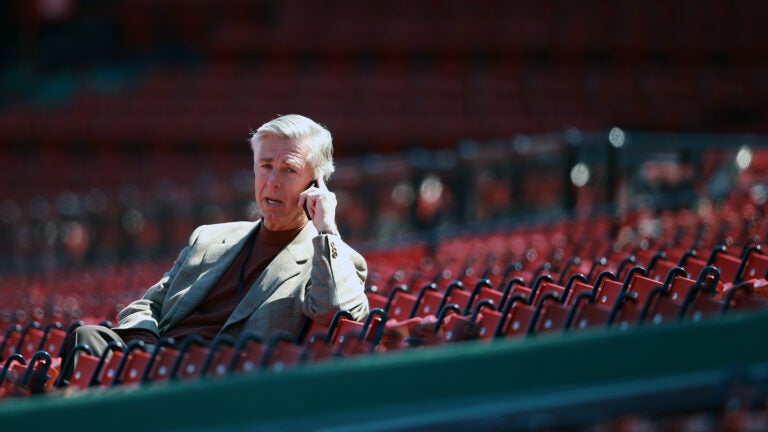 COMMENTARY
While gearing up to watch the final innings of this thrilling World Series/Red Sox Alumni "Why Can't We Get Players Like That?" Midwestern Tour, a quick question for you that's been rattled around in my mind for much of October. Answer honestly, now:
Do you wish the Red Sox had kept Ben Cherington as their general manager?
I know, the wise-guy answer – and one rooted, beyond the layer of sarcasm, in stone-cold truth– is something like this: "No. He never should have been general manager in the first place. They should have kept Theo in the first place."
It's more than a fair point; it's a correct one, at least if personal circumstances at the time can be removed from the equation. Hindsight certainly seems to confirm what we suspected at the time: Ownership declared Larry Lucchino, not Theo Epstein, as the winner of their power-struggle tug-of-war, and it was such a wrong choice.
Theo is the best general manager of his era and among the best of any era, something that will be confirmed in Cooperstown someday. They chose the business guy over the baseball guy. The business guy is now in Pawtucket, probably wondering what Pat Dodson did to entertain himself all those years he was relegated to Rhode Island.
In a vacuum, yes, it was a terrible mistake. But Epstein admits he needed the change, and perhaps he wouldn't have lasted much longer. The move to Chicago rejuvenated and refreshed him, getting away from the pressures of his hometown and the intra-office bickering.
For purposes of this exercise, let's assume he would have left sometime between his departure after the 2011 season and now. My question is about what came after he left, and what it really means for the future.
Cherington succeeded Theo, and after a miserable no-chance of a 2012 season in which an emboldened Lucchino stuck him with hapless egomaniac Bobby Valentine as manager.  Valentine helped repair Andrew Miller but broke just about everything else before he was fired.
The next season must have felt like karmic payback to Cherington for what he'd endured his first year. He went 7 for 7 in offseason free-agent signings – among them Mike Napoli, Shane Victorino and Koji Uehara – and a thoroughly likable team bonded with the city while going on to win the franchise's third World Series in 10 years.
The good times didn't last. A World Series hangover carried into '14, and Miller, Jon Lester and John Lackey –  important participants in this year's World Series, you may have heard – were all moved at the trading deadline.
The 2015 season disappointed as well despite the addition of high-priced supposed reinforcements Hanley Ramirez, Rick Porcello and Pablo Sandoval.
When deposed Tigers general manager Dave Dombrowski was hired in August as the president of baseball operations, Cherington, his power gone, saw the writing on the Monster and made the decision to leave, less than two years after winning the World Series.
I don't think the Red Sox made a bad decision hiring Dombrowski. He's an accomplished and respected executive, and the Red Sox rediscovered their expected winning ways this year, going 93-69 in the regular season before falling victim to Tito's Revenge in the first round of the playoffs.
I'm just not sure it was the right one, or any better than the status quo at the time. His approach to team building during the brunt of his 14-year tenure in Detroit and during his first year here is hardly a complex one:
Pay a little more than the going rate for established stars, whether in terms of cash or prospects. It was effective this year, even as David Price and Craig Kimbrel delivered more than a few moments of exasperation. But it can be damaging down the road — player development is the lifeblood of big market teams, with free agency a way to add select and specific talent — and it leaves me curious and semi-concerned about what's to come.
Their won-lost record wouldn't have confirmed it at the time, but Dombrowski walked into a dream situation with the Red Sox: he took over a big-market, big-payroll team that not only had a stacked farm system but had already developed a core of a cost-controlled young players, a couple of whom (Xander Bogaerts and Mookie Betts) were already established cornerstones.
Those young players, it must be noted, all have lineage through Cherington, some even back to Epstein, who long ago stated – and fulfilled – the desire to build a "player development machine" here.
That surely has not been Dombrowski's way since he was forced to rebuild after the 1997 Marlins sold off their championship-winning talent. He doesn't curate talent. He pays for it. And I wonder whether he'll revert to old ways and the patience he showed in retaining the Red Sox' best young players and prospects in his first season is about to change.
Recent organizational changes have suggested as much. Mike Hazen – who took over the GM title, if not the responsibilities given Dombrowski's wide-ranging clout, after Cherington left – recently departed to take a more conventional GM role with the Diamondbaks. Amiel Sawdaye, the Red Sox' longtime director of amateur scouting, followed him to the desert.  Both are widely respected, and both have deep player development roots dating back to the beginning of Theo's reign.
You may own a Mookie Betts or Andrew Benintendi Red Sox jersey. They're the ones who recognized the young players belonged in one.
The Red Sox, you may have noticed, didn't hire a GM to replace Hazen. Dombrowski handled the regime change gracefully a year ago and didn't clean house immediately, but it's apparent now that he favors a small government in his front office.
I'm not sure this is worrisome, but it's certainly worth watching through the winter.  The acquisition of big-name talent is always fun, but watching homegrown players develop into stars is far more fulfilling.
The Red Sox' best evaluators of young talent have moved on. Here's hoping this doesn't mean there will be less young talent coming in to the organization – or worse, that the young talent they have in their farm system will be heading elsewhere as well.
I've seen enough ex-Red Sox thrive elsewhere this season for a lifetime, thanks. If Dombrowski shifts away from valuing the farm system, we won't wonder whether they should have kept Cherington (and Hazen, and Sawdaye). We'll know it the hard way.