Red Sox
13 moments when David Ortiz defined clutch
Ortiz played 14 seasons with the Red Sox, but his legacy will never die.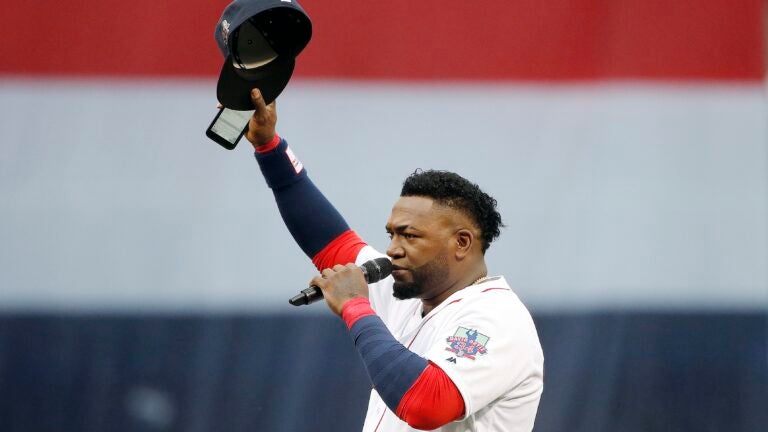 COMMENTARY
In January 2003, with spring training just weeks away, the rumors of the Red Sox nearing an agreement with David Ortiz began to intensify.
With the deal nearly done on Jan. 21, The Boston Globe described the Twins' castoff as "a younger and cheaper version of Brian Daubach." The next day, in noting that Ortiz had passed his physical, he was portrayed as a sort of contingency plan with the Sox not having success in efforts to extricate Kevin Millar from his contract to play in Japan. A day after that, the lede on the story about the signing becoming official said Ortiz's 1-year, $1.25 million accord "all but completed a winter of shopping at Wal-Mart" for new general manager Theo Epstein.
Had anyone known what Ortiz was capable of, he wouldn't have been made available in the first place, let alone sat on the open market for a month after being released by Minnesota in December. Even after he signed, it took the Sox a couple months to give him a full-time role — but it didn't take as long for the slugger to demonstrate his aptitude for delivering in big spots. And he hardly ever stopped flexing that knack over the course of the era he came to own, be it in the batter's box, in the dugout, or in a moment where his adopted city needed him.
Thirteen years after that fortuitous signing, here's a look at 13 moments when Ortiz's impact came to define "clutch" for the baseball fans of Boston:
His first home run with the Sox
With Ben and Jen rooting from the front row — yes, that's how long since he began coming through — Ortiz was summoned to pinch-hit for Jeremy Giambi in the 14th inning of a tied late-April game in Anaheim. He came to the plate in a 3-for-19 slide that had dropped his average to .198. He was carrying a bat he'd borrowed from teammate Damian Jackson. Neither prevented Ortiz from staying on a down-and-away pitch and sending it sailing over the wall in left-center field.
The Sox tacked on another run, then the immortal Jason Shiell locked down a 6-4 win over the reigning champs. "It's a great feeling," Ortiz told reporters after his first longball in a Boston uniform. "I hope I can hit some more of those."
2003 American League Division Series, Game 4
Ortiz has surely earned his reputation as one of the best postseason hitters in history. But he certainly arrive in Boston with it. He began his first playoff series with Boston by going 0-for-16 with six strikeouts, and thus there may not have been much faith when he came up against Cy Young candidate Keith Foulke with the season on the line in the 2003 ALDS.
Oakland had a 2-1 series lead, had a 4-3 lead in the game, and had two outs in the eighth inning. But Boston had Ortiz. He turned on a full-count fastball and laced a liner that one-hopped the wall in deep right field, scoring Nomar Garciaparra from third and Manny Ramirez from first. Fenway erupted — as did Gillette Stadium, where the Patriots were playing. After forcing the series back to the Bay Area, the Sox chopped the A's out of the postseason the next night to advance to an ALCS showdown with the Yankees.
2004 American League Division Series, Game 3
Thought it would be outdone a couple times within the next 10 days, Ortiz's opening act of the 2004 postseason would've been a career highlight for most players. Early in Game 3 of the ALDS, he'd doubled twice to help stake the Sox to a 6-1 lead. After the bullpen coughed up that edge, the contest went to extra innings. And that's when Ortiz seized another chance to play hero.
Angels manager Mike Scioscia had tried to thwart the designated hitter by bringing lefty Jarrod Washburn on to replace Francisco Rodriguez with two outs in the 10th, but Ortiz drilled a first-pitch curveball into the Monster Seats. By the time he got back to home plate there was a huddle full of hopping teammates waiting to greet him, and the Sox had swept the Angels.
2004 American League Championship Series, Game 4
Millar's walk, Dave Roberts' steal, and Bill Mueller's single might've conspired to kick start the Red Sox' miracle comeback in the 2004 ALCS. But all those heroics might've been forgotten had Ortiz not ended Game 4 with his homer in the 12th inning. What's also interesting is the way Ortiz's own earlier heroics helped set him up for that opportunity.
Remember, it was with a shot to left field that Ortiz had eliminated the Angels. A year earlier, he'd also delivered his first Red Sox walk-off by beating the Yankees with a double off the Green Monster. With those as a backdrop, Yankees pitcher Paul Quantrill has said since surrendering that iconic clout that he was leery of pitching Ortiz away. Instead he came in — but not far enough — and Ortiz had the bat speed to get his barrel on it.
"Fenway made him a different hitter, especially for a pitcher like me, because he could take you over that wall in left field," Quantrill told Boston Magazine. "When I pitched to him in the 2004 playoffs, I tried to get inside and it didn't quite work out — at least for me."
2004 American League Championship Series, Game 5
Ortiz's game-winning shot in Game 4 came in the early hours of October 18. Before midnight struck again, he'd already added to his legacy. It's often forgotten that he opened Game 5 with an RBI single, then helped the Sox get to extra innings by homering to lead off the eighth. Of course, that's understandable amnesia considering what he did in the 14th.
By then the Sox bullpen had thrown eight shutout innings using six relievers, including Tim Wakefield, who had worked three frames on two days' rest amid Jason Varitek's difficulties with corralling his knuckleball. The breaking point appeared near entering the bottom of the 14th, but the Sox never reached it because Ortiz outlasted Esteban Loaiza during a 10-pitch tussle, dumping a single into center that scored Johnny Damon and sent the Sox to New York with more than merely a glimmer of hope.
"I was on deck during the Loaiza at-bat, watching him foul balls off and foul balls off and finally fight one off to center," first baseman Doug Mientkiewicz told Bleacher Report earlier this year. "You kept thinking, 'We can't keep leaving it up to him. He can't keep doing it every night.' And he did."
Monster months: September 2005 and June 2006
In a sport where failure is the expectation, there have been months when Ortiz coming through with the game on the line almost seemed automatic. One such stretch came back in September 2005, when the Sox were fighting to get back to the playoffs and defend their championship. In a span of 23 days, he hit a walk-off homer, a game-winning 11th-inning homer, a go-ahead eighth-inning homer, and a walk-off ninth-inning single. In that last game, by the way, he'd previously tied things by going deep an inning earlier.
That month wasn't unique, though, as Ortiz showed the next June. On June 11, he registered what Baseball-Reference considers to statistically be the most impactful game of his career — a .965 Win Percentage Added calculation — when he hit a two-on, two-out homer that gave the Sox a 5-4 win. Then Ortiz followed that up a couple weeks later when he delivered walk-off hits in back-to-back games against the Phillies. It's almost ludicrous that one player would be presented with those types of opportunities so frequently. It's absurd to take advantage of them as often as Ortiz did.
Milestone pursuits
On top of all the times Ortiz came through for his team, he also appeared to elevate when individual milestones were a motivator. By late August 2006, the Red Sox had begun to look like a lost cause in terms of contention, but Ortiz had nevertheless positioned him to take a legitimate run at Jimmie Foxx's team record of 50 home runs — and he surpassed it in a flurry. Including two blasts on the night he passed Foxx, Ortiz went deep 10 times in a 23-game stretch late in the season to finish the year with 54.
In 2015, the Sox were again out of it late in the year, and this time the 39-year-old Ortiz was hobbled by bad feet. The plan was to protect him by limiting his playing time, even if it meant he'd need to wait through the offseason before joining history's all-time sluggers in their elite company. The DH wouldn't have it. With a surge of eight homers in 16 days, he hit No. 500 on Sept. 12 — again making history with two blasts in the same game. He later tacked on three more to finish his penultimate campaign at 503.
Sept. 12, 2007
It'd be an exaggeration to say Ortiz won a game all by himself — but only slightly in this case. After the Sox fell behind Tampa Bay, the DH hit a three-run homer to keep his club in it early, then later he launched a two-run walk-off shot to drive in every tally of Boston's 5-4 triumph.
It didn't necessarily appear so at the time, but it proved an important win. After that the Sox lost five of six, and within a week their once-sturdy lead in the AL East was down to 1.5 games. Had Ortiz not saved the day on Sept. 12, things might've turned out differently in the AL that season — which Boston finished tied with Cleveland for the league's best record, then won a tiebreaker for the right to play a decisive ALCS Game 7 at home.
"This is our [bleeping] city"
If an athlete's capacity to be "clutch" is predicated on delivering exactly what's needed in a crucial situation, completing that task with impeccable timing, and rising to a moment in which the challenge could potentially overwhelm most others, it's possible that Ortiz never defined that characteristic better than he did on April 20, 2013. A day after authorities captured the surviving Boston Marathon bomber in Watertown, the Sox honored police and other first responders by inviting them on to the field for a pre-game ceremony in which Ortiz addressed the Fenway crowd in a way that won't soon be forgotten.
"This jersey that we're wearing today it doesn't say 'Red Sox.' It says, 'Boston.' We want to thank you for you, Mayor Menino, Governor Patrick, the whole police department, for the great job that they did this past week," Ortiz said. "This is our [bleeping] city. And nobody going to dictate our freedom. Stay strong."
2013 American League Championship Series, Game 2
It wasn't until the ninth inning of Game 1 that the Red Sox managed their first hit of the 2013 ALCS. Game 2 wasn't going much better, either, as Tigers pitcher Max Scherzer had struck out 13 while surrendering only two hits through his seven innings. Once again, Ortiz rescued the Sox, spectacularly.
Detroit led, 5-1, but its beleaguered bullpen had allowed Boston to load the bases with two outs in the eighth. Ortiz stepped in with a chance to tie the game — and, on the first pitch from Joaquin Benoit, he did. Big Papi mashed a loping liner toward the home bullpen in right field which landed beyond the face-first dive of Torii Hunter, sent the bullpen cop's hands soaring toward the sky, and completely changed the complexion of that series.
The Sox walked off with a win an inning later, then went on to claim the pennant by winning four of the series' final five tilts. Adding to the remarkable nature of that moment: Ortiz finished that ALCS 2-for-22, without another extra-base hit or RBI.
2013 World Series
Whatever struggles Ortiz endured against Detroit in the ALCS didn't stick with him into the World Series, where he thrived (again) on baseball's biggest stage. The numbers were ridiculous: .688 batting average, .760 on-base percentage, 1.188 slugging, four multi-hit games, two homers, eight walks, and one strikeout. With that, he bumped his career production to .455 with a 1.372 OPS in the Fall Classic.
With Ortiz, of course, the impact is always about timing, too. Like in Game 4, when the Sox were down 2-1 in the series and 1-0 in the game. As part of a 3-for-3 night, he led off the fifth with a double and came home to even the score. Then, before the sixth, he pulled his teammates together in the dugout and addressed them with a simple but powerful message. "We don't get here every day," he said. "Let's relax and play the game the way we know how. We better than this right here. Let's loosen up and play the game the way we do. Let's go."
The next half-inning, Dustin Pedroia singled. Ortiz walked. Then Johnny Gomes hit a three-run homer. The Sox didn't lose again, and three days later Ortiz was collecting his World Series MVP award.
May 14, 2016
What may be the greatest farewell season in the game's history wouldn't have been complete without one more dramatic afternoon for the ages. Ortiz provided it in a mid-May rubber match against the Astros. After launching one to the bleachers earlier, Ortiz erased a one-run deficit with two outs in the ninth by crushing an RBI triple to the gap in left-center.
Those hits only to set the scene.
Two innings later, he came up again, the game still tied. With Xander Bogaerts on second, he ripped another shot to center. This one landed just to the left of the 420-foot marker, bounced into the triangle, and as soon as Ortiz reached second his teammates were there (with baby powder, no less) to celebrate the 20th (and, ultimately, final) walk-off hit of his Fenway career.
"Just say I'm a bad (bleep), man," Ortiz told reporters as he exited the clubhouse that day. "I'm out."
October 10, 2016
Ortiz hit .111 in his final playoff series, a 3-0 sweep by the Cleveland Indians in the ALDS. His lone hit was a Game 1 double. His only RBI came via a sacrifice fly in Game 3, when he worked his only two walks of the series, the latter coming in his last major-league plate appearance. It wasn't the sendoff he'd hoped for, or that he'd conditioned his fans to expect.
But Ortiz still gave Fenway one more memorable moment. He'd initially left the field with his teammates once the Indians made official their sweep, but some 10 minutes later he answered persistent chants of "Papi! Papi! Papi!" by emerging from the dugout and walking to the middle of the diamond. Surrounded by a swarm of cameras, he eventually climbed atop the raised ground of the mound, doffed his cap, and spent a couple tingly minutes saluting the crowd that had lost only a few thousand from what was a sellout.
He could've taken the microphone and spoken his gratitude. He could've simply let his exit stand as it was, considering the thunderous ovation he'd received when lifted for a pinch-runner in the eighth. But Big Papi, even with tears in his eyes — even after a disappointing loss on every level — knew exactly what the moment called for, and how to make it special. Just as he'd shown so many times before.