Red Sox
Nine Innings: Mookie Betts is being rewarded for his efforts
Most Valuable Player finalist is a superb talent, but let's not forgot how hard he has worked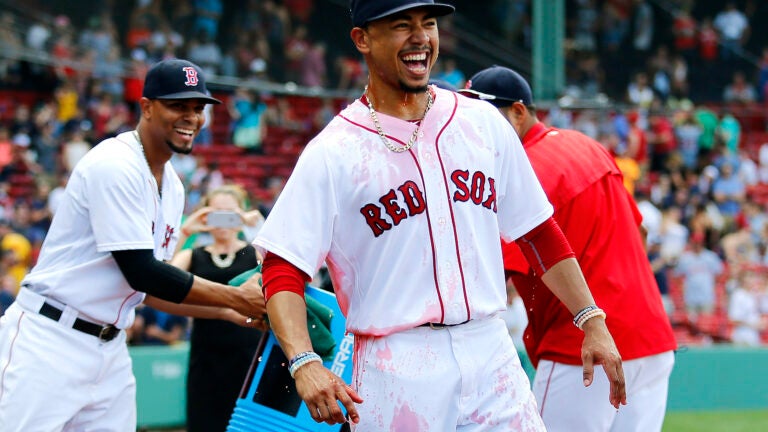 COMMENTARY
Playing nine innings while figuring that this is at least the 10th offseason in which the Red Sox have been rumored to have interest in Carlos Beltran …
1. Mookie Betts is obviously an incredibly talented athlete, even by the standard of his peers rather than normal human beings. We get reminders from his baseball achievements (how does someone so small have such power?) and his adventures and successes in other pastimes, such as bowling. But I'd hope we remember to give him credit for how hard he works. I think we do, for the most part, but in a week in which he was named the best defensive player in the American League and is the odds-on favorite to win the American League Most Valuable Player award on Thursday, there's no harm in an appreciative reminder. It's so easy to forget how much effort players put into fulfilling their promise, especially when they make it look effortless.
2. So here's the reminder: Two seasons ago, Betts converted from second base to the outfield while in the minors before his late-June call-up to the big leagues. He was raw, and John Farrell didn't seem especially convinced initially that the position shift was going to take; Betts was sent back to Pawtucket for a couple of weeks in July to hone his glove skills. (His .235 batting average at the time didn't help his case to stay, either). Betts looked more comfortale when he was summoned to Boston at the beginning of August, but remember – in the waning days of that lost season, after Dustin Pedroia was injured, he moved back to the infield for his final 14 games. We had no idea how good he would be as an outfielder, or even if he would be one in the long term.
3. Now here we are, two seasons later, and he's not just a Gold Glove-winning right fielder — he's considered the best defender in the league at any position. That's talent, sure. But none of these accolades – including the possibility of winning the MVP award, something I believe will happen since David Ortiz is not among the three finalists and thus apparently did not cut into the Red Sox vote — would not have been possible without extraordinary dedication on his part. It's not just his incredible ability that has made Betts one of the best players in the game. It's his commitment to getting the best of that ability.
4. One more thought on Betts:  His performance was so superb this season that it was easy to forget that he wasn't right health-wise for the last couple of months. The reminder came with the news this week that he'd undergone surgery on his right knee Thursday to repair cartilage and remove what the team termed "a loose body." That body presumably became loose back on July 22, when Betts had to be pulled from a game against the Twins after two plate appearances due to knee soreness. He returned to the lineup July 25, and from that point forward Betts hit .337 with a .925 OPS, 87 hits, and 11 homers in 64 games. He was good that it was easy to forget that he might not have always been feeling great.
5. Have to admit to some surprise that Xander Bogaerts won the Silver Slugger Award at shortstop, the second season in a row he's been so honored. It was easy to forget because of his mediocre second half (.253/.317/.412 with 11 homers in 72 games), but Bogaerts did set career highs in home runs (21), RBIs (89), runs (115), and OPS (.802), and he's still only 24. He's a terrific player, something we sometimes overlook because of his inconsistency and the high expectations he carries.
6. I've always believed in Bogaerts, and don't make me go dig up Twitter arguments from 2014 in which some of you thought Jose Iglesias was the better long-term prospect to prove it. But I can admit to this: Watching the Indians in the postseason, I wondered a couple of times whether a team would be better off with the energetic Francisco Lindor than Bogaerts. And the answer wasn't always no.
7. Are we sure Casey Fossum couldn't have given the Red Sox a decent six-inning effort in Game 6 of the 2004 ALCS against the Yankees? We're sure? Or how about Jorge De La Rosa? He's had a decent career. And maybe Brandon Lyon would have helped on occasion in the bullpen that season, yes? All right, I haven't quite reached the tipping point with brussel-sprout-brained meme-pusher Curt Schilling where I wish he'd never rolled in from Arizona in the first place; the story of 2004 is eternally special, and it doesn't happen without him. But he's draining the reservoir of goodwill that he built up in '04 at mind-bending rate. And there's no fifth day anymore to offset the Schilling we get on the other four.
8. Greg Holland seems like someone for whom Dave Dombrowski would mistakenly overpay. The 31-year-old former Royals closer recently had a showcase for teams, 13 months removed from Tommy John surgery. Holland was electric in 2013-14 with the Royals, putting up a 1.32 ERA with 93 saves in 133 games. But he fell off in '15 before submitting to surgery (3.83 ERA, 1.88 K/BB rate), and as a pitcher with an unorthodox high-stress delivery, it seems wishful to believe he'll be anything close to what he was two years ago.
9. Turns out the Red Sox coaching staff under John Farrell has been well-disguised plot to reunite the 1993 California Angels. Former bench coach Torey Lovullo was the primary second baseman on that team. New bench coach Gary DiSarcina was the everyday shortstop. Hitting coach Chili Davis was the designated hitter (and drove in 112 runs). And Farrell's occupation was listed as pitcher, though a 3-12 record and 7.35 ERA in 21 appearances suggests he was barely qualified to be a temp at that point. However, Farrell hasn't found posts in Boston for Hilly Hathaway, Jim Walewander, or Ty Van Burkleo. So far, anyway.